Ruby Rose Tearing Up While Talking About Her Batwoman Casting Will Make You Emotional, Too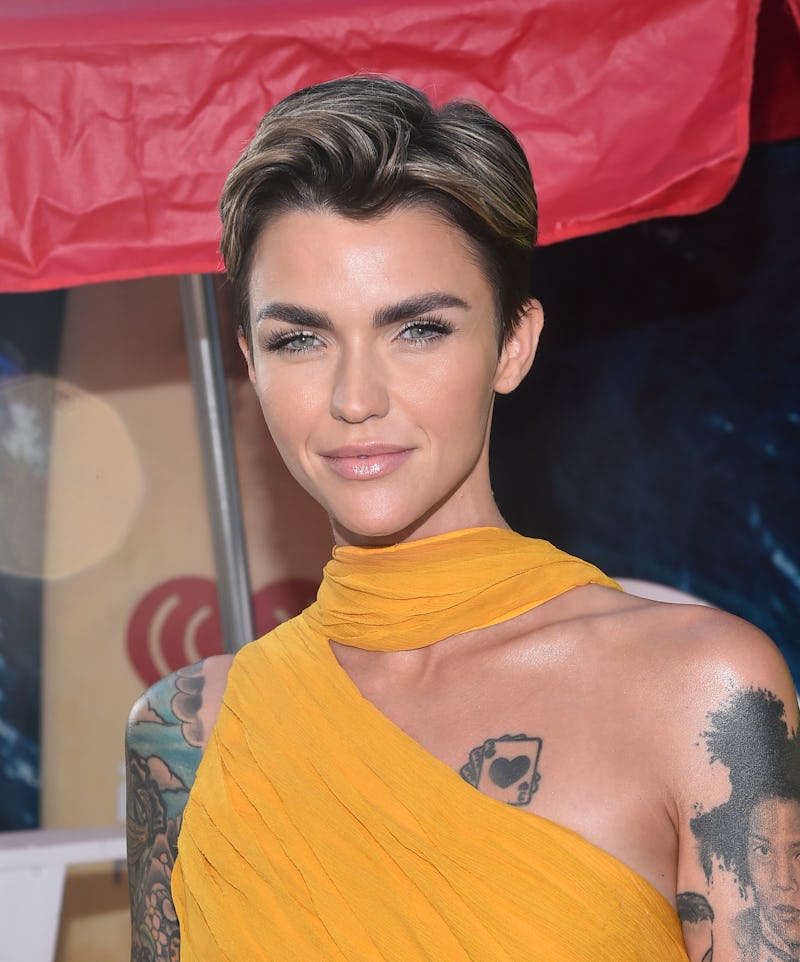 Alberto E. Rodriguez/Getty Images Entertainment/Getty Images
The Arrow-Verse is expanding to include Ruby Rose as Batwoman and no surprise, she's a bit emotional over the whole thing. In Rose's first comments on her Batwoman casting she admitted that playing the first out lesbian superhero lead in The CW's DCTV Arrowverse is a big responsibility. But Rose, who is openly queer, is definitely up for the challenge, even if it's giving her a bit of anxiety. See, Rose knows what Batwoman will mean to those in the LGBTQ community as the first leading gay superhero played by a queer actor in the Arrowverse — Black Lightning's Thunder (Nafessa Williams) is DC's first black lesbian superhero, but the show is not technically in the Arrowverse. For Rose, the knowledge that LGBTQ fans will finally get to see a character like them in this genre is more exciting than donning her very own Batsuit.
Rose got emotional appeared talking about what it means to play Kate Kane, the Gotham crime fighter known as Batwoman during an appearance on The Tonight Show with Jimmy Fallon on Wednesday. "It's a game changer," she told the host, admitting that the casting still hasn't really set in yet. She said she was told she got the role right before The Meg premiere, and she was so affected by it, she ended up skipping red carpet interviews because she was too worried she'd spill the beans. "But I'm so thrilled," she said. "I get to be Batwoman. I mean, like, what?"
Throughout her interview, Rose fought back tears, joking, "Ugh! I said I wouldn't do that!" But, the reason she was so emotional about her new gig, she said, was because "growing up, watching TV, I never saw somebody on TV I could identify with — let alone a superhero." It's something she echoed in an Instagram post following the casting news in which Rose wrote that playing Batwoman was "a childhood dream. This is something I would have died to have seen on TV when I was a young member of the LGBT community who never felt represented on tv and felt alone and different."
Rose told Fallon that getting this role also felt like it was meant to be being that she lives her life by two mottos: "Be yourself, because everyone else is taken," and "Be the person that you needed when you were younger." She said, "I felt like one motto led me to the other and I just kept crying about it."
It is true that the LGBTQ community has long been deserving of better representation on TV. GLAAD's 2017 Where We Are on TV report found that out of the 901 regular characters expected to appear on broadcast TV in 2017-2018, 58 identified as gay, lesbian, bisexual, transgender, questioning and/or queer. It was a record high for LGBTQ character on broadcast TV since GLAAD started the annual study 22 years ago. Despite the increase, no matter how low the number actually was, the study also found that TV's LGBTQ characters were still lacking in diversity, with a majority of characters described as white, male, and often relegated to supporting roles.
With her new role as Batwoman, Rose has a chance to be a new kind of LGBTQ character that hasn't gotten enough screen time: the LGBTQ superhero, joining Williams' Thunder and Nicole Maines, who will play TV's first transgender superhero on Supergirl. It's one of the things that stood out to Rose about this character. "I was like, 'Wow, not only can kids watch this growing up and relate to it and feel empowered and think they can be a superhero," she said. "But also, I can go on and do these things like visiting hospitals, kids and people in need. It's an amazing opportunity, obviously."
Rose's Batwoman is set to make her debut in the annual TV crossover event between The CW's DCTV shows — Arrow, The Flash, Legends of Tomorrow, and Supergirl — when it airs in December. There is also a standalone Batwoman series currently in development over at The CW that could air during the 2018-2019 season, though nothing has officially been announced yet. According to Deadline, If the new series does end up making it to air, Rose's Batwoman will make history as the first-ever gay character to lead a live-action superhero series.
When Rose makes her debut as Batwoman she won't only be fighting crime, but fighting to improve LGBTQ representation on TV. Clearly, she's up for this task.