Ruby Rose Just Responded To Shaming About Her Acne & It's Relatable AF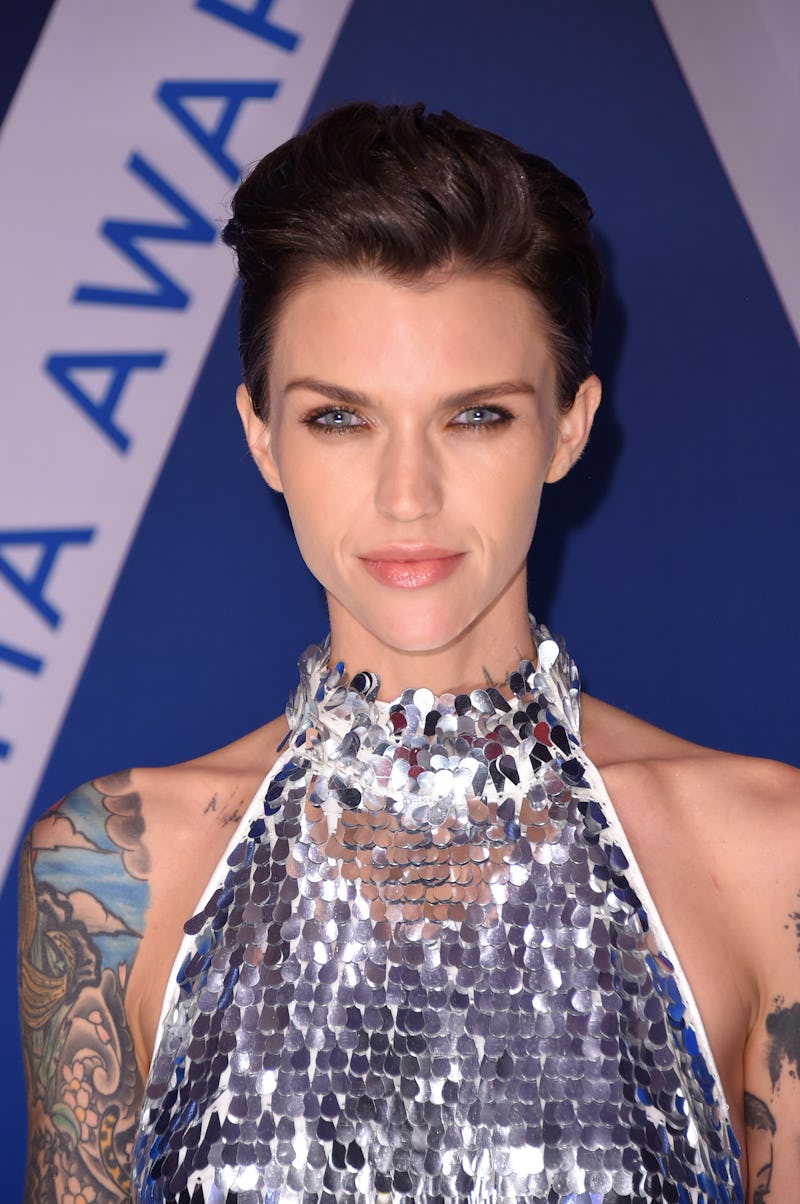 Michael Loccisano/Getty Images Entertainment/Getty Images
Ruby Rose commonly uses her celeb platform for activism, whether she's voicing concerns on the impact of climate change or advocating for LGBTQ rights. Now, the star of Pitch Perfect 3 and Orange Is The New Black is using her status to tackle the stigma around something seemingly unexpected — acne.
Though the 31-year-old may not be the person you'd expect to speak up about the skin condition, Rose says she was compelled to stand up for herself and other with acne after recently being bullied for having bacterial breakouts. Rose took to social media to talk about her experience, and speak about the power of self-acceptance and the harms of acne shaming.
"This acne belongs to me, not them, and you are welcome to it," Rose wrote on her Snapchat on Dec. 4.
The star also wrote that she never thought she'd leave her "beautiful country balling [sic] her eyes out," referring to Australia where she was recently traveling on a press tour for the new Pitch Perfect 3 movie. Though it isn't clear what kind of bullying Rose experienced to prompt the posts on her social media, it isn't a surprise that she received negative commentary on her breakouts. After all, celebrities are under immense scrutiny in the public eye and acne is still highly stigmatized no matter who you are.
Right about now is a good time to remind society at large that the presence of acne never, ever dictates someone's worth or beauty. Ever.
According to Rose, the breakouts were caused by overusing her cell phone while doing phone interviews for Pitch Perfect 3, and from sleeping on hotel pillows. After seeing a dermatologist, it became obvious the acne was caused by an influx of bacteria of the surface of her left cheek from these everyday sources.
In a second post to Snapchat, Rose showed a closer look at the breakouts and wrote ""Yeah, it sucks… [F]or me, I don't see how it's bothering so many others? But I'm a human. It happens.. [O]ne side of my face is clear and the other is a mess."
Many suspect the "bullying" that Rose is referring to is in reference to media outlets reacting harshly to her skin's appearance during the premiere of Pitch Perfect 3 in Australia on Nov. 29. Rose looked absolutely stunning on the red carpet, but some outlets focused in on what they perceived as "imperfections" — the star's adult acne.
As apparent from her Snaps, Rose wants to make it clear that this type of bullying is not OK — but she's not stopping there. She's taking action to stop it.
The star recently removed the ability to comment on her Instagram posts, where many fans and critics gather to talk about a given celebrity's appearance and personal life. E! reports Rose disabled comments to prevent future rumors or bullying comments from surfacing on her social media pages.
"It's time to take that away from them to protect everyone," she said in another post. "I can only do what I can to make this a safe place, and I will."
Though rarely talked about, the stigma around acne is very real — whether you are a celebrity or not. Rose's willingness to use her experience and platform to bring attention to harmful beauty standards is noble, but not out-of-character for the star.
You can always count on Rose to call out society when it needs to reevaluate its stances. And, for that, we should all be grateful.