Ruth Negga Earns A Surprise Oscars Nom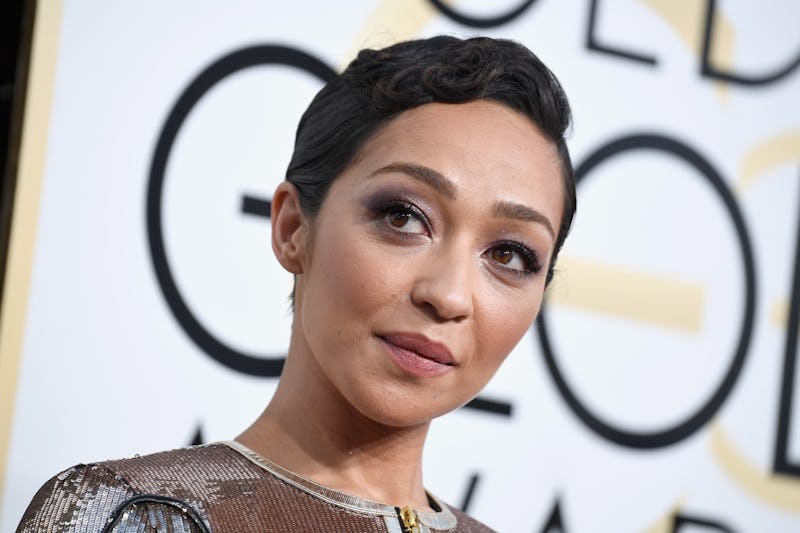 Frazer Harrison/Getty Images Entertainment/Getty Images
While it was expected that Natalie Portman and Emma Stone's names would be called when announcing the Best Actress nominees for the 89th Academy Awards this morning, there was one name that was a bit of a surprise. Loving's Ruth Negga was nominated for Best Actress at the 2017 Oscars. She'll be up against Portman in Jackie, Stone in La La Land, Meryl Streep in Florence Foster Jenkins, and Isabelle Huppert in Elle. Loving, which takes a closer look at the interracial marriage of Richard and Mildred Loving and how it changed history, was Negga's breakout role as far as American audiences are concerned.
"I am truly humbled by the news this morning, and I thank the Academy for this recognition, which I share with my co-collaborators Jeff Nichols and Joel Edgerton," said the actress in a statement to Bustle. "It has been such an honor to have been given the opportunity to tell the incredible story of Richard and Mildred Loving, who serve as an inspiration that ordinary people can do extraordinary things. The Lovings fought quietly yet tirelessly, and changed the course of American legal history. Today, to be among such extraordinary women — my fellow nominees, my peers with films this year, and the legendary performers whose work of years past has long inspired me... this means a great deal to me."
Of course, knowing the Academy, her nomination should really be no surprise. The Oscars love an ingenue, and the Ethiopian-Irish actress is just that. While she has appeared in 21 films to date, starting with 2004's Capital Letters, and is the star of the 2016 AMC series Preacher, she has just now made an impression on an American audience. It doesn't hurt that she's made headlines with her red carpet style, even earning herself a Vogue cover. For a comparison, Meryl Streep didn't earn her first Vogue cover until she was 34 years into her active career and had two Oscars under her belt.
All of this, combined with her understated performance in Loving, is likely why Negga managed to squeeze out other Best Actress fixtures like Amy Adams, who was surprisingly not nominated for Arrival despite the film earning eight nominations. This would have been Adams' fifth Oscar nomination. Negga also edged out 20th Century Women's Annette Bening, who has been nominated four times in her career.
While it's not impossible to win on your first nomination — Brie Larson did just that last year for Room — Negga's competition isn't going to make this easy. Her fellow nominees have a combined total of 26 nominations amongst them. Streep alone has 20 nominations, the most of anyone in history. Fifteen of those are in this category. But Negga seems to be taking a "just happy to be nominated" approach to this whole thing.
Negga told Vogue that playing Mildred in Loving was a career-changing experience. "There's often a job that's a 'before and after' for an actor," she said. "This is that kind of job for me." She's right. Before she was an actress; now she's an Oscar-nominated one.
Editor's Note: This article has been updated from its original version.