Ryan Murphy Picks 'Glee's Worst Performance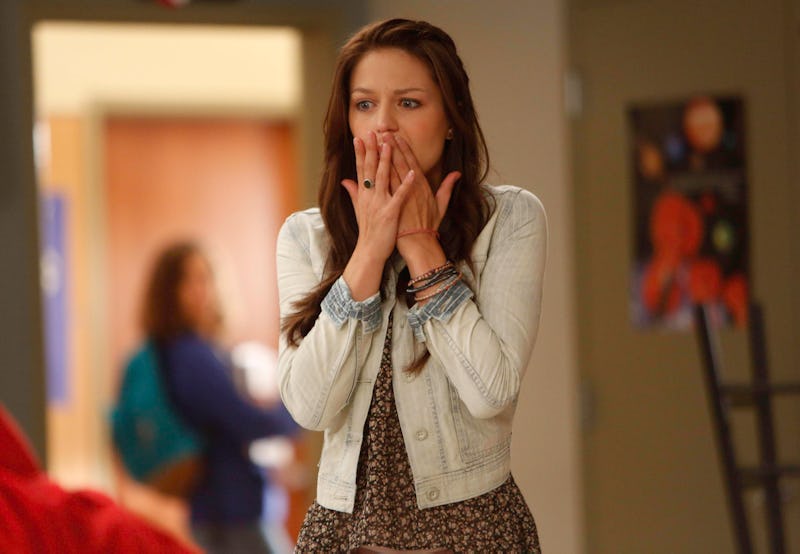 FOX
I'm a huge gleek, and I'm not afraid to admit it. But even as someone who watched the FOX musical dramedy to the bitter end, I have to acknowledge that… some performances were certainly better than others. Ryan Murphy recently chimed in on his least favorite Glee performance out of all six seasons, and it begs the question: what is really the worst Glee song of all time? There are no shortage of contenders — and I'm saying that from a place of love. In the course of 121 episodes, the show produced over 700 musical numbers, most of which were decent to excellent; but, given the sheer volume, there were bound to be some duds.
So what's Murphy's pick? As he revealed on Watch What Happens Live With Andy Cohen this past Wednesday, the song he most regrets is "Gangnam Style," which New Directions performed as part of their Sectionals setlist in the Season 4 episode, "Thanksgiving," led by Tina Cohen-Chang. "I am mortified that we did 'Gangsta Style' by Psy," he said with little hesitation when asked. (Taran Killam quickly corrected him on the song's title.) "I will say, like, not our finest moment."
In case you've scrubbed it from your memory, here's the offending performance in question:
That's undeniably… not great. But is it really the literal worst? These 17 songs give "Gangnam Style" a run for its money. (And, no, I'm not including musical numbers that were purposefully bad. Sorry, "Run Joey Run.")
1. "Thong Song"
Season 1, Episode 8: "Mash-Up"
I'm happy that Glee finally got over its obsession with Will rapping; too bad that couldn't happen before he performed this incredibly inappropriate song.
2. "Hair / Crazy In Love"
Season 1, Episode 11: "Hairography"
Glee eventually became famous for its clever mash-ups ("Thriller / Heads Will Roll," "Rumour Has It / Someone Like You," "Survivor / I Will Survive"). But whose idea was it to combine these two songs… and then put on those wigs??
3. "Poker Face"
Season 1, Episode 20: "Theatricality"
I get that it was Lady Gaga week. But surely there could have been a more appropriate choice for a mother/daughter duet than a song that includes the lyric "bluffin' with my muffin"?
4. "It's A Man's Man's Man's World"
Season 1, Episode 21: "Funk"
Dianna Agron's delicate voice strained to give this funky number its due… and the troop of pregnant ballerinas only made things even more awkward.
5. "Telephone"
Season 2, Episode 1: "Audition"
Charice undeniably has a great voice, but it's suited better towards epic ballads than this auto-tuned mess of a duet.
6. "Touch A Touch A Touch A Touch Me"
Season 2, Episode 5: "The Rocky Horror Glee Show"
Pretty much any song from Glee's forced attempt at paying tribute to The Rocky Horror Picture Show could have made the list. But this one takes the cake thanks to its awkward sexual nature.
7. "Do They Know It's Christmas?"
Season 3, Episode 9: "Extraordinary Merry Christmas"
Is there anything more tone deaf than singing the line "Tonight thank God it's them instead of you" to a room full of homeless children on Christmas Eve?
8." Ben"
Season 3, Episode 11: "Michael"
When Blaine got blinded by a slushie, Kurt (along with Rachel and Finn) decided to profess his love to his injured boyfriend by singing… a song about a pet rat? (Yes, that's really what "Ben" is about.)
9. "A Little Less Conversation"
Season 3, Episode 12: "The Spanish Teacher"
The outfit. The awkward Spanglish. I can't even make it all the way through this one again.
10. "Copacabana"
Season 4, Episode 17: "Guilty Pleasures"
In this episode, Sam confessed that Barry Manilow was his guilty pleasure and proceeded to assault us with this song that's now stuck in my head forever. That's one secret he should have kept locked away.
11. "I Love It"
Season 4, Episode 22: "All Or Nothing"
The fact that they couldn't sing the verse because it contained the word "b*tch" meant that this performance consisted of simply repeating the one chorus over and over and over again.
12. "Blurred Lines"
Season 5, Episode 5: "The End Of Twerk"
I think this one's pretty self-explanatory: Twerking. In school. With a teacher.
13. "The Fox"
Season 5, Episode 7: "Puppet Master"
Glee fell victim to the same impulse that inspired its performance of "Gangnam Style" when they decided to cover this ridiculous track. Just… why?
14. "Shakin' My Head"
Season 5, Episode 20: "The Untitled Rachel Berry Project"
We're supposed to believe that Mercedes became a pop sensation when she sings songs with lyrics like "Why are dogs always licking their nads?" and "Why do some flowers look like vaginas?" Really?
15. "Rock Lobster"
Season 6, Episode 4: "The Hurt Locker, Part One"
The show's final season repositioned Vocal Adrenaline — now led by The Wanted's Max George — as New Directions' biggest threat… and then saddled them with this ridiculous number. Actual lobsters are more threatening.
16. "Lose My Breath"
Season 6, Episode 9: "Child Star"
Five episodes from the series finale, and Glee was still introducing new characters — like this grating middle schooler who made his entrance with his cringeworthy Destiny's Child number.
17. "The Final Countdown"
Season 6, Episode 11: "The Rise And Fall Of Sue Sylvester"
By this point, the tired rivalry between Will Schuester and Sue Sylvester had all but run its course. But Glee somehow found time to slap on those heinous wigs to boot.
Those 17 numbers may have missed the mark… but at least we'll always have songs like "We Are Young," "Teenage Dream," and "Don't Stop Believin'" to help us remember the good times of Glee.