Ryan Reynolds Shut Down Rumors About His Marriage In A Tweet That Will Make You Laugh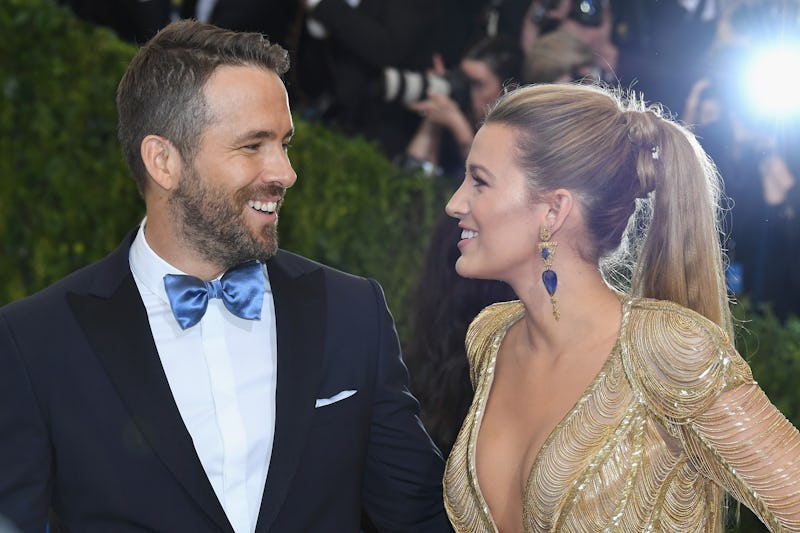 Dia Dipasupil/Getty Images Entertainment/Getty Images
Celebrity couple Ryan Reynolds and Blake Lively seem like they're a match made in A-list heaven. But when one publication suggested there could be trouble in paradise, Ryan Reynolds responded to rumors about his marriage to Blake Lively in a hilarious way. The actor is well-known his for his sense of humor and he playfully shut down these rumors in a way that'll make you laugh.
On March 31, Reynolds referenced the rumors on Twitter, when he quoted and retweeted an article that spoke to his and Lively's supposedly rocky relationship. The IBTimes India's tweet said: "Deadpool Ryan Reynolds and wife Blake Lively struggling to spend 'quality time.'" Reynolds' response? "I wish," joked the actor, "I could use a little 'me time.'" Lively didn't respond on Twitter, but she's less active there than her husband. She shines the most on Instagram, where she's as likely to post cute pictures of her family, her fashion moments or straight-up jokes. To wit, they've hilariously trolled each other with funny posts on each others' birthdays. They're a delightful couple to watch on social media, and fortunately, it seems like they're doing just fine.
The actors married in 2012, and have been together since. They have two daughters together (James and Ines), and by all accounts, appear super in love.
Lively and Reynolds recently appeared together on Thursday, March 22 at a screening for Final Portrait at the Guggenheim Museum in New York City, an event that was also attended by John Krasinski, Emily Blunt, and Meryl Streep. Lively and Reynolds were photographed chatting with fellow couple Krasinski and Blunt at the screening for the film, which was directed by Stanley Tucci.
Lively and Reynolds met back in 2010, when they co-starred in Green Lantern and they began dating in 2011. The couple married in a surprise wedding in 2012 in Charleston, South Carolina. That's nearly a decade of Lively and Reynolds as a couple and they've become #RelationshipGoals through the years. They've hilariously wished each other a happy birthday in hilarious social media posts (with or without each other or Ryan Gosling in the picture). The couple has also talked about how they've supported each other over the years. In 2016, Reynolds told Vanity Fair that Lively encouraged him to take the role as Deadpool.
"There was a minute where I even thought, 'Maybe I shouldn't do the movie,' because it had been this thing with such a build-up," Ryan said. "And she was the one that said, 'You gotta do it. You absolutely have to do it. It's your dream role. The role you're meant to play. So you've got to get up there and do it.' She's been epic for me in every way."
Aww. It's encouraging to see the way they respond to criticism. Plus, if Reynolds feels secure enough about the relationship to playfully joke about it on social media, that has to be a good sign, right? It seems like neither Lively nor Reynolds take tabloid rumors too seriously. Even if you aren't completely enamored with them, it's hard not to love that.
Their loving support of one antoher may be why it's seemingly easy for them to shake off rumors of distress, and just as easy for places to allegedly manufacture rumors about it. Reynolds and Lively are confident in themselves and in their relationship. Yes, they joke around, and they're both working actors, which could easily keep them apart for long periods of time. But Ryan Reynolds and Blake Lively seem perfectly content to be together, and not afraid to joke about it. Maybe that's the secret to their nearly six years of wedded bliss.