Ryan Seacrest Will Still Be Hosting The E! Oscars Pre-Show After The Recent Allegations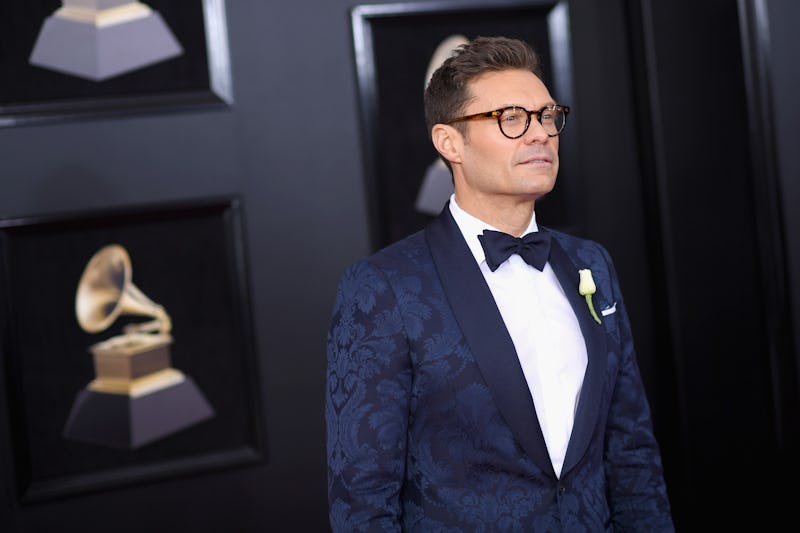 Dimitrios Kambouris/Getty Images Entertainment/Getty Images
On the Monday before the Oscars, a new Variety report claimed Ryan Seacrest was accused of sexual assault by former E! stylist Suzie Hardy. (Seacrest denied the allegations in a statement from his attorney, which pointed out that the network's "independent third-party investigation had concluded that there was insufficient evidence to support her claims, effectively, clearing my client's name.") The Variety report contains detailed claims about what Hardy allegedly experienced and a November letter from her attorney to E!, NBCUniversal, and Seacrest. Later on Monday, the network released a statement reconfirming that there was "insufficient evidence" found in its prior investigation in February, and, thus, Seacrest will still host E!'s Oscars coverage.
Update #1: On Tuesday, Seacrest released a second statement about the allegations and the Variety report, writing:
"Yesterday, Variety published a salacious story that revealed the specific claims against me for the first time – even though an independent third-party investigator found insufficient evidence to support the claims. Much to my dismay, Variety didn't speak with me or bother to speak with other credible witnesses or even ask for any of the evidence that was obtained during the investigation when offered, all of which clearly challenged the veracity of the claims made against me.
This person who has accused me of horrible things tried to buy her silence by asking for money on multiple occasions — I refused. I have worked extremely hard to achieve my success and I don't take my opportunities for granted. I don't want to accuse anyone of not telling the truth but in this case, I have no choice but to again deny the claims against me, remind people that I was recused of any wrongdoing, and put the matter to rest."
Update #2: On Tuesday, Hardy released a statement to Variety that read:
"I remained quiet for years out of fears that my story wouldn't be believed and that I would be subject to scorn and ridicule for telling it. I was emboldened by the bravery of others to finally and confidentially tell my story to NBC. Ryan elected to take the story public with a false narrative that he was exonerated and the victim of some sort of money grab. He is not the victim, and I refuse to let him victimize me for telling the truth."
Earlier: Hardy reportedly came forward to the human resources department in 2013, after allegedly enduring the abuse for years, when her employment then came to an end. But, on Monday, an E! spokesperson addressed the allegations against Seacrest and its prior investigation with the following statement:
"E!'s investigation was extremely comprehensive and thorough. Over the course of a two-month process, our outside counsel interviewed more than two dozen people regarding the allegations, including multiple separate meetings with the claimant and all firsthand witnesses that she provided. The investigator is an attorney with nearly 20 years experience and is highly regarded professionally. Any claims that question the legitimacy of this investigation are completely baseless."
Hardy's alleged experience is described as "years of unwanted sexual aggression" from Seacrest in the report, which she claims to have endured to support her young daughter. Specifics of the alleged encounters include claims of him "grinding his erect penis against her while clad only in his underwear, groping her vagina, and at one point slapping her buttock so hard that it left a large welt still visible hours later." While Seacrest denies the claims and the investigation results were in his favor, Hardy claimed that the investigation felt skewed. "I felt like by the third interview, it was obvious the investigator was whitewashing it for Seacrest's side," she told Variety.
Allowing Seacrest to still host the pre-Oscars show is certainly a controversial move on E!'s part. On Monday night, Scandal actor Bellamy Young spoke out, saying Seacrest shouldn't host the show. "I think this is the time to step aside and let someone of equal talent that is beyond reproach to be in charge," she told Variety. (Young later apologized to Seacrest via her Twitter.)
It's likely that more celebrities will continue to speak out, given that a handful of stars recently confronted the network over its pay disparity at the Golden Globes. During the monumental night for Time's Up, celebrities like Debra Messing and Eva Longoria confronted Seacrest and co-host Giuliana Rancic about the E!'s reported pay gap which caused Catt Sadler to quit. In December, E! came under fire when Sadler left after learning her male co-host Jason Kennedy reportedly made nearly twice her salary. When these celebrities spoke out about it, the network's hosts didn't really have much to say back. The clips of the awkward exchanges then began swarming the internet.
Now, it's uncertain whether or not Seacrest's accuser will take further action. Still, Hardy holds firm about what she reportedly experienced and the trauma the alleged experience caused her. "As proud as I am and as strong as a woman as I am, as smart as I am and as much work as I've done with therapists, it really affected me," she revealed to Variety. "I was battling finally being in a decent financial position to breathe and be a mom."
Seacrest didn't address the allegations on Tuesday's episode of Live With Kelly and Ryan. Instead, in the opening segment "host chat," his co-host Kelly Ripa engaged him in light banter about teeth whitening. In addition, it seems unlike at this point that the host will acknowledge the allegations on the air during Sunday's show; his statement from his attorney appears to say it all.
If you or someone you know has been sexually assaulted, call the National Sexual Assault Telephone Hotline at 800-656-HOPE (4673) or visit online.rainn.org.