I Tried The Millennial Pink Skin Care Line With A 12,000 Person Wait List & It's More Than Just A Trend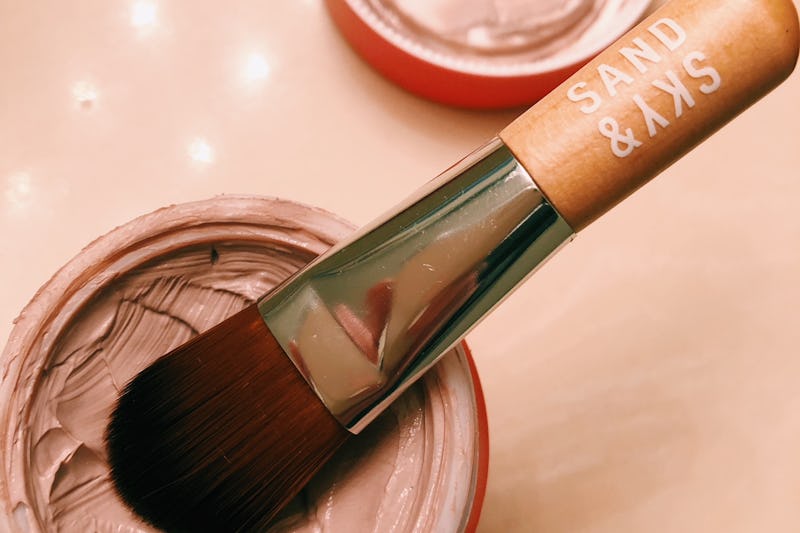 Kali Borovic
Beauty trends come and go, but some stay hyped forever. Sand & Sky's Pink Clay Skin Care had a 12,000 person waiting list, and there's a good reason why. After trying the product for myself, I would gladly wait in a line 12,000 people deep for both the Porefining Mask and Flash Perfection Exfoliating Treatment. Get ready, because this brand's next product will likely be just as popular too — and not just for the pretty millennial pink packaging.
At first glance, Sad & Sky just looks like a brand that you want to try. The packaging is bright pink, the product is the same shade, and both products only take five minutes to work. When the brand's Pink Clay Mask first came out, 12,000 people were waiting in line for it, despite it being the brand's first-ever product. The cult following continued with its second product — the Pink Clay Exfoliator — which brought a 14,000 wait list.
"It has just been a year since we launched our original mask and we didn't know how things would go for us at launch (even if we hoped for the best!)," Sarah Hamilton, co-founder of Sand & Sky tells Bustle. "We started to think about launching new products as soon as we saw the excitement around our original mask."
After first application, I knew why the brand has such a cult following. Everything about the brand feels so luxe without actually being that expensive. The mask, which clears pores and makes skin feel so refreshed is available online for $49, while the brand new exfoliator is $42. Both products are intense enough to feel them work, but gently enough to use more than once a week.
My personal favorite in the duo is the mask. It goes on like a cream and then dries into a stiff, clay mask all in just five minutes. Not only does it make my skin feel super fresh, but it also comes with a brush. Not one of those throw-away-and-use-one-that's-better brushes. This one is amazing.
The brush is small, but it is mighty. It's super soft and spreads the product like a dream. I love it, because I don't have to touch my face or dip my fingers into the jar to apply the mask. I just brush it on, rinse off the bristles, and it's good to go next time. To be completely honest, I would pay extra just for the brush, but luckily I don't have to.
When I first heard that the brand was coming out with another product so soon, I was worried that it wouldn't be as incredible as the first. I was wrong. The exfoliator doesn't let fans down, either. Although you don't get the cute little brush, the product is worth getting a little messy.
The exfoliator is the same color as the mask. The idea is to squeeze it out of the tube, rub it in for 30 seconds, and wash it off. It's just as simple as the mask, so there's no excuse to not incorporate it into your nightly routine twice a week.
Oh, and the brand doesn't plan on stopping here, either. "We just launched our second product and we already have 12 new products in our [product development] pipeline. We hope to launch all of them in the next 5 to 9 months," Hamilton says.
Although the skin care brand didn't say what exactly is next, it's safe to say that fans will be just as excited.
While you don't have to physically wait in line to get your hands on this product, you'll understand exactly why people would do that after you try it. Be careful though, because once you try these products out, you'll be hooked on the brand. Don't believe me? It's happened to 14,000 others.