How To Get Sara Bareilles' Look From The Oscars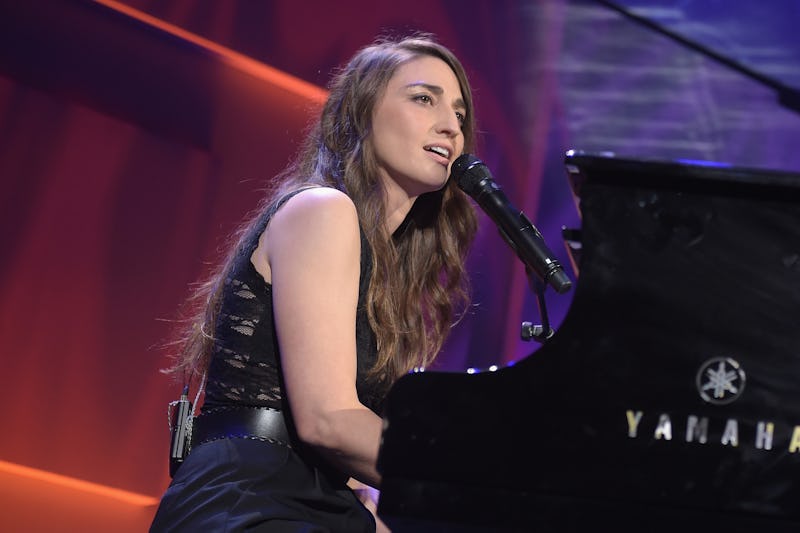 Jason Kempin/Getty Images Entertainment/Getty Images
If you're a fan of Sara Bareilles (and really, who isn't?) then you probably love the singer-songwriter for her catchy tunes, fun vibes, and super laid back style. She's sort of a t-shirt and jeans kind of gal, which is one of the reasons why Bareilles rocked relaxed waves at the Oscars.
To find out how she got the pretty look, I chatted with her hairstylist Rebekah Forecast, who styled the singer for the show. Apparently, the getting ready process — which included Bareilles' makeup artist Fiona Stiles — was just as fun and relaxed as the singer herself. (Oh, and it involved drinking champagne and admiring a view of the Hollywood Hills from their hotel room. Jealous.)
As Forecast says, "[Sara] is very easygoing and has a natural personality and knew exactly what she wanted for this look. She had shown me a few pictures of the kind of waves she had in mind, so I knew the vibe she was going for and was able to nail the look on the first try."
Of course, this was made easier with a host of products from TRESemmé, which Forecast used to ensure Bareilles' look lasted all night. Forecast began by applying TRESemmé TRES Two Extra Hold Mousse to her roots while her hair was damp, which created a good foundation and base for the look.
Next, she applied TRESemmé Repair & Protect 7 Pre-Styling Spray before curling the hair, in order to protect strands from heat damage. And finally, her strands were given a finishing touch with TRESemmé Keratin Smooth Shine Serum. Forecast applied a small amount to the ends to add a nice shine.
We got to see the finished look on the red carpet, as well as when Bareilles performed on stage. In perhaps one of the more touching segments of the Oscars (apart from the zillion other tear-jerking moments) Bareilles sang during the "In Memoriam" tribute for the stars who passed away in 2016. So sweet, right? And, of course, she looked lovely doing it. Take a look below at some fun behind-the-scenes shots, as well as the finish look.
Bareilles and Forecast worked together to create waves, which were perfect for the Oscars. (Also, I'm imaging there's a glass of champagne slightly out of frame.)
And here's the final look. So pretty, right? I'm totally stashing this info away for my next outing when I want to look put together, but still totally relaxed.