Sara Bareilles Breaks Down The Meaning Behind 8 Of Her Most Personal Songs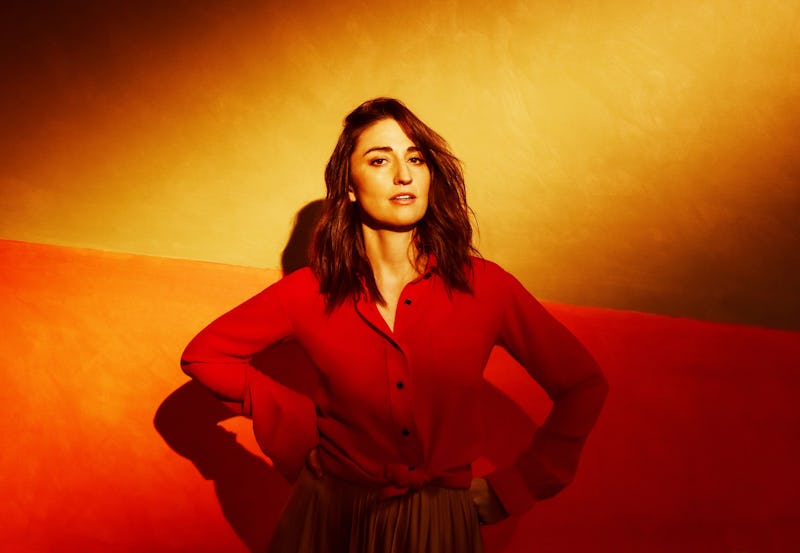 Lede Company Team
It's been a long time since the world got a new Sara Bareilles album. There was 2015's Waitress soundtrack, featuring songs written and sung by Bareilles, but that was for a Broadway musical, not herself. And yes, there was NBC's Jesus Christ Superstar Live in Concert! concert album in 2018, on which she sang as Mary Magdalene, but that was alongside the rest of the show's cast. The last time a real Sara Bareilles record arrived was 2013, with the release of the Grammy-nominated The Blessed Unrest. Nearly six years later, a new album, April's Amidst the Chaos, is here — and Bareilles, understandably, is anxious for people to hear it.
"I'm excited. It's been a long time coming, clearly," says the singer with a laugh, sitting down at Bustle's New York office a few days before the record's release. "It's been six years — I've just done so many things, and so much has changed in my life." That's for sure; since 2013, Bareilles has earned a handful of Grammy noms, hosted the Tonys, published a book, and performed on Broadway, just to name a few things. Yet even as her success has skyrocketed, the 39-year-old has managed to keep a low profile when it comes to things like her mental health and romantic relationships, preferring to let her honest, intimate songs do the talking.
Now, Bareilles is opening up, and walking Bustle though the real stories behind eight of her most personal songs, from heartbreaking teen romances to one of U.S. politics' most memorable recent moments.
"Gravity"
The third single from Bareilles' 2007 debut album Little Voice, "Gravity" is a haunting ballad about returning to a person over and over again.
"'Gravity' was born out of a high school relationship falling apart and me being a drama queen about it," Bareilles says, laughing. "I had a high school boyfriend who I was madly in love with, and we broke up my senior year and got back together. And then I went away to college, and every time I came home, he was just a magnet for me. I could not remove myself, I couldn't move on, move out, move forward... it felt like a force that was bigger than a person."
Of course, Bareilles eventually got over the guy, but the song reflects her state of mind right in the middle of the situation. "It's talking about that first real heartbreak where you're like, 'I don't think I'm gonna ever get over this,' then of course eventually you do," she explains. You go past it and through it and grow from it."
Although "Gravity" has soundtracked romantic moments in TV shows like Community and The Vampire Diaries, not everyone views it as a song about love. "I've seen people talk about it in terms of grief or addiction," says Bareilles. "It's a very exciting thing as a songwriter when you get to watch a song take on a life of its own. It's your hope for every single song, and it doesn't happen every time."
"King Of Anything"
Released in 2010, the Kaleidoscope Heart single earned Bareilles a Grammy nod for Best Female Pop Vocal Performance. Much like her 2007 breakout hit "Love Song", the tune is a fiery kiss-off to people who like to "tell you all the things you're doing wrong," the singer explains.
"I had a lot of writer's block and was having, really, a version of stage fright," Bareilles recalls of creating her second album. "I was afraid to go back because unexpectedly having had success with the first record and the sort of accidental success of 'Love Song' — which nobody, including myself or the record label, was expecting — I just didn't know what to do or what to say after that."
Once she finally started writing again, she sent tracks out to label executives to get their take. She soon found that they had a lot of thoughts — and not just about the songs.
"At the first round of feedback, I just remember sitting and receiving people's opinions on me again, and I was like, 'Ah, right, here we go — you're gonna have to steel yourself for everyone to start telling you, 'You know what you should really do? You know what would be awesome? You know what kind of song you should write? You know what kind of jacket you should wear?''" Bareilles recalls.
"That onslaught of outside opinion, which is just a hard thing to metabolize anyway, [caused 'King of Anything'] to become a very specific, pointed response to a general feeling of feedback that I was just not interested in," she adds.
And today, she has no regrets about putting out such a cutting song. "I was kind of stubborn, in a way, and the part of myself that I actually really appreciate, that has stayed intact, is that stubborn self," the singer notes. "She's spunky."
"Brave"
Co-written with Jack Antonoff, "Brave" was released on 2013's The Blessed Unrest. A powerful anthem about standing up for yourself, the song is one of Bareilles' biggest singles to date.
"There are so many times I look back and just wish I had just trusted my own truth more, even if it brought me into an uncomfortable space," the singer reflects. "I really do believe that the truth will set you free, even if it means that a relationship dissolves, be it romantic or, more likely, business."
Looking back now, Bareilles says she wishes she had "stuck harder to my guns" during a long-ago work meeting in which people criticized her appearance. "It was like a collective deciding about what Sara was supposed to look like," she remembers. "There was this really fundamental, icky feeling that I had about the whole experience, where I just wasn't actually being allowed to choose for myself, and I was being encouraged to be something I wasn't."
Yet although she didn't speak up, Bareilles isn't mad at her former self. "You live and you learn," she shrugs. And while she doesn't encounter situations like that as often these days, when they do occur, she approaches them with a new attitude. "It might happen less, but I also think I've just gotten a little more experience on how to handle it," she explains. "I don't feel as naive to things like that and I'm certainly more willing to speak up for myself."
"She Used To Be Mine"
Although written from the perspective of the character Jenna in Broadway's Waitress, 2015's "She Used To Be Mine" has transcended its roots, garnering major acclaim and inspiring countless covers from fans.
"['She Used To Be Mine'] was the first song I wrote for the show, and so I was coming from the closest place in myself," Bareilles recalls. "I think it's a very autobiographical song. [Jenna and my] circumstances are different, but the parts of her personality that I really relate to — I mean, it's the chorus of that song: 'she's imperfect but she tries, she's good but she lies, she's messy but she's kind.' That feels like a page out of my diary."
And you don't have to be the song's writer to identify with its message. "I think everybody can relate to the idea that no matter where you ended up, you ended up different than you thought you would be," explains Bareilles. "We all have to reconcile the differences with who you thought you would become, and who you actually ended up to be."
"Armor"
The first single off Amidst the Chaos, "Armor" is a rallying cry for women that addresses everything from catcalls to sisterhood. It was supposed to be released in early 2019, but Bareilles dropped it early, in October, just a few weeks after Christine Blasey Ford's testimony against Supreme Court Justice Brett Kavanaugh.
"We pushed to release that song after the Kavanaugh hearings," explains Bareilles. "I was really impacted by that, and felt like in that moment in time, it was like, this is what I want to say right now."
The song was written after the singer attended the 2017 Women's March, an "unforgettable" event that, combined with Trump's election the year earlier, "profoundly" changed her stance on political action. "Walking amongst hundreds of thousands of people was the safest and the most gentle experience. It was so powerful and so quiet, it was unreal. I had never experienced anything like it," Bareilles recalls. "So I came back and I felt very inspired by the women's movement and... [started] really looking back and paying attention to how hard people have had to fight for what we have."
Which meant, when writing "Armor," leaning into her anger, something she had to learn to be OK with. "I've always personally, honestly, been afraid of anger," Bareilles explains. "I don't get angry, I don't like anger, I don't like confrontation. But at the same time, anger is there for a reason."
And it's propelled both her music and outlook on life. In the time since the Women's March, the singer says, "I feel like I've gone through a personal evolution and a little bit of an awakening of sorts to [see] just how disengaged I've been in my life. I'm 39, I turn 40 this year, and I'm only just now realizing how much I wasn't paying attention. So that's on me, and I'm at a place where I'm really wanting to right that wrong and stay curious and stay informed and get engaged and involved."
"Fire"
Amidst the Chaos' second single tackles a very different theme — a dying romance, in which the narrator laments how her relationship was never as fulfilling as she wanted.
"I had a relationship that kind of fizzled in a way that was really clarifying," explains Bareilles. "It was just one of those things where I walked away from it and I was like 'oh…'"
This song, she says, "is about the realization and the perspective of, 'this is who you actually are, and we were never gonna catch fire.'" And anyone who's ever been in an unsatisfying relationship can relate. "We're drawn to the idea of each other's potential, but then sometimes what that means is that we're kind of blinding ourselves to what is actually showing up in front of us," Bareilles explains. "You get really attached to like, 'Oh, but this person could be so great if they would just — staying in that mythology of whether or not someone's gonna actually show up."
"Poetry By Dead Men"
This Amidst the Chaos song is a sad, moving take on realizing that you can't change a person to be who you want them to be — and then finding the courage to walk away.
"That one was written in a very question mark moment about a relationship, and thankfully, it's gone the right way," Bareilles says with a laugh. "But in the moment, it was a real question mark."
The song is a "what if..." of sorts, with the singer trying to imagine a way for her partner to improve. "I'm such a dreamer, and so what I am guilty of — my entire life I've been this way — is [getting] swept away in your own fantasy," she explains. "You have all these scenarios you're painting in your mind about what it could've been, all that potential, you know? And either someone rises to meet you or they don't."
Although "Poetry By Dead Men" is a very personal song, Bareilles isn't worried if the person who inspired it will hear it. "I'm really someone who feels like, 'look, if you didn't want to end up in a song, you shouldn't have dated a songwriter. It's all fair game," she says with a laugh.
And besides, she adds with an even bigger grin, "if the song is bad, no one ever thinks it's about them. Everyone's too narcissistic and egotistical to ever think that there'd be a bad song written about them, so guaranteed, the people that they're about don't know."
"A Safe Place To Land"
The record's final song, a ballad featuring John Legend, is a fitting end to Amidst the Chaos' emotional journey; inspired by political turmoil like the border crisis, it's a track about "reminding myself and each other that we can offer each other safe harbor, even if it's not a physical space," Bareilles explains.
"I wrote that song with an artist named Laurie McKenna... we were in Nashville together, and it was the first day of some of the footage from the borders, when the children were being taken away from their families, and it was the first time you heard the audio of these little babies on the phone, crying," Bareilles recalls. "All I could do was just cry about it. It was just un move-past-able."
The next morning, she says, McKenna came into the studio with the song's first verse, and the song began taking shape. "We just talked a lot about, can't we be each other's safe harbor? Can we not find the compassionate place in our hearts to understand that nobody leaves their home unless it's horrible? Nobody wants to leave home that way, and put their babies under their arms and walk for thousands of miles. No one does that unless it's so bad," says Bareilles.
Seeing how the media treats immigrants has greatly affected her. "They are not the other, they are human beings, and so I'm outraged by this, and by the sort of policies that are being put in place," says Bareilles. "I understand that it's not a simple problem, there's not a simple solution there. I'm not one of those people who's like, 'but it's so f**king fixable,' you know? I get it, it's really complicated, but I'm really outraged by the dehumanization."
Yet while "A Safe Place to Land" was inspired by that anger, it's ultimately a soothing, sweet ballad, thanks in part to Legend's vocals. "John is such a beautiful artist and activist and advocate, and getting to know him a little bit through Jesus Christ Superstar, he was the first call for this," Bareilles says.
The proceeds for "A Safe Place To Land", when it's released as a single, will go towards the ACLU. "It's a meaningful statement to make, and we close the record with it," says Bareilles.
What a powerful way to end an unforgettable musical journey.