Sara Gilbert Speaks Out About The 'Roseanne' Cancellation In An Emotional New Video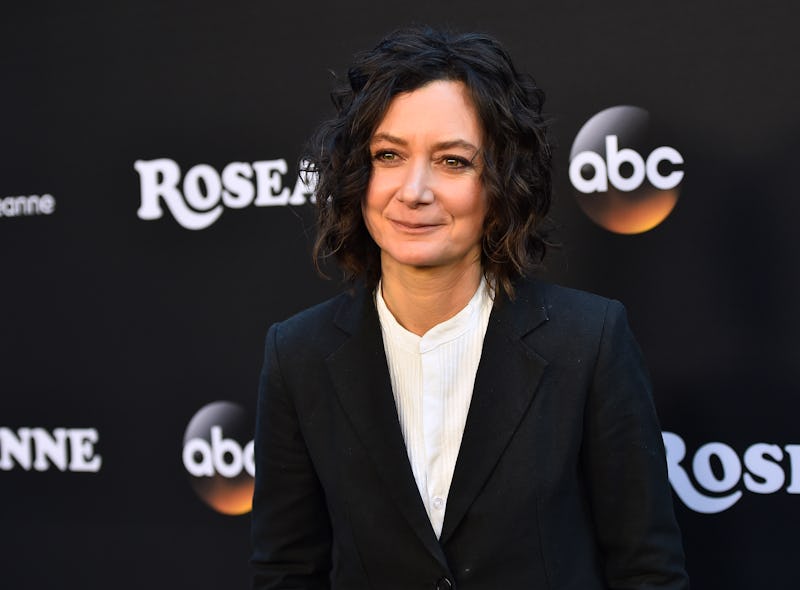 Alberto E. Rodriguez/Getty Images Entertainment/Getty Images
In the wake of Roseanne Barr's racist comments on Twitter last week, Barr's co-star Sara Gilbert spoke out about Roseanne's cancellation on CBS' The Talk on Monday, Entertainment Weekly reported. In their first live show since the sitcom was canceled on May 29, Gilbert, who co-hosts the daytime talk show said she was sad to see Roseanne go, but backed ABC's decision.
"I would like to say this has been a very difficult week," Gilbert — who played Darlene Conner on the comedy — said. "A lot of people have been hurt by this. I will say, I'm proud of the show we made. The show has always been about diversity, love, and inclusion, and it's sad to see it end in this way. I'm sad for the people who lost their jobs in the process. However, I do stand behind the decision that ABC made."
Gilbert's co-hosts echoed that sentiment, and shared their thoughts on the show's cancellation. "I'm really glad to hear you say that," Sheryl Underwood said. "As a black woman who is a comedian, I'm very, very proud of Channing Dungey, who's the president of ABC Entertainment. And as Spike Lee says, a lot of people came together to do the right thing, and I'm happy to see it was done swiftly."
Julie Chen also added, "Canceling the show so quickly sent a strong message and the right message, that's for sure."
The comments were Gilbert's first since she shared her thoughts on Twitter immediately following Barr's racist remark about Valerie Jarrett, a former adviser to President Obama.
Gilbert tweeted on May 29,
"Roseanne's recent comments about Valerie Jarrett, and so much more, are abhorrent and do not reflect the beliefs of our cast and crew or anyone associated with our show. I am disappointed in her actions to say the least."
In a second post she wrote: "This is incredibly sad and difficult for all of us, as we've created a show that we believe in, are proud of, and that audiences love— one that is separate and apart from the opinions and words of one cast member."
Barr apologized for her derogatory statement, blaming the post on a prescription sleep-aid, but replied directly to Gilbert and Michael Fishman, who played, D.J. Conner.
In response to Gilbert, Barr tweeted, "Wow! unreal." In response to Fishman's statement condemning the remarks — in which he wrote, "My character was designed to represent the inclusive nature of my views" — Barr said, "I created the platform for that inclusivity and you know it.ME. You throw me under the bus. nice!"
In a video obtained by Entertainment Tonight, John Goodman, who played Barr's on-screen husband, Dan Conner, hesitated to comment on the controversy. "I would rather say nothing than to cause more trouble." He also brushed off news that ABC suspended the show's Emmy campaign. As reported by The Hollywood Reporter, Goodman said,
"I wasn't going to get an Emmy anyway. I've been up there [11] times already, and if I didn't get one by now [then] I'm not going to get one [now]. I don't know anything about [the controversy]. I haven't read it."
However, fans have been rallying for the show to continue without Barr, with speculation swirling that a spinoff or reboot of the show is in the works, and according to a report published by TMZ on Friday, June 1, the new show could center around Gilbert's character.
According to the outlet, "sources familiar with the situation" said that ABC is "exploring the possibility of re-branding the show and focusing on the character Darlene instead of Roseanne."
However, nothing has been confirmed, and whether the show continues in some form or not, Gilbert's comments on The Talk make it clear she thinks ABC made the right call.