John Goodman Broke His Silence On 'Roseanne's Cancellation, But It Doesn't Feel Like Enough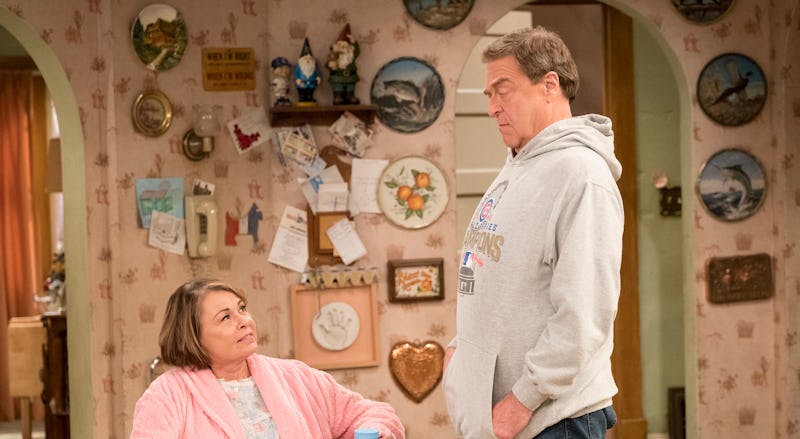 Adam Rose/ABC
The dust is still settling after ABC's cancellation of the Roseanne reboot on May 29, but since it appears for good this time, people are left to wonder: What about the rest of the cast? John Goodman broke his silence on the Roseanne cancellation, and his longtime fans may be somewhat relieved by the statement, although it still doesn't necessarily feel like enough. Entertainment Tonight obtained video of the actor at a repair shop in New Orleans — yes, really — where he was reportedly picking up one of his cars.
After some obvious hesitancy to comment at all, Goodman reportedly said the following:
"Everything's fine. I wasn't going to get an Emmy anyway. I've been up there 11 times already, and if I didn't get one [then] I'm not going to get one [now]. I don't know anything about [the controversy]. I haven't read it."
On the subject of "rumors and speculation" that the show could continue without Roseanne Barr's character, the actor continued that ET "heard more" than he had.
There's obviously a lot to unpack here. First, it's not an official statement made through a spokesperson; a publication caught up with the actor when he was running his daily errands. Goodman's comments on the Roseanne cancellation were clearly not rehearsed. That feels like a refreshing change of pace from formal notes of apology issued through PR representatives. As genuine as it seems, though, it also feels somewhat lacking.
For the many who had been uncomfortable with the lead actor's behavior, ABC canceling the Roseanne reboot was a massive relief. It was also, weirdly, surprising. After all, Barr's controversial nature didn't appear overnight. Her social and political commentary and her general close-mindedness didn't just suddenly manifest this week. Barr has always been contentious, and it had already evolved into full-blown malignancy by the time network executives decided to revive her show. Then they renewed the revival for an additional season. And Barr never stopped being Barr — especially on Twitter.
Her venomous tweets — directed at critics, people, political figures, and religious practices she doesn't like — finally reached their peak when she posted racist commentary about a former official from the Obama administration. In the now-deleted tweet — for which Barr apologized and blamed her prescription sleep aid — she insulted Muslim people and likened Valerie Jarrett, a woman of color, to an ape. She somewhat backpedaled on her apology, insisting she did not know Jarrett was black, and the company that produces Ambien tweeted that racism is not one of the product's side effects. (Earlier in the week, Bustle reached out to Barr's rep for comment on the Twitter backlash and cancellation, but did not receive an immediate response.)
Any one of these things would beg a proper statement from a longtime costar (and generally beloved human) like Goodman. That's why his tight-lipped response leaves much to be desired. Of course, it could be worse: Goodman could have offered an impassioned defense of Barr's views. He could've insisted that the way she chooses to conduct herself on social media isn't reprehensible, or gave a limp "Well, that's her!" by way of explanation. Goodman didn't do these things. He assured fans that "everything is fine," and he isn't affected by ABC choosing to suspend all "For Your Consideration" Emmy campaigns related to the show.
But is it true that he hasn't kept up with the news? Is it possible? It's not like anyone is looking to Goodman for an eloquent takedown of white privilege in Trump's America, but considering how explosive the last few days were, it almost feels wrong that he doesn't have more to say. To be fair, though, he was just trying to pick up his car. In New Orleans, no less. It's not like he was flying into LAX with a sign that said, "Ask me about Roseanne — I'm ready!"
So, in the end, it's good to hear that Goodman isn't defending Roseanne Barr. He's not publicly frustrated with ABC, feuding with anyone over the series, or generally commenting at all. Whether the Roseanne revival will continue, but center on Dan Conner and the rest of the family remains to be seen. And if it really is a possibility, Goodman's neutral response could encourage the network to stick with him moving forward.