Twitter Thinks Sarah Ferguson Is Clapping Back At The Royal Baby Announcement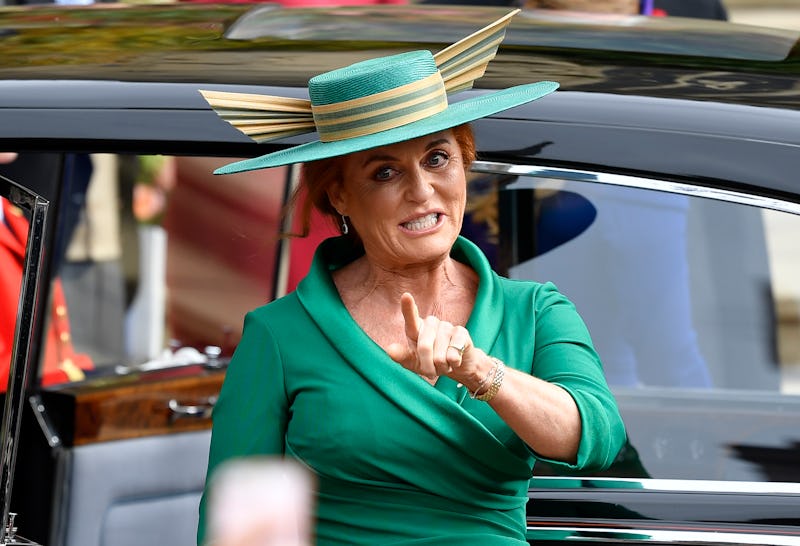 WPA Pool/Getty Images Entertainment/Getty Images
On Friday, Princess Eugenie married Jack Brooksbank at a lavish ceremony inside Windsor Castle. However, while all eyes should have been on the bride, according to one palace insider, Meghan Markle stole the show. Apparently, she and Prince Harry used Eugenie's big day to announce to senior royals that they are expecting their first child — and it seems the bride's mother Sarah Ferguson isn't impressed. So much so, that on Monday, Sarah Ferguson shared pictures of Eugenie's wedding on social media. Coincidence? Well, possibly, but some think it's pretty strange timing.
You see, Markle's pregnancy was officially announced by Kensington Palace at 8:39 a.m. on Monday morning. Seconds later, the Daily Mail's royal correspondent Rebecca English revealed that the couple had announced the exciting news to the rest of the royal family at Eugenie's wedding. Then, a few more seconds passed, and it was Ferguson's turn to take to Twitter. But was it to congratulate her nephew and Markle on their big news? Nope.
At precisely 8:40 a.m., Ferguson — who has remained silent on Twitter since Oct. 8 — posted a photo of the gorgeous green gown she wore to her eldest daughter's wedding reception. As opposed to acknowledging her nephew's baby news, she opted to thank designer Emanuel Ungaro for the "amazing dress" instead. Ferguson then continued to post a series of tweets celebrating Eugenie's wedding as the day unfolded, while seemingly ignoring Harry and Markle's baby news.
"So proud of Eugenie and Jack," Ferguson wrote alongside a photo of the happy newlyweds leaving the church. "Andrew and I are so proud to welcome Jack to the York family."
Now, it appears some believe Ferguson deliberately didn't acknowledge Harry and Markle's news because she was highly irritated with the couple for stealing Eugenie's thunder. So irritated, in fact, that she sought to dull their official announcement by reminding everyone of the her daughter's news from Friday. (Bear in mind there is no evidence to suggest this other than the flurry of tweets).
I reached out to Ferguson's rep to explain the situation. As of yet, I am still to hear back, when they do though, you'll be the first in the know. What I can tell you, however, is that Ferguson still hasn't publicly congratulated Harry and Markle despite comments rumours that she's not a happy bunny spreading like wildfire on Twitter.
Many have taken to the social networking site to voice their opinion on the matter. And it seems a lot of people are suspicious pf Ferguson"
I'll be the first to admit that I wouldn't be happy with someone announcing any form of news on my wedding day, but I have a suspicion that people may be reaching when it comes to Fergie's tweets. The fact she wanted to celebrate her daughter's wedding first thing on a Monday morning when they had spent all weekend celebrating isn't exactly unusual.
And anyway, shouldn't we all stop pitting women against each other? Life isn't a competition or a race to the top. People sometimes experience momentous things at the same time and the ensuing fallout can't be helped. It's highly unlikely that Harry and Markle meant to steal the limelight from his cousin; they were probably just excited to become first time parents and thought they'd reveal the news at a time when the entire royal family was in one room.
Instead of seeing the bad in situations, let's focus on the positives like the fact that Ferguson gave us some of the best facial expressions (and memes) ever seen from a royal. Or that Eugenie's wedding dress sent a powerful message about beauty. Or, yes, that another adorable royal baby is on the way.