Sarah Hyland Celebrated July 4 On Instagram By Embracing Her Body In The Best Way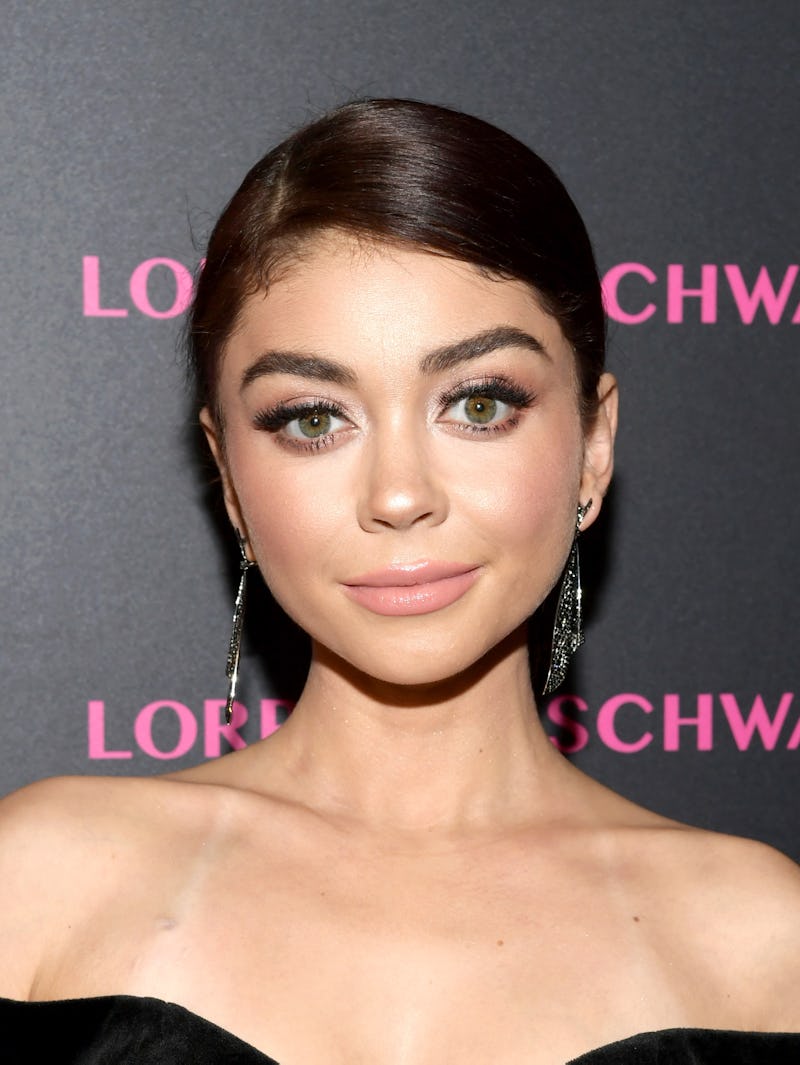 Emma McIntyre/Getty Images Entertainment/Getty Images
Plenty of people share photos of beaches, bathing suits, and other summer activities on holidays like the Fourth of July. But Sarah Hyland used her July 4 Instagram photos to share a message of body positivity. Sarah Hyland's visible scars in her Fourth of July photos prove that she's not ashamed of them, and it's empowering to see the celebrity embracing her body after her health struggles.
In one photo shared to the actor's Instagram Stories, Hyland shared what looks like a selfie showing her relaxing in a backyard while wearing a bikini. She added the hashtag "#scarsondisplay" atop the image, showing that she's just fine with her scars being in full view.
Another Fourth of July photo Hyland posted shows her sitting next to a friend and drinking out of a pineapple-shaped plastic cup. She captioned the image "Actual candid before a 'photo,'" and the shadow of the person capturing the image can be seen at the bottom of the picture.
Hyland didn't specify what caused the scars that are visible in her Fourth of July pictures, but People referred to the scars in her photo as "surgery scars." Hyland had a kidney transplant in 2012, so it's possible the scars on view are related to that surgery, though she didn't say that in the Instagram post. Back in 2012, Hyland revealed to Seventeen that her father was her kidney donor, People noted.
The Modern Family actor has been outspoken about her health struggles over the years, too. A couple of weeks ago, Hyland shared a selfie from the hospital, prompting fans to ask why she'd been hospitalized. Hyland didn't share many details in her post, but some fans inferred that it may have been related to kidney dysplasia, which she's battled for years.
And back in May 2017, Hyland shared a Notes app message on Twitter, explaining to fans why she'd lost weight. Apparently, she was told she couldn't work out, and she ended up losing muscle mass. Hyland wrote in her statement,
"My circumstances have put me in a place where I'm not in control of what my body looks like. So I strive to be as healthy as possible, as everyone should."
It seems like Hyland is doing better now, aside from the recent hospitalization. In February, People reported that Hyland was seen working out in Los Angeles, and that her kidney transplant scars were visible.
Hyland also tweeted about suffering from chronic pain in March. She shared with her followers that she's gone through the frustrating experience of "doctors not listening" to her health concerns, a sentiment that resonated with many people who replied to the tweet.
Hyland didn't share many details about her health in the Fourth of July post, and she's not obligated to share anything she doesn't want to. But it's refreshing to see her being so open about the scars, as well as her trips to the hospital. As the responses to her March tweet showed, her experience has resonated with plenty of fans undergoing similar health issues.
Hyland's boyfriend, former Bachelorette contestant Wells Adams, also shared a message of support for her when she was hospitalized last month. Adams posted an Instagram message about Hyland, and it seems like she has a good support system in place, too.
Based on Hyland's social media posts, it sounds like her struggle with chronic pain and kidney dysplasia may be a lifelong one. That means there might be more ups and downs in the future. But based on her Fourth of July post, it seems like she's doing her best to keep living her best life, whatever comes her way.