Sarah Paulson Finally Showed Up In 'Feud'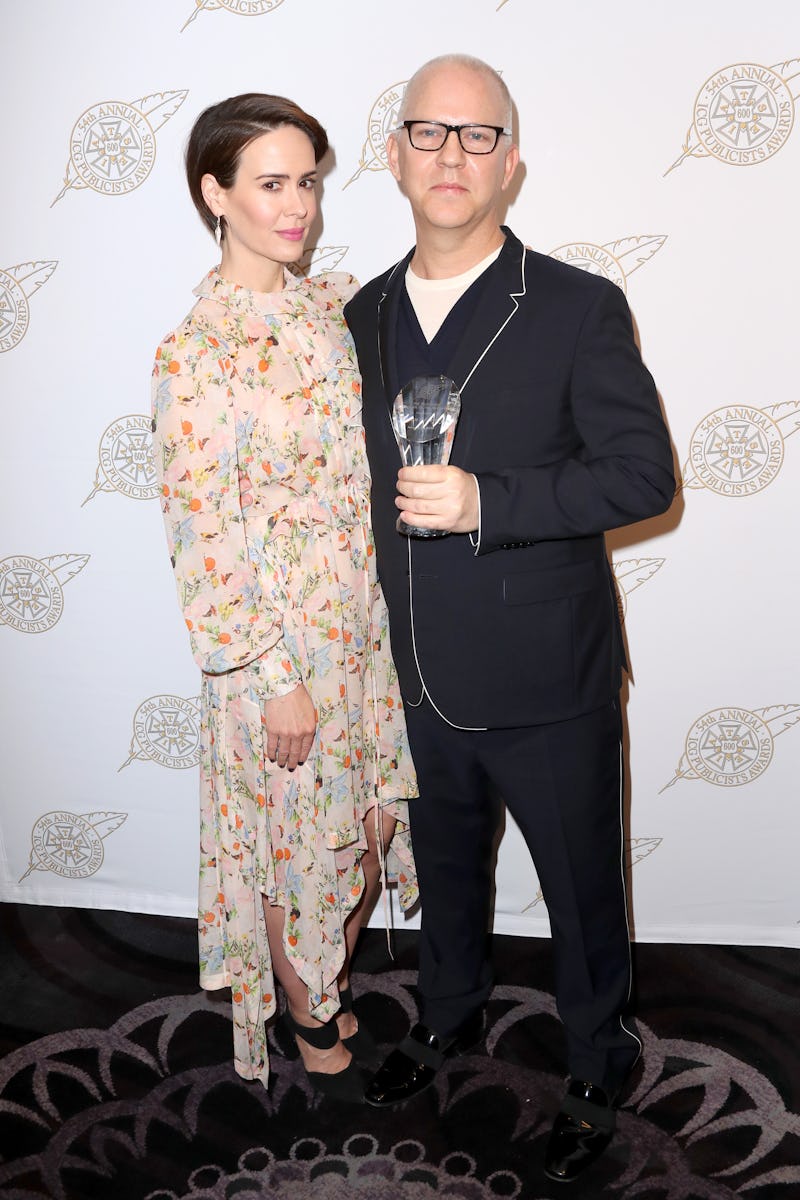 Frederick M. Brown/Getty Images Entertainment/Getty Images
Ryan Murphy fans may have already known that Sarah Paulson was in Feud as Geraldine Page, but that didn't lessen the impact when the Murphy favorite appeared onscreen during the April 2 episode, "And the Winner Is ... (The Oscars of 1963)." While Paulson doesn't necessarily look like Page like Serinda Swan looks like a young Anne Bancroft, Paulson doesn't not look like Page. However, what I was more interested in was the way that Page was portrayed as slightly naive and easily manipulated by Joan Crawford, so was Paulson's portrayal of Geraldine Page in Feud accurate? History indicates that Feud might have taken some liberties with what really happened.
As shown in Feud, Page did not live the glamorous Hollywood lifestyle of Crawford when she was nominated in 1963 for Best Actress in Sweet Bird of Youth. "The career of Miss Page, who shunned many of the trappings of stardom, was marked by periods of relative obscurity broken by sudden rediscovery," The New York Times wrote in her obituary. The publication also quoted her friend, playwright Horton Foote, who said, ''She was not a gal who worried about the fashion of the times ... She had enormous individuality." Her low-key lifestyle was featured in Feud with Paulson being in Page's "New York one bedroom" with her future husband Rip Torn, so that part of the TV series does seem to match the description of Page.
However, something that threw me was finding out that Page had already been nominated for two Oscars before 1963. By bullying Page about the viciousness of Hollywood (since Page was working in New York City on Broadway), Jessica Lange's Crawford was able to steamroll Page into letting her accept her Oscar if she won. While it was revealed that Page was aware of how much Crawford needed this and thought, "Hollywood should be forced to look at what they've done to her," Crawford's tactics don't ring true once you know that Page had been nominated for a Best Supporting Actress Oscar in 1954 and a Best Actress Oscar in 1962. (She was nominated a total of eight times and won once.)
In real life, the New York Post reported that Crawford called both Page and Bancroft, but it looks like Murphy dramatized the moments to show not only a manipulative but an overly sympathetic side to Crawford. (Did Bancroft and Page really think Hollywood had betrayed Crawford? Or did they know that Crawford was seemingly using their potential Oscar wins to get back at Bette Davis?) Maybe Crawford really was out of touch enough to think that Page would be threatened by cutthroat Hollywood to let her accept the award while Page's motives were more out of pity. Yet, Page having already been a part of the Academy Awards nearly a decade before and being an acclaimed actress in her own right makes me think that their phone conversation might have gone down a bit differently than what was shown in Feud. But, hey, who am I to complain when that scene gave Murphy fans a Paulson and Lange reunion?