Scarlett Johansson Is Reportedly Getting Equal Pay For The 'Black Widow' Movie — FINALLY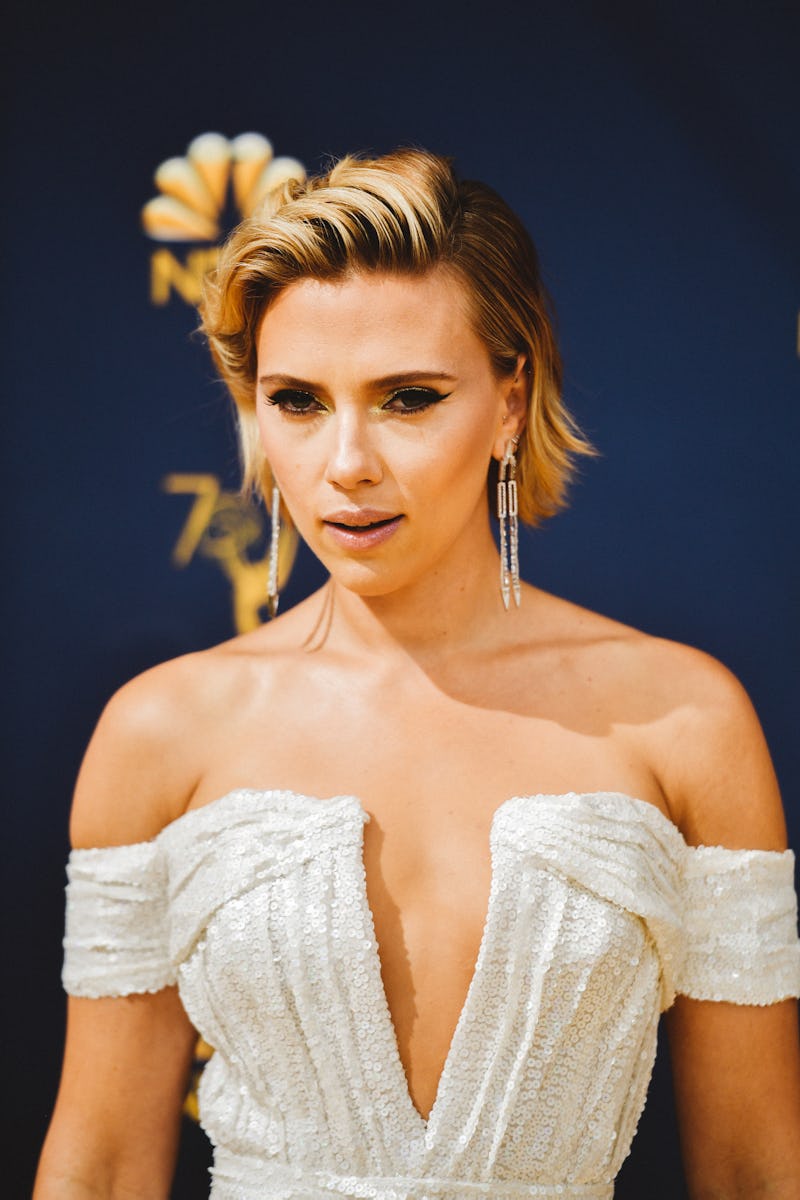 Matt Winkelmeyer/Getty Images Entertainment/Getty Images
Black Widow isn't the only one getting what she deserves with her upcoming standalone movie, the actor who plays her is, too. Scarlett Johansson will reportedly get equal pay for Black Widow movie. Yes, for Black Widow's first solo film, Johansson will get paid the same as her male Avenger co-stars, according to The Hollywood Reporter. While Marvel's move is a total no-brainer, it's also a win for working women not just in Hollywood, but everywhere.
THR reported that Johansson will be paid $15 million for the untitled Black Widow film. (In a statement to the outlet, a Marvel spokesperson stated: "Marvel Studios disputes the accuracy of these numbers, and as a matter of policy, we never publicly disclose salaries or deal terms.") If true, that means that Johansson would be paid a salary equally those earned by Chris Hemsworth and Chris Evans to play Thor and Captain America, respectively, in Avengers: Infinity War. It's also what those actors were paid for their starring turns in their third stand-alone films Captain America: Civil War and Thor: Ragnarok, along with the next Avengers film, which might be Evans last if you believe his goodbye tweet to the movie.
After appearing in six Marvel movies, Johansson is finally getting to star in her first solo Black Widow film, which also makes this paycheck notable. As THR points out Marvel hasn't been known to give such big salaries to actors for their first standalone films. Robert Downey Jr. reportedly took home $500,000 for the first Iron Man. For comparison's sake, now he makes a reported $50 million per picture, which is the most of any Avenger.
Things are changing, though. For next year's Captain Marvel, THR reported that Brie Larson, made $5 million. (The publication also stated that she signed a seven-picture deal that will allow her to appear in multiple Marvel franchises; Larson has since refuted this on Twitter.) But, it's Johansson's deals over the years that show Marvel understood how important Black Widow was to their universe.
Even if onscreen Black Widow has too often had to play second fiddle to the men, offscreen, Johansson has always fought for parity. And it's a fight she's won time and time again. In 2015, Variety reported that Johansson "earns roughly the same compensation from The Avengers series" as her co-stars Evans and Hemsworth. The reason why was simple: audiences love Black Widow, who first appeared in 2010's Iron Man 2, and that's all due to the actor that plays her. "Audiences have proven that there's an appetite and a market for dynamic female leads and female-driven stories," Alan Horn, the chairman of Walt Disney Studios, told Variety two years ago. "And as an industry, we have a responsibility to create those roles for women and compensate them accordingly."
The industry does, and it's what Time's Up, an organization of which Johansson is a supporter, has been fighting for. Johansson herself has admitted to being passionate about getting equal pay for women in the industry, even if she didn't always love speaking about it. In a 2016 interview with Cosmopolitan, Johansson said:
"There's something icky about me having that conversation unless it applies to a greater whole. … I am very fortunate, I make a really good living, and I'm proud to be an actress who's making as much as many of my male peers at this stage. … I think every woman has [been underpaid], but unless I'm addressing it as a larger problem, for me to talk about my own personal experience with it feels a little obnoxious. It's part of a larger conversation about feminism in general."
All women deserve their fair share and in Johansson's case, it looks like she might finally be getting it. Johansson is already the highest paid actress of 2018, according to Forbes, which reported she had made $40.5 million between June 1, 2017 and June 1, 2018. She also has the honor of being deemed the highest-grossing actress of all time by Box Office Mojo. This is all worth celebrating, but as Johansson said to Cosmo, it's also important to put this into context. Her Black Widow payday is just a small wage gap victory — even for her.
For instance, she may be the highest paid actress, but she still makes nearly $200 million less than the year's highest paid actor, George Clooney, via Forbes. This one paycheck is just a tiny step toward the much bigger goal of making sure all women are given equal pay for equal work all the time.
That's not to say Johansson being appropriately paid for her work on Black Widow isn't something to get excited about. But that excitement shouldn't just be for Johansson, it should be for what this might mean for more women in Hollywood and beyond.