Nnedi Okorafor Opens Up About Whitewashing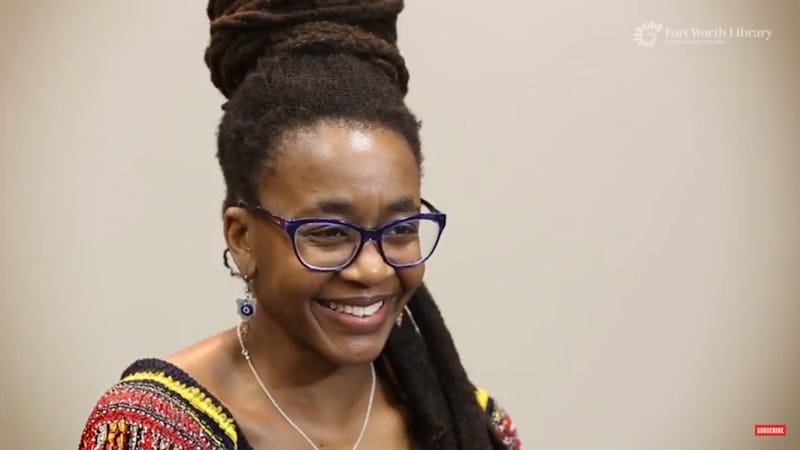 In a series of Tuesday tweets, Binti author Nnedi Okorafor reveals how whitewashing in publishing works. The Hugo and Nebula Award-winning writer shares two cover images for her 2007 afrofuturist YA novel, The Shadow Speaker, which centers on a 15-year-old girl who sets off on a journey across the Sahara to find her father's killer in the year 2070. The original cover treatment proposed by publisher Hyperion shows a young woman with European features walking in the desert, completely ignoring the fact that Okorafor's protagonist is a Nigerian Muslim, and is described as "black skinned."
"As a black woman writing a black female main character in a scifi novel," Okorafor tweets, "seeing my character whitewashed on the cover felt-like-erasure [sic]." The author says she "threw a sh*t fit (tapered by my agent)" to have the cover changed to reflect Ejii's ethnic identity.
Whitewashing in publishing, particularly in the young adult market, is a systemic problem. The theory behind it appears to be that anyone will read a book with a white person on the cover, but that books featuring cover models of color are "black," "Asian," or "Arab" books. Which — just like the assumption that boys won't read books by and/or about girls — is complete and utter BS.
Okorafor isn't alone in having her main character's race changed in the name of market appeal. Percy Jackson author Rick Riordan's Kane Chronicles follow the adventures of an African-American kid named Carter, whose ancestors were Ancient Egyptian magicians. But until late 2015, many European versions of the books portrayed Carter as a white teen, something Riordan and his U.S. publisher weren't happy about.
Okorafor goes on to talk about a different kind of whitewashing, "one that turns characters white upon reading them so the reader is more comfortable." She also calls out readers who almost exclusively read white writers — the "I don't look at names/author headshots" crowd — and those who are upset when people of color are cast in fantasy.
By now, the most famous example of this is the outcry over the first Hunger Games film, when so-called readers took to Twitter to express their disappointment with Amandla Stenberg's casting as Rue, saying that making the character black "ruined the movie" for them. I say "so-called readers," because anyone who actually paid attention to Suzanne Collins' YA novel would have noted that Rue had "dark brown skin and eyes."
A similar situation popped up in 2016, when black actress Noma Dumezweni landed the role of Hermione Granger in Harry Potter and the Cursed Child. J.K. Rowling herself came out to remind Potterheads that there is no suggestion in the books that Hermione is white, regardless of Harry Potter film actress Emma Watson's race.
Representation matters, and we need diverse books. At a time when only 22 percent of children's books are about characters of color, it's even more important that books featuring non-white main characters display accurate portraits of those protagonists on their covers. As Inclusive Minds co-founder Alexandra Strick tells The Guardian, the problem goes deeper than casting a white model to portray a non-white protagonist:
However, very often it's more subtle than that, with the cover of a book about a non-white character often avoiding featuring a human face at all, or with the character featured in silhouette or even with their face turned away. Sometimes it's a case of publishers asking that a character is 'less dark' almost as though mixed race is acceptable but somehow black skin isn't.
Check out the rest of Nnedi Okorafor's tweets on whitewashing in publishing below, and share your thoughts on Twitter!