Scott Disick *Finally* Addressed The Age Gap Between Him & Sofia Richie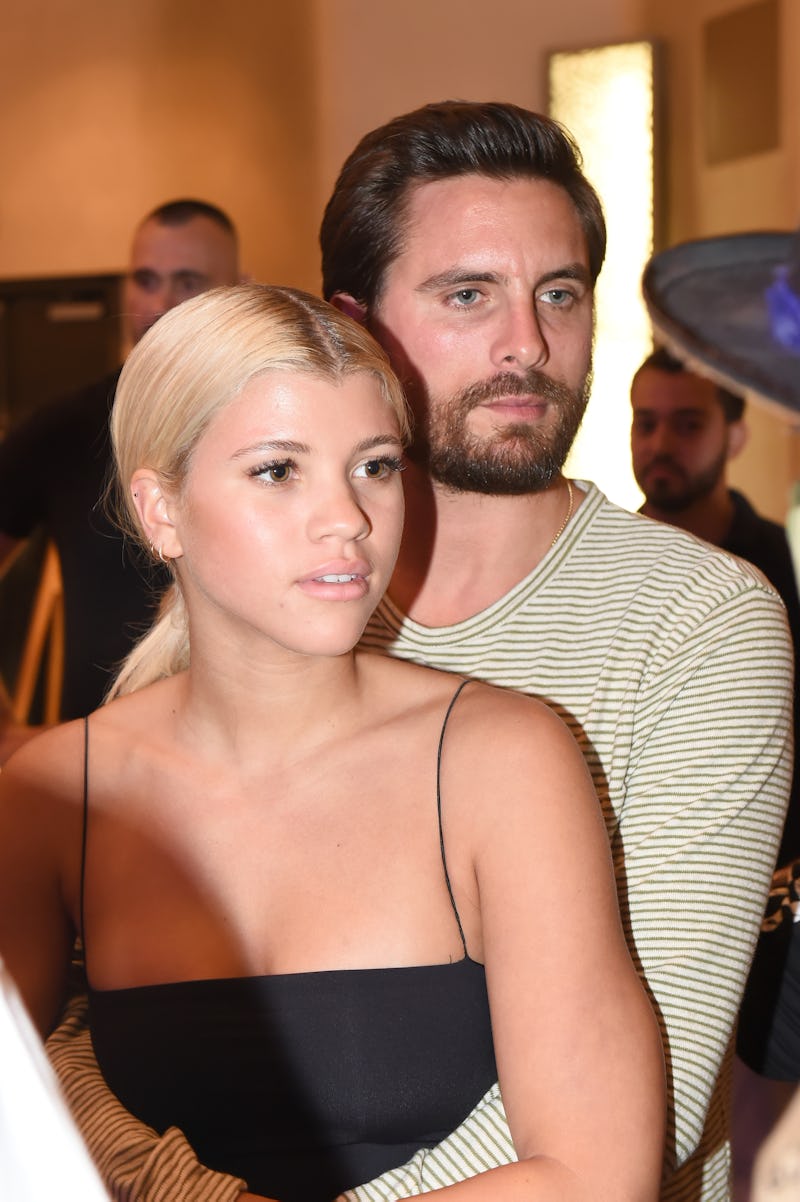 Romain Maurice/Getty Images Entertainment/Getty Images
Aside from the whole Christmas photoshoot mess, the other topic at hand during the Keeping Up With the Kardashians Season 15 premiere concerned Scott Disick and Sofia Richie. During a convo with Kim Kardashian, Disick addressed the age gap between him and Richie, as StyleCaster noted. In the process, he also gave an interesting update on the pair's relationship status.
Kim didn't hold anything back as she asked Disick about his relationship. In regard to the 16-year gap between the two, she said, "Do you ever find yourself in a moment when you're like, 'grow up'?" Um, talk about awkward. The awkwardness of the situation aside, Kourtney Kardashian's ex kept a pretty level head as he told Kim that Richie is actually very mature. In fact, he went so far as to say that his girlfriend, who is 19 years old, would be more likely to tell him, a 35-year-old man, to grow up. Yes, really.
He continued to say in a confessional that, regardless of their age gap, he's happy in his relationship. "This is the first time I've ever been with anybody different, but it's been a really good thing for me," Disick said. It does sound like he's genuinely in a good place with his girlfriend. And if both parties are happy, then that's what counts.
Elsewhere in the KUWTK premiere, Disick discussed the goings-on in his life with Cici Bussey, Robert Kardashian Sr.'s cousin. Of course, he opened up about the current state of his love life in a very honest way. Disick told Bussey that he actually feels a bit of guilt in moving on from his relationship with Kourtney, his ex and the mother of his three children. Regarding moving on, he said, "One part of me is happy... but another part of me feels guilty that I'm moving on from Kourtney."
It's not too surprising that Disick would open up about such a major aspect of his life, since, you know, this is a reality TV show where the stars all discuss their lives. However, considering how tight-lipped he was about his current girlfriend on Season 14 of KUWTK, it is interesting to see him open up about her now.
During a conversation with Kris Jenner, the father-of-three previously admitted that he was dating Richie. Although, he wasn't nearly as open about discussing his love life as he was in the most recent KUWTK premiere. When the momager asked him if he was dating just one person, he replied with a simple, "Yeah." She continued to ask about the relationship, pondering whether it was "Sofia" that he was "going steady with." He replied, "I guess you know who it is."
It is nice to see that Disick is more comfortable opening up about his relationship as of late. Since he is, it will be super interesting to see the direction that their coupling will take. Fans will just have to stay tuned to KUWTK to see exactly what's next for Lord Disick and his girlfriend.