Scott Disick & Sofia Richie Aren't Holding Back From Making Their Romance Public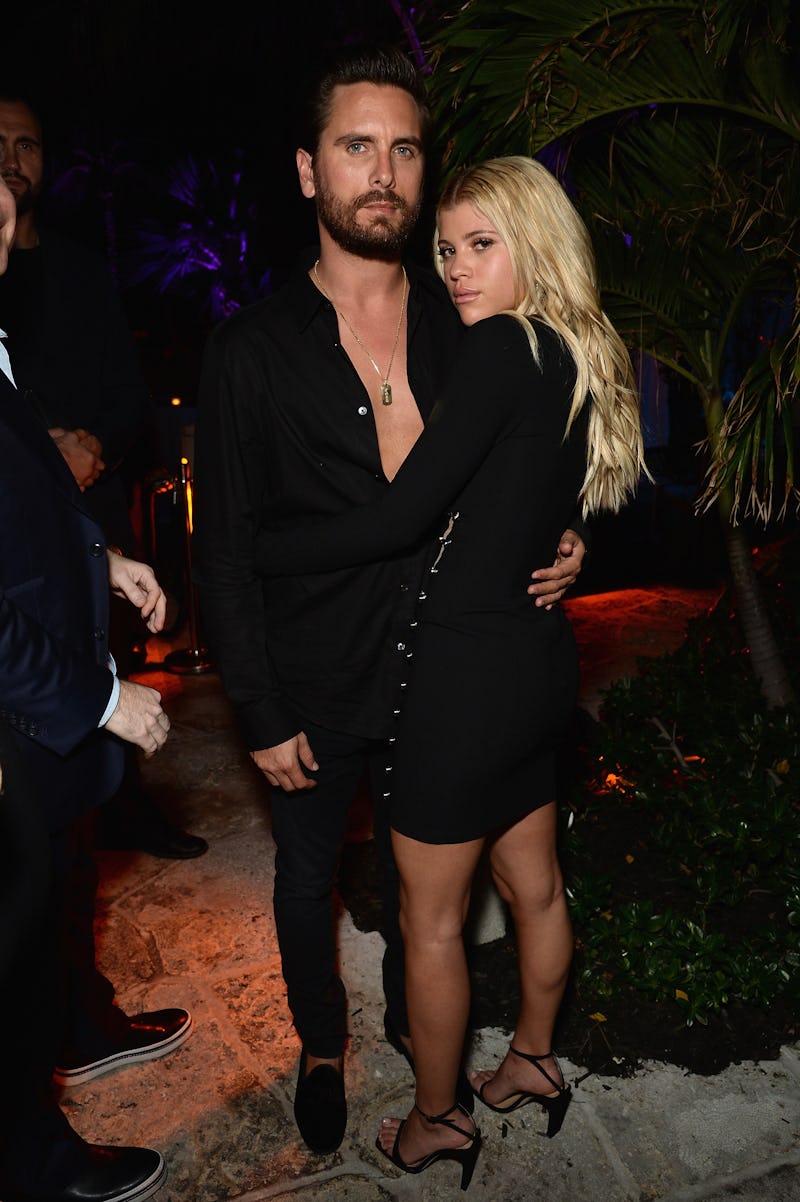 Andrew Toth/Getty Images Entertainment/Getty Images
While their budding romance has received its fair share of mixed reactions, Scott Disick and Sofia Richie's relationship seems more out in the open than ever, based on their recent string of dates. It's now been a few months since the pair first started popping up in each other's Instagram posts and various paparazzi pics, but now Disick and Richie have been attending Art Basel events in Miami together, according to People. And apparently they're not holding back on the PDA.
Interestingly enough, People also reported that a camera crew followed Disick and Richie around at an art exhibit cocktail hour earlier in the week. Could this mean that they're filming episodes of Keeping Up With The Kardashians together? It's currently unclear. (Bustle reached out to a rep for KUWTK for comment, but did not receive an immediate response.) Regardless, it's obvious they're not hiding their relationships by any means. Then again, this is the same couple who shared a celebratory "congratulations" dessert back in September, sparking speculation they just faked an engagement to get free cake. (Which, honestly, is not the worst idea in the world.) So would you really expect anything less?
Apparently their week in Miami has not only included the art exhibit trip, but also a dinner at The Sugar Factory. As fans know, Disick frequently promotes the Sugar Factory — he's even featured on their website. And according to People, the pair shared a "King Kong Sundae" and a kiss on Friday at the dessert-themed restaurant.
Making the whole situation even more eyebrow-raising, People reported that Corey Gamble joined them at The Sugar Factory, along with some of Disick's pals. Just a causal reminder that yes, Gamble is dating Kris Jenner, so it's puzzling as to why the boyfriend of the mother of Disick's ex-girlfriend Kourtney Kardashian was hanging around on his date with a new girl. But then again, this is the world of Kardashian, where anything goes.
Adding to that notion, JustJared reported that Jonathan Cheban hung out with Disick and Richie at an Art Basel pop-up on Thursday. Cheban is incredibly close with Kim Kardashian, even playing the Sonny to her Cher this past Halloween. This definitely spurs even more questions.
Since Disick has been close with the Kardashian family for so long, it's understandable that he'd still be friendly with Cheban and Gamble. And yes, they're allowed to hang out with whoever they want. It's just a little bit surprising to see him and Richie being all buddy-buddy with them, that's all. But if they are indeed filming for KUWTK, it would make slightly more sense.
For as much attention as they've received, it's worth noting that when rumors about Disick and Richie dating began, the 19-year-old dismissed the idea. She initially tweeted in May that they're "just homies." More specifically, she wrote, "Just so everyone can get their panties out of their *sses, Scott and I are just homies #relax." Suffice to say, that idea kind of went out the window when they posted couple-y beach photos a few months later that people took as them making things "Instagram official." But at the end of the day, it's their relationship and only they know what's truly going on.
One thing that's clear is that they're sticking by each other's sides. Another one of their recent dates included Disick supporting Richie at a DuJour magazine party, according to Refinery29. Richie is on their cover, so it appeared to be a show of support for her work. Fans seemed to appreciate that aspect of their public appearance.
While not everyone may be 'shipping these two, they do appear to be enjoying the time they spend together, especially now being in the spotlight more and more. Chances are, this is just the beginning for these two, so you'll just have to wait and see what happens next.