Sean Spicer Finally Announces His Resignation On Twitter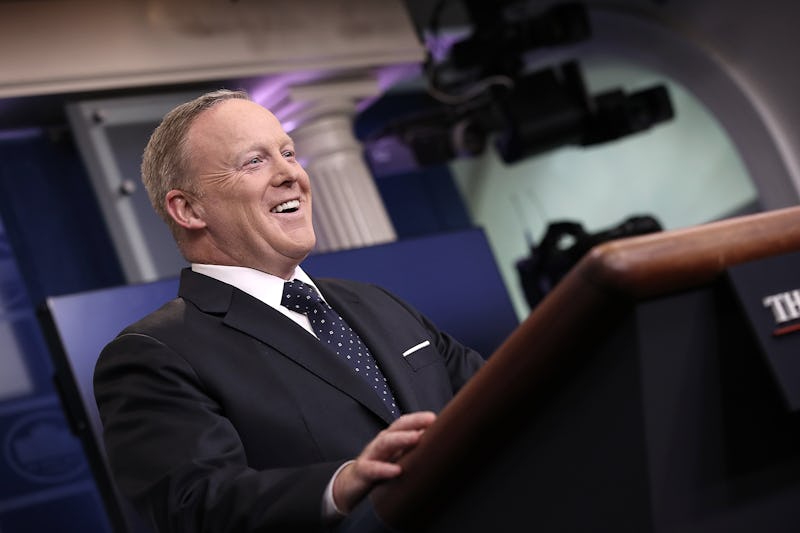 Win McNamee/Getty Images News/Getty Images
After six rocky months as White House press secretary, Sean Spicer resigned from the position on Friday. Shortly after the news of his resignation broke, Spicer tweeted on the official Press Secretary account, "It's been an honor & a privilege to serve @POTUS @realDonaldTrump & this amazing country. I will continue my service through August."
Spicer's resignation was first made public by The New York Times' Glenn Thrush, who reported that he had "vehemently disagreed" with President Trump's appointment of Anthony Scaramucci as communications director. Trump also reportedly offered Spicer a position subordinate to Scaramucci, which the press secretary "flatly rejected."
But Spicer's departure from the White House has been a longstanding rumor, even since his earliest days as press secretary. His insistence that Trump's inauguration had the "largest audience to ever witness an inauguration — period — both in person and around the globe" was widely mocked, especially since there was photographic evidence that showed otherwise.
And his job performance in the months since continued to stoke reports about Trump's anger over Spicer's ineptitude at defending him to the press. Reports also came out that Trump was upset over Melissa McCarthy's portrayal of Spicer as an enraged gum-chewing, podium-riding press secretary on Saturday Night Live, though it was reportedly less about the character McCarthy created than it was that Spicer was being portrayed by a woman.
The push-and-pull between Trump and the media proved singularly taxing on Spicer, as his boss continued to rage against journalists whom he had to face at daily press briefings. When Sarah Huckabee Sanders, the deputy press secretary, began conducting those briefings in Spicer's place, talk of his impending departure intensified.
On Friday, the White House announced that Huckabee Sanders would take over Spicer's place as press secretary, and officially confirmed that Scaramucci was appointed communications director.
Though Spicer's resignation was characterized as angry by many a media outlet, Scaramucci and Huckabee Sanders showered praised on the outgoing press secretary on Friday in a press conference announcing the shake-up.
Huckabee Sanders also read a statement from the president about Spicer:
I am grateful for Sean's work on behalf of my administration and the American people. I wish him continued success as he moves on to pursue new opportunities. Just look at his great television ratings.
It is unclear if Spicer will ultimately leave his difficult role at the White House on good terms with Trump, but all parties involved appear amicable enough, at least in public.