You NEED To See Selena Gomez's New Tattoo Honoring Her Squad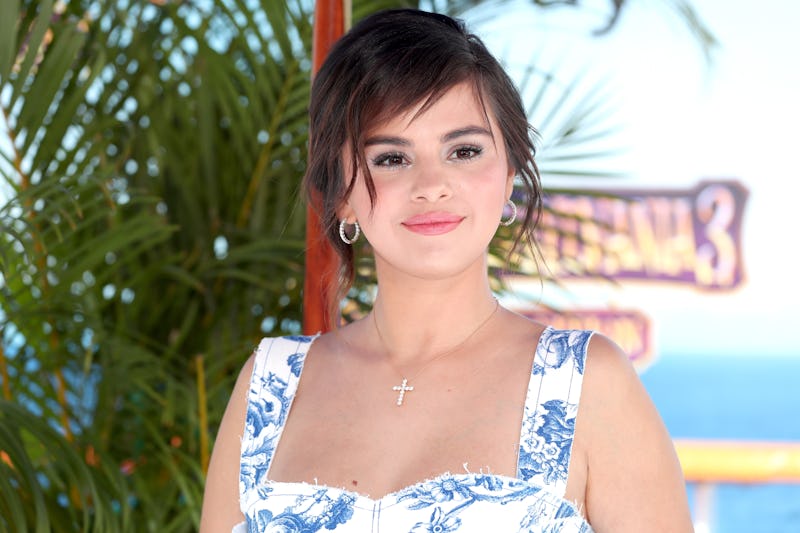 Christopher Polk/Getty Images Entertainment/Getty Images
Prepare yourselves, because squad goals have just been redefined. On Saturday, August 18, Selena Gomez shared photos of her new tattoos on Instagram, but these tats are so much more than just fresh ink. According to Elle, the "Back to You" singer spent the evening with her three best friends — Courtney J. Barry, Raquelle Stevens, and Ashley Cook — in celebration of Barry's birthday. It's clear from the photos, that their evening was all about celebrating the bonds that tie them together, and that celebration led to something more permanent — matching tattoos of the number four.
In a post, Gomez explained just how important these three women are to her. She wrote,
"Best friend turned 26. Part 2. #4 because these women have stayed by my side for 7 years (@ashley_cook 12 years) 4, because you are my 4 for the rest of my life. I love you ladies. You all inspire me to be better, stronger, closer to god and we have lived the most INSANE story together already. Can't wait for 50 more!! Ps @raquellestevens had an actual panic attack it's a dot!"
Gomez didn't stop there though. In addition to matching number fours, she and Barry got a second tattoo just for them. The singer captioned the second post,
"And lastly, my actual #1 @courtneyjbarry you are an incredible woman. The way you handle life's most confusing moments is indescribable and graceful. You are moved by the littlest stories to the most heartbreaking ones, you will give someone your perfume if they say you smell nice, you are freaking hilarious and always stand firm in your faith, a loving sister, an amazing friend and a beautiful daughter. You are the definition of FEARFULLY and WONDERFULLY made baby! #1"
See? These are definitely next level squad goals.
Barry, who is the West of Fairfax founder, shared the same photo to her Instagram with a short and sweet caption: "we finally did it! my number one and my sister forever @selenagomez."
These women always seem to be there for each other. Earlier this summer, they all gathered together to celebrate Gomez turning 26. Gomez's party included a boat trip and some amazing donuts, but that's not quite the same as getting matching ink with three of your best pals.
Gomez has been through quite a bit in her 26 years, but her posts make it clear that she has a group of supportive, amazing people surrounding her. Their new tattoos are small reminders of the closeness they share, and they'll definitely make sure that Barry's 26th birthday celebration is one that they will never forget.
While getting tattoos with a significant other is a popular way to make it known to the world that you're partners for life, getting matching ink with your squad feels even cooler somehow. It's a testament to the power of friendship, and it's clear from the awesome photos that Gomez shared that she and her BFFs know just how important it is to always have a good friend by your side.