'Deadpool 2' Is Dedicated To A Late Stuntwoman Who Lived Such An Inspiring Life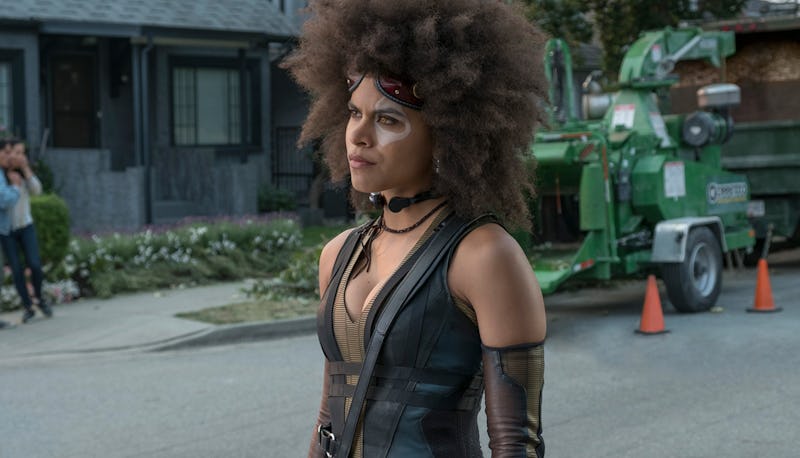 20th Century Fox
If you've already seen Deadpool 2 in theaters, you may have noticed that the movie has a dedication at the very end. Sequana Harris was a Deadpool 2 stuntwoman, and she was tragically killed in a motorcycle accident during the movie's production. Her name might not be too well-known, but her devastating experience on the Deadpool 2 set might be recognizable to fans who follow film production news.
Harris, who went by "SJ," worked as a stuntwoman for Domino (Zazie Beetz) in the film; it was her first experience as a stuntwoman, but before joining Deadpool 2 she was a pioneering motorcycle racer who paved the way for women of color in the sport. In her personal blog, SJ24z, Harris noted that she was "the first licensed African-American woman in U.S. history to actively compete in sanctioned motorcycle road racing events."
It's absolutely tragic that Harris' life was cut so short. Deadline reports that her fatal accident occurred in August 2017, when she drove beyond the stopping point for a stunt, leading to the motorcycle striking against the curb. She was thrown off the motorcycle through a glass window, and she had no helmet on at the time. There are conflicting reports about the accident; a Hollywood Reporter article claimed that various Deadpool 2 crew members expressed concern over Harris' lack of experience as a stuntwoman, as despite her expertise as a rider, the stunt required for her to learn various sequences that would be challenging for a newcomer. According to the article, some people on set felt that Harris' death could have been prevented.
Deadline, meanwhile, reported that the Deadpool 2 production team denied that Harris was under-qualified for her job, with an anonymous production source stating that "she was the best candidate for the job." While there may never be a consensus about whether Harris should or shouldn't have been given the job, the fact is that her death is heartbreaking, and deeply affected many people who knew her from her work on Deadpool 2.
Production on the film was briefly halted right after the accident, before re-starting a few days later. The cast and crew of Deadpool 2 mourned Harris in the weeks following her death, with Ryan Reynolds giving a speech in remembrance of the stuntwoman and holding a moment of silence on set with the crew, as Variety reports. Both Beetz and Reynolds also took to social media to honor Harris. Beetz shared a handwritten note on Instagram that reads:
"On Monday we tragically lost one of our own -- Joi SJ Harris. My heart has been breaking the past two days and I have been searching what to say or do. I know that what I feel is nothing compared to what her loved ones, friends + family, are feeling. My heart and my love goes out to her and them all. The cast and crew send peace, healing, and their deepest condolences."
Reynolds, meanwhile, shared his condolences on Twitter, with a succinct but equally heartfelt message that said, "Today, we tragically lost a member of our crew while filming Deadpool [2]. We're heartbroken, shocked and devastated… but recognize nothing can come close to the grief and inexplicable pain her family and loved ones must feel in this moment."
Clearly, Harris had a major impact on her Deadpool 2 castmates, and it's good that the filmmakers chose to honor her with a dedication at the end of the movie. Regardless of the circumstances that led to her passing, Harris' death is truly heartbreaking, and her life deserves to be remembered.