Serena Williams Posted The Sweetest Selfie With Alexis Ohanian For Their 1st Anniversary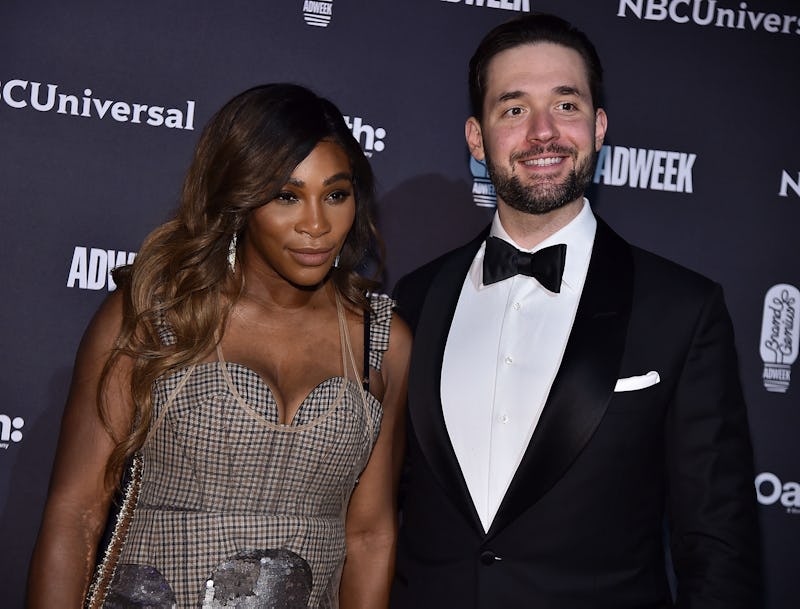 Theo Wargo/Getty Images Entertainment/Getty Images
Alexis Ohanian and living icon Serena Williams have just about the best celebrity relationship there is. To celebrate their first anniversary, they posted photos of each other on Instagram that are the absolute best. Seriously, Serena Williams' anniversary selfie with her husband, the co-founder of Initialized Capital and Reddit, is a master class in photo taking. The simple, cozy shot of the pair is the best flex there is. They're snuggling! They're happy! Her necklace! The glowing skin. Other faves could never.
Williams completed the intimate selfie with a simple, perfect caption:
One year down a lifetime to go @alexisohanian
After getting engaged in December 2016, the couple officially tied the knot on November 16, 2017. It was, by all accounts, a whirlwind romance: According to a Business Insider article, they met by chance at a hotel in May 2015. Neither had any idea who the other was, which is unbelievable. (On his end, at least. Who doesn't know Serena Williams?)
Fortunately, everyone knows how this turned out: Today, he's one of her most visible, ardent supporters, both on the court and on the internet. Meanwhile, Williams got a little more "online" for her new love. When they announced their engagement, Williams did so on Reddit. They are truly such perfect nerds.
On November 16, Ohanian Sr. also posted an equally sweet photo. This one was an action shot from their wedding, a black and white image that was about 80% the tennis champion, and 20% of himself. The two were caught mid-dance move, with Williams' dress spun into a perfect circle. He wrote an incredibly cute caption, as well:
365 days later. And still dancing. Only now Jr joins in. Happy anniversary, my queen. Here's to many, many more.
"Junior" refers to the couple's daughter, Alexis Olympia Ohanian, Jr. (They call her by her middle name, Olympia, and in this writer's totally unbiased opinion, it rules.) They welcomed her before the wedding, but she was too little to bust a move with family at the time. The couple are super in love with each other — Ohanian, especially, loves to gush about Williams on social media — and it's been a joy to watch them become parents, too. The tech founder and athletic legend run an Instagram and a Twitter account as their toddler, which is hilarious and amazing. Better still, they have one for her doll, too, and The Cut even wrote a profile on her earlier in 2018.
Basically, they seem so happy and so in love, possibly even more this year than they were in 2016. And as often as the spouses post about each other, they rarely show such intimate, close-up selfie-type of moments like the one Williams posted for their anniversary.
The couple's love story is inspirational. Interestingly, it's also encouraged both Williams and Ohanian — who were public figures long before they got together — to be more open with fans. Since the pair began dating, they've both begun to share more personal, emotional moments and aspects of their non-professional lives with the general public. And that doesn't just help fans who may be enduring similar situations — it makes everyone love them all the more for it.