Serena Williams Shared The Sweetest Video Of Her New Baby — And Her Name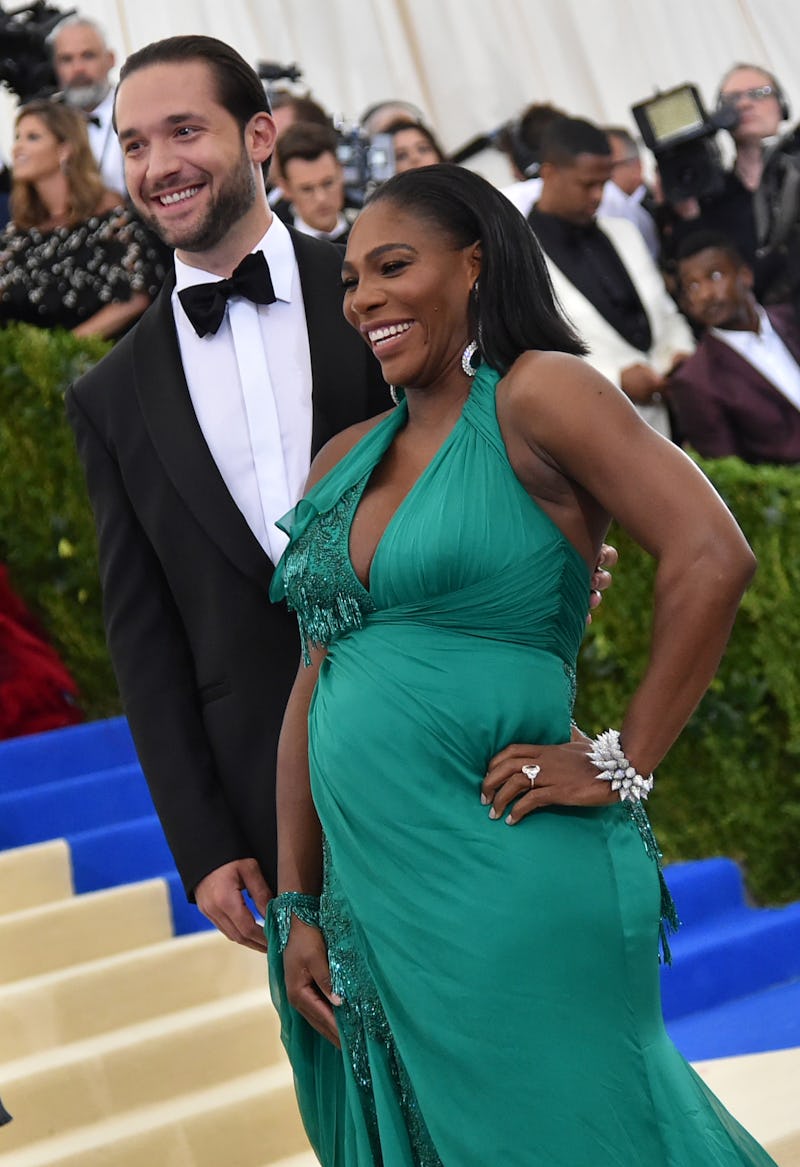 Mike Coppola/Getty Images Entertainment/Getty Images
It's time for the world to meet Serena Williams' new baby girl! The tennis champion introduced her and fiancé Alexis Ohanian's new bundle of joy on Instagram Wednesday morning and gave an inside look into the couple's pregnancy journey. She also shared the baby's name: Alexis Olympia Ohanian, Jr.
The tennis star and Reddit co-founder had an unlikely meeting in May 2015 in Rome while Williams was in town for the Italian Open and Ohanian was speaking at an event. They announced their engagement back in December 2016, and news that the couple was expecting broke a few months later in April 2017 when Williams posted a selfie on Snapchat captioned "20 weeks." She promptly deleted the photo but the news was later confirmed by her spokesperson that she was indeed expecting.
On Tuesday evening, Williams' teased at something to come with an Instagram post of herself and Ohanian captioned, "...but are you ready for it?" The sweet video series that followed on Wednesday morning shares with viewers moments from the couple's lives throughout the whole pregnancy, from when they found out up until Alexis' birth. (Ohanian also posted the video series to his YouTube page, as shown below.)
Named after her father (they do have different middle names, though; his is Kerry), the newborn already has a pretty impressive resume that includes something that most people will never have: a grand slam championship. In the story, Williams' recalls how she won the Australian Open while being eight weeks pregnant.
In one of the most tender moments of the video series, Williams can be seen in the hospital, holding new baby Alexis and saying, "So we're leaving the hospital after six, seven days. It's been a long time but we had a lot of complications, but look who we got — we got a baby girl!"
The series of videos, first released on her Instagram story, cover everything from setting up the crib to practicing swaddling on their dog, and they all build up to the main event: the arrival of their baby girl. One of the biggest "Aww"-inducing moments came in the beginning of the video series when Williams captured Ohanian's ear to ear smile and his excitement after finding out the news. The video then cuts to a shot from Ohanian's point of view where he filmed a video of his fiancé and captioned it, "Your mother is the most beautiful woman on Earth."
This is the first child for both Williams and Ohanian. An interview with Time earlier this summer, Williams talked about her pregnancy experience and the one problem she is excited to tackle: getting the baby to sleep.
"Honestly, I look forward to having that problem," Williams says. "I think most moms in particular, just want to have a really healthy baby. Maybe I'll only get two or three hours of sleep at a time, but it's really about getting quality over quantity."
Now that the baby has been born, the couple is looking forward to the future. They have kept quiet on their exact wedding plans, but according to Vanity Fair, the wedding will be later this year. As for her career goals, Williams plans to be back on the tennis court as soon as January 2018. In her interview with VF, Williams opened up about her plans to get back on the tennis court as soon as possible saying, "I don't think my story is over yet."
A friend of Williams, Diondra Thornton, told VF that Serena "loves being pregnant," but also thinks the draw of the court is pulling her back. "I can also see competition creeping in on her," Thorton adds. "Is this over yet? I think she's getting this itch... to see her intensity and her workout — 'I have to stay fit. I have to get back on the court.' Very determined to get back on the court."
Baby Alexis may share a Grand Slam championship with her mom and a name with her dad, but the video series that the gushing new parents made is all about her.