Serena Williams' Daughter Is Learning French, Because Is There Anything This Family Can't Do?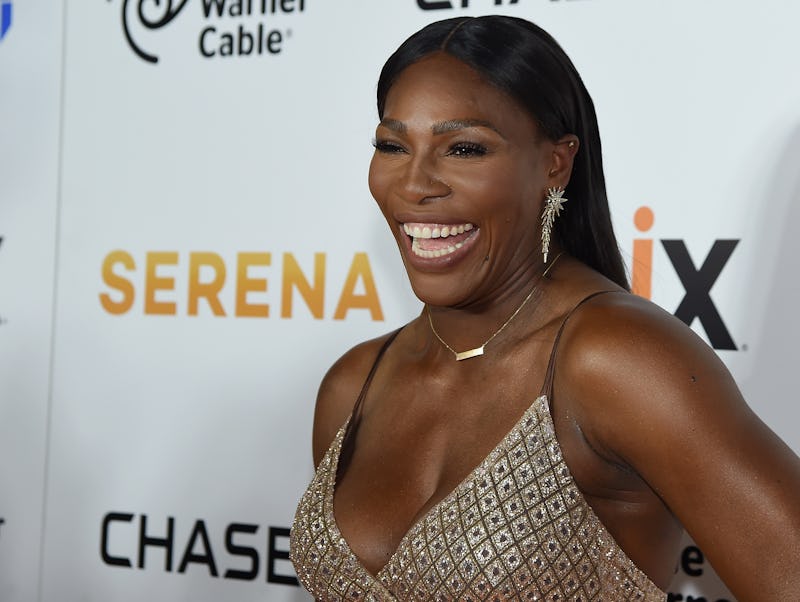 Jamie McCarthy/Getty Images Entertainment/Getty Images
Just in case tennis superstar Serena Williams isn't already impressive enough, let this sink in: She's also helping her 11-month-old baby become bilingual before most kids can even speak one language, let alone two. In a new video she shared on her Instagram Story, Williams is speaking French to her daughter Olympia, and Olympia seems to totally understand. How is this even possible?! Then again, with this family, does that question even need to be asked?
In the video, which Williams posted on Wednesday, Olympia is on the floor, washing her hands in a dog bowl and looking pretty pleased with herself. In French, Williams tells her to wash her hands and then tells her not to use the dog bowl. All the while, Olympia has the biggest grin on her face, and over the video, Williams typed, "now I have to give her a bath."
First of all, this is just straight up the cutest video ever. Second of all, it's majorly impressive that Williams can speak French to her child, who is not even 1 year old yet, and have her seemingly understand it. Then again, teaching your child a foreign language at a young age can be really good for them — and help them learn and speak the language that much faster — but Williams is really going above and beyond here.
Unfortunately, Olympia is better at washing her hands than she is at child rearing, because Williams also shared videos of her carrying her baby doll around, who Williams calls Qai Qai, and if that baby were real, she'd be dead. At one point, she hits her baby's head on the stairs, and eventually, the baby ends up face down on the kitchen floor.
It's fine, Olympia. You have plenty of time to learn.
It's hard to believe that Williams and her husband, Alexis Ohanian, have almost hit the one-year mark in their parenting adventure, but according to Olympia's dad, it's all been worth it. In a recent interview with Us Weekly, Ohanian said that the most romantic thing he can do for his wife is to be a good partner and father, which is so sweet.
"When I think of the most romantic things I've done for my wife, I actually think they're the times when I was just there as a father to our baby, or as a husband," he told the magazine. "It doesn't have to be the super extravagant trip to Rome or to Venice for Italy food. It just needs to be stepping up and being there, being a great partner."
Beyond the amazing things he's done for Williams in the past, Ohanian is totally right — what could be better than giving of yourself to make the lives of the people you love better?
Olympia is a lucky little lady to have two parents who care about her and each other so much — and so far, the odds seem to be in her favor for growing up to be a talented athlete who speaks French. Is it OK to be jealous of an 11-month-old baby?