Serena Williams' Motherhood Comments Will Make Parents Everywhere Say SAME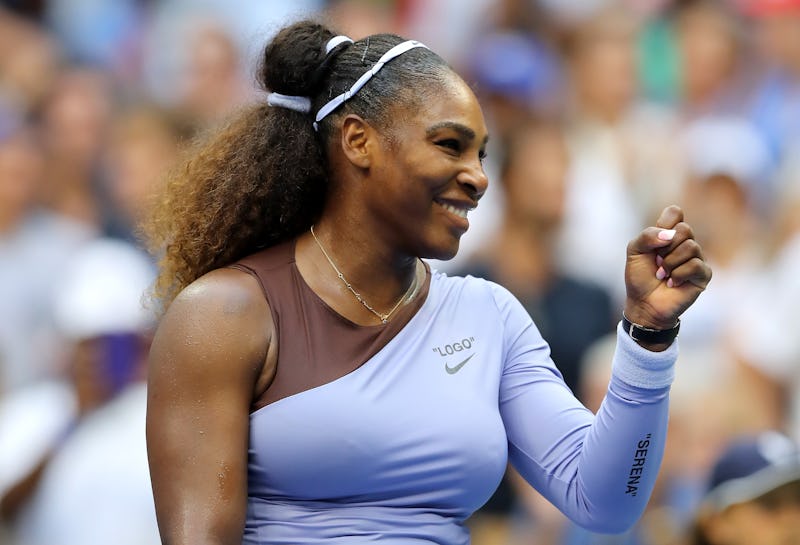 Elsa/Getty Images Sport/Getty Images
Launching a clothing line, becoming a new parent, and, you know, being one of the best athletes to ever walk the planet is a lot to take on at the same time, and the great Serena Williams doesn't pretend otherwise. When Serena Williams talked about balancing work and being a mom over the weekend at the 5th Annual Imagine Ball Honoring Serena Williams Benefiting Imagine LA, she said something many parents can undoubtedly relate to: it's really, really hard. As tough as it's been to keep so many important plates spinning at the same time, the tennis legend/Olympic gold medalist/hero to so many embraces the challenge.
Williams explained to People,
"It's been so hard balancing being a mom and starting my clothing line, as well as playing a professional sport! However, it is the challenge that makes it fun!"
She added,
"I have spent every day with Olympia since she was born, and one of the latest challenges has been her teething. I'm sure a lot of parents can relate. A milestone has been her walking — I get a good workout chasing her around the house!"
Williams and Alexis Ohanian welcomed their first child, Alexis Olympia, on Sept. 1, 2017. Williams has been incredibly candid about her time as a new mother, from penning an essay about her life-threatening post-delivery complications to talking about postpartum depression.
In an Instagram post that went up in August, Williams wrote,
"Last week was not easy for me. Not only was I accepting some tough personal stuff, but I just was in a funk. Mostly, I felt like I was not a good mom. I read several articles that said postpartum emotions can last up to 3 years if not dealt with. I like communication best. Talking things through with my mom, my sisters, my friends let me know that my feelings are totally normal. It's totally normal to feel like I'm not doing enough for my baby. We have all been there."
She went on,
"I work a lot, I train, and I'm trying to be the best athlete I can be. However, that means that although I have been with her every day of her life, I'm not around as much as I would like to be. Most of you moms deal with the same thing. Whether stay-at-home or working, finding that balance with kids is a true art. You are the true heroes."
A few weeks later, Williams shared a lovely photo she took with Olympia and recounted a not-so-lovely anecdote:
"Kids humble us. The other day on a flight home Olympia had so much energy and insisted on running up and down the aisle. When I finally got her to calm down and sit still, she threw up all over me and in the aisle. #ThisMama wants to remind all mothers the importance of supporting one another through the highs, lows, laughs and tears."
Williams has been so open about her experiences as a mother over the last year, and this recent interview with People was no exception.