Serena Williams' Comments About Balancing Motherhood & Work Are Super Relatable For Moms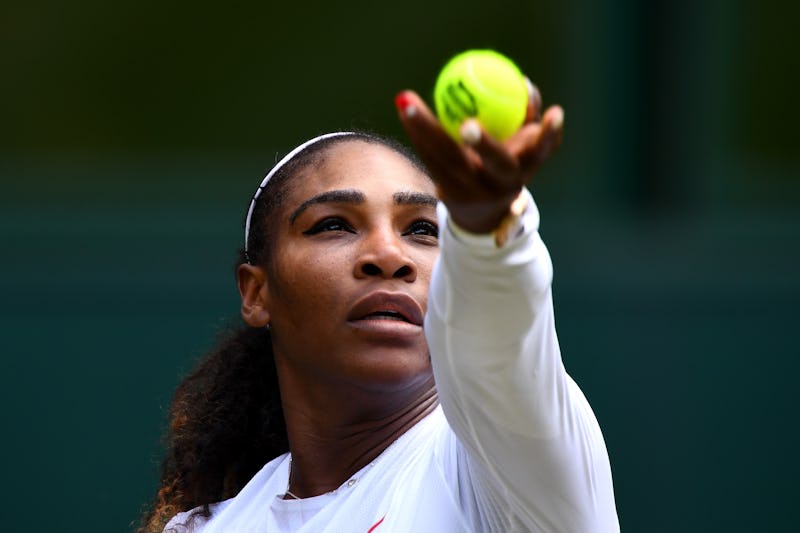 Clive Mason/Getty Images Sport/Getty Images
Between being an all-star athlete to becoming a mother and wife, from the outside looking in — mainly from her adorable Instagram posts dedicated to her family — Serena Willams seems to have it all together. In her recent Time Magazine interview, which will officially hit stands Aug. 27, the star talks about her rigorous training schedule and the pressures that come with being "the greatest." Most of all, Serena Williams' comments about balancing motherhood and tennis will totally be the thing to ring true to a lot of working moms out there.
Williams was interviewed during an intense time, aka training for the upcoming U.S. Open, but in the midst of her prep, the athlete made time to talk all-things family and celebrity. If you follow her, or her husband, Reddit founder Alexis Ohanian, on Instagram, you get the vibe that she's totally killing it at life right now. And even though she's been open about her not-so-easy transition to motherhood on social media, it's sometimes hard to believe that someone as powerful as the court queen still has moments of vulnerability. According to Williams, however, she can totally relate to the struggle that most working moms experience, which is why she dedicated her last Wimbledon run "to all the moms out there who've been through a lot."
"Some days, I cry," Williams revealed in the Time interview. "I'm really sad. I've had meltdowns. It's been a really tough 11 months. If I can do it, you guys can do it too."
Williams gave birth to her baby daughter, Alexis Olympia Ohanian Jr., nearly one year ago, in September 2017, and has her fair share of stories when it comes to bouncing back after maternity leave — especially in the sports industry, which is dominated by men. "It would be nice to recognize that women shouldn't be treated differently because they take time to bring life into this world," Williams noted in the interview.
And she's absolutely right. The American standard of taking a six-week long maternity leave after giving birth is something that doesn't work for every working mother. And new celebrity moms like Cardi B, who recently announced that she wouldn't be joining Bruno Mars on tour, have also expressed how unfair the one-size-fits-all allotment is on women.
Candidly, Williams also opened up in the interview about her decision to stop breastfeeding when Olympia around eight-months-old. It was a decision that was undoubtedly tough, but in order for her to get back in shape in time for the season, it was one she had to make. Williams, however, told the magazine that she started to understand that in order for her to be a good mother to her baby girl, she has to first be good to herself. The athlete told Time, "I still have to learn a balance of being there for her, and being there for me. I'm working on it. I never understood women before, when they put themselves in second or third place. And it's so easy to do. It's so easy to do."
"I need to be more selfish for just those couple of days," she continued in the interview. "I keep telling myself she's not going to remember that I spent an extra two hours with her. I should be taking that two hours and focusing on my career."
And with that, Williams is not only setting the bar for what it means to be dedicated to your craft, but is also continuing to inspire so many working mothers out there.