Shay Mitchell Found 'PLL's Emison Baby Storyline As Creepy As You Did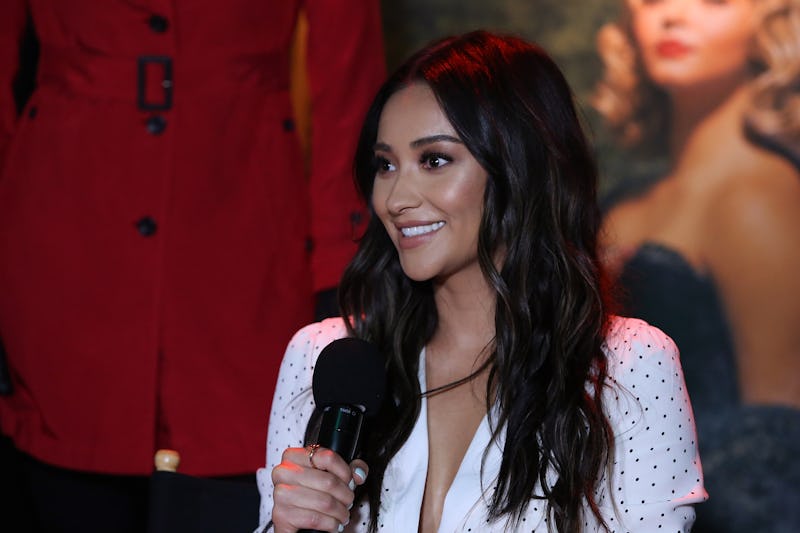 Jonathan Leibson/Getty Images Entertainment/Getty Images
It was pretty much known that Pretty Little Liars' Emily and Alison would end up together once the series came to an end. However, fans probably didn't anticipate the two having twin girls due to A.D. stealing Emily's eggs after she donated them, using Wren's sperm, and then implanting them in Ali without their consent. If you thought it was a beyond messed up situation, you're not alone — Shay Mitchell thinks the Emison baby storyline is seriously weird, too.
"Creeped out," she tells me of her feelings on the subject, when we talk recently on the phone for Stella Artois' "Host One to Remember" campaign. "I was extremely creeped out when I heard that my eggs [were] in her."
Yet while it was "all so confusing at the beginning," Mitchell adds, "as twisted as it was, that's what people love about our show. I actually think it suited it perfectly."
Some might disagree with the actor, since not only were Emily and Ali's bodies violated (which was discussed on the show), but the pregnancy seemed to be used as a plot device to bring Emison together once and for all. Furthermore, it didn't seem fair that Ali had to decide the fate of twin babies that weren't even technically her own. In the end, the character hesitantly decided to have the children, and it all seemed to work out (Ali and Emily stayed together with their babies), but it's hard for many fans to ignore that there were still a lot of issues with how the storyline unfolded.
Mitchell, though, feels differently. "To be honest, maybe I'm just in the dark or just didn't pay much attention to the negative comments, but I didn't see anything bad about it," she says. "All of the tweets and comments that I got about it on all of my different social media platforms were happy that they ended up together."
"I think people have to expect the fact that in Rosewood there's a lot of different scenarios that happen that aren't a fairytale, but at the end of the day people wanted to see Emison together and that's what you got," she continues.
Emily and Ali weren't the only PLL characters to rush towards the future, though; Hanna and Caleb got married, as did Aria and Ezra, and several of the Liars considered having kids in the finale. But that wasn't the defining factor of the episode, Mitchell says.
"I don't know if it was so much about marriage. I think, over the years, each of the girls had a special relationship to another character, especially with Hanna and Caleb's situation," the 30-year-old explains. "I think Hanna's just one of those girl's that did grow up dreaming of her wedding... for her it was important. I think that was kind of [Haleb's] storyline." As for Emison and Ezria? "In the other ones, it just happened to be," Mitchell says.
While fans are still processing the end of PLL, they can move on by taking interest in Mitchell's current and future projects. As hard as it might be to see the actor as someone different than Emily Fields, her next role in the 2018 film Cadaver sounds intriguing. As Megan Reed, Mitchell plays a recovering addict working her way back to becoming a cop again by taking a graveyard shift at a morgue. Let's just say, her first night on the job doesn't go as planned.
"I really liked this character, specifically, because, although she did have her issues and stuff, she did come out strong," Mitchell says. "It's that [type of] character that I like to play. She is driven, she is independent, she's a strong female lead, and I like that [the film] discusses people's different issues."
For PLL fans hoping to see similarities between Megan and Emily, don't hold your breath. "I think they're different in the fact that Megan Reed is older, she's had more life experiences," Mitchell says about the two characters. "Even though Emily has gone through her own set of issues, Megan, I feel, has dealt with different issues than Emily. Their experiences growing up, whether from family life, [are] completely different than one another."
Even when the actor isn't busy establishing herself on the big screen, she is entertaining in other ways, whether by hosting get togethers for friends and family ("I've always been a big fan of decorating and specifically having people over and making the night a little special with details", she says) or getting ready for a TV return. Recently, Mitchell scored a role in Lifetime's upcoming thriller, You, based on the book of the same name. Funnily enough, she is portraying Peach Salinger, who is described as "a queen-bee type." Hmm... that sure sounds like a certain Alison DiLaurentis, doesn't it?
Both on-screen and off, it's best you keep your eye on Mitchell, because she clearly isn't slowing down anytime soon.