'PLL's Shay Mitchell Is Starring In Yet Another Twisted, Unnerving Show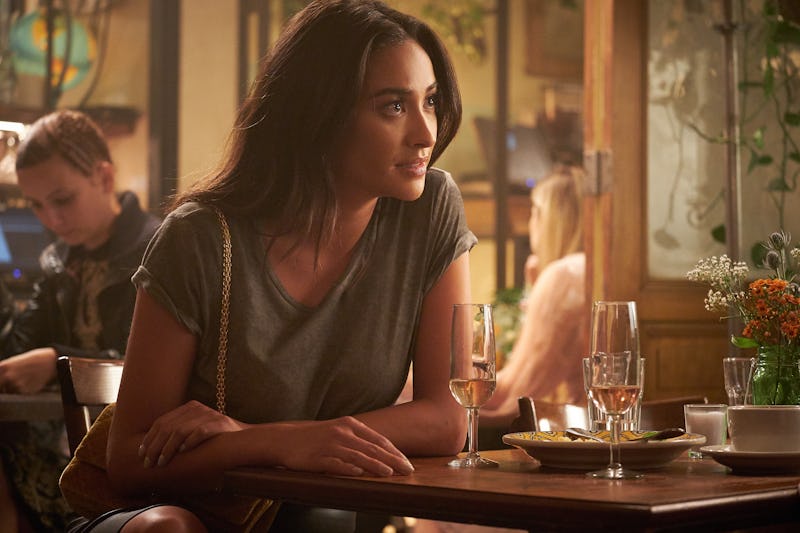 Lifetime
Lifetime struck gold with the first few seasons of its scripted series UnREAL, and with the new Penn Badgley-fronted You, it seems like the network is gunning once again for gritty drama that viewers won't be able to look away from, no matter how much they might want to. In addition to Badgley, best known for Gossip Girl, the show features a few other familiar TV faces — and in particular, Pretty Little Liars' Shay Mitchell's You character might be more important to the plot than initially meets the eye. Mild plot points from You's pilot mentioned ahead, but no real spoilers.
The plot of You is about as straightforward as it is horrifying — Badgley plays Joe Goldberg, a bookstore manager in New York City who takes a particular notice in Beck, a customer who he finds browsing his selections. They talk, they flirt, they have a bit of a banter — it's all fairly innocent until you hear the inner monologue that's guiding Joe's actions.
He's analyzing her like a textbook stalker, pretentiously noting to himself which books she chooses and what that might reveal about her personality and status. Joe's a creep right off the bat, though he hides it from Beck under a layer of charm — and his behavior only gets more and more severe.
This ultimately sets up a psychological thriller that's designed to make viewers uncomfortable and unnerved, while also warning of the dangers of documenting their lives so meticulously online. Joe learns intimate details of Beck's schedule, career and location just from a snappy internet search. As he begins to follow her, it quickly becomes clear that Beck is in the cross-hairs of a sinister character.
That's where Mitchell's character, Peach, comes in. Though she appears only briefly in You's pilot, it's apparent that she has a good, practical head on her shoulders, and is always looking out for those around her, even if her advice can come off a little harsh.
When Beck hits an ill-advised open mic night while in an emotional state, Peach gently warns her against stepping onstage, and asks if she's sure it's the best course of action. When Beck spends too much cash on a birthday present for another friend, Peach cautions her against splurging on others, and offers to help with any money issues she may be going through.
Basically, Peach is established from the get-go as someone who's got her eye on Beck, and isn't afraid to step in and voice her concerns when she smells trouble, and trouble is a-brewin' after Joe enters her life. The actor told Entertainment Tonight that fans can expect to learn much more about Peach and Beck's relationship as the show progresses, and also assured them that she's left her PLL persona behind for this role.
"Peach is the complete 180 from what Emily [from PLL] was," Mitchell told the outlet. "She is known to be not the nicest, so she is, quote un-quote, the 'mean girl,' but you know she does have a love for Beck, the main character, and you'll see that. She has… a very interesting relationship with her."
There's obviously more about Peach that'll be revealed as the season goes on, and perhaps there's even more to Joe that we don't know just yet. Mitchell did tell PopSugar that You is "a love story to a certain extent," though it's really hard to see how anybody could see Joe's obsessive ways as even remotely romantic. Things remain up in the air — we can only hope that Peach will do what she needs to do to protect her friend.