8 Questions That Can Help You Figure Out Whether You Should Actually Get A Divorce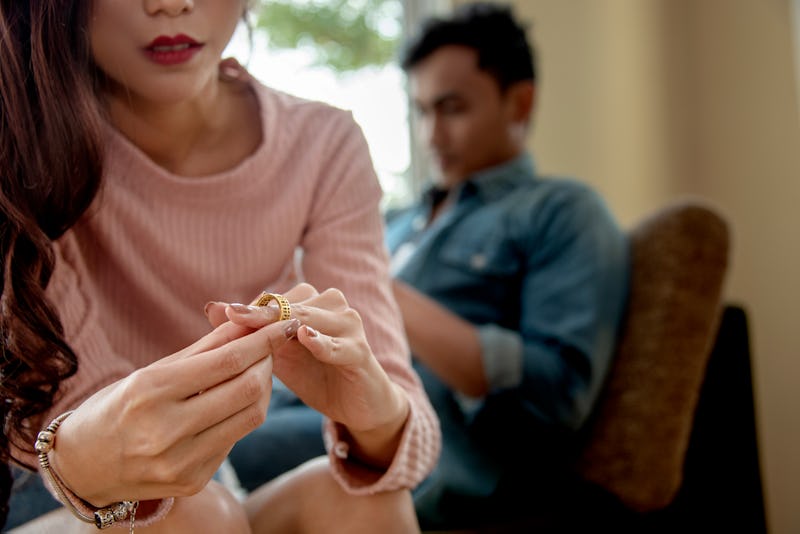 Shutterstock
If you and your partner are thinking about ending your marriage, it can be difficult to know whether you're making the right decision or not. There are some questions to ask before getting a divorce so that you can be sure that you're aware of all of your options, according to experts.
First of all, it's important to look at the big picture of what's gotten you to the point that you're thinking about separating. "Sometimes people end a relationship, start another, only to find the same issues in the next relationship," Dr. Annie Hsueh, PhD, a licensed clinical psychologist in Southern California specializing in couples therapy, tells Bustle. "There are people that find, no matter what relationship they are in, the same issues repeat themselves," she says. "It is possible that divorce will not solve all of your concerns." Ask yourself whether the major problem in your marriage is one that you've struggled with in the past. If it's a pattern that you recognize, it might can be addressed through couples or individual therapy.
Of course, if you're in danger, it probably isn't a good idea to try to postpone the divorce. But if you're safe and able to really consider whether ending your marriage is the best option, doing some more thinking and brainstorming might be helpful.
Here's what to ask yourself and your partner before getting a divorce, according to experts.