Signs Arie Was The 2018 Bachelor All Along Prove You Just Weren't Paying Close Enough Attention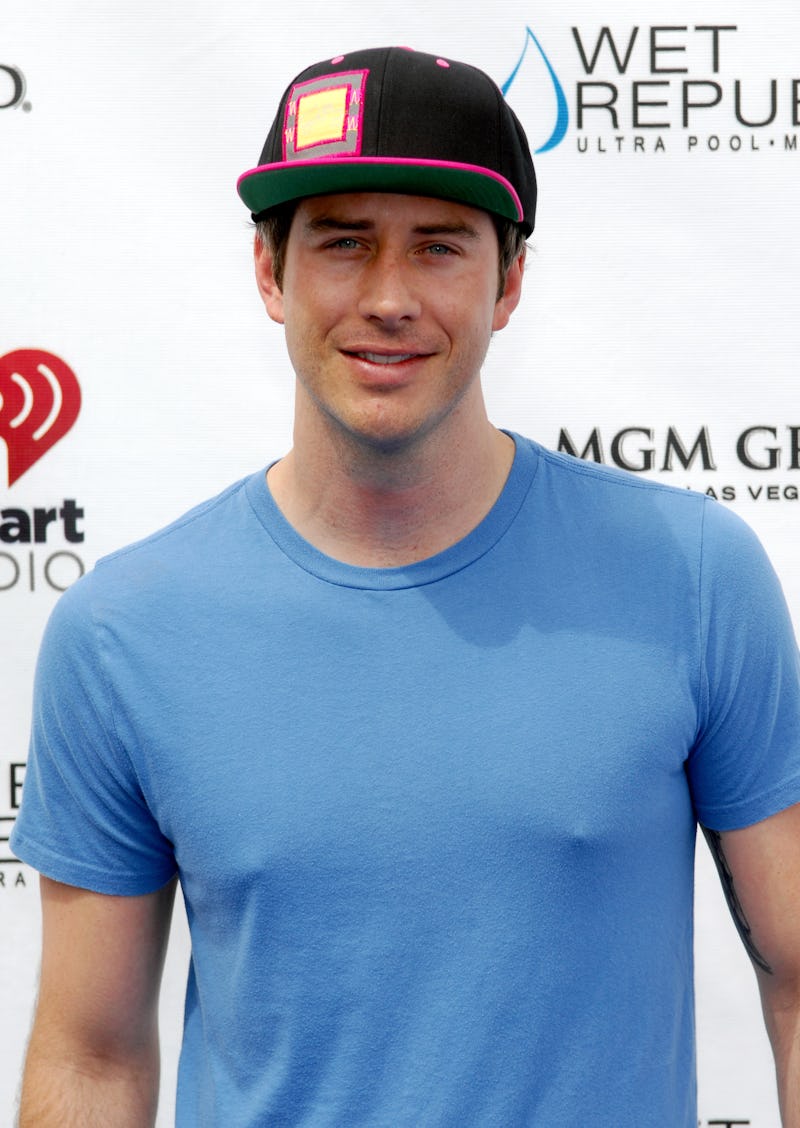 Bryan Steffy/Getty Images Entertainment/Getty Images
It may seem kind of out of left field for the powers that be to choose a contestant from way back in Emily Maynard's 2012 Bachelorette season for the next round of the show. But it's also a refreshing surprise to bring back a beloved alum from years ago. Arie Luyendyk Jr. is the new Bachelor and as shocking as the announcement may have seemed for Bachelor Nation at first, there were subtle signs that Arie was going to be the Bachelor all along.
Of course, I think that Nick Viall wins as the most shocking Bachelor announcement, but Arie is certainly not someone who was on everyone's radar as of late. After all, he hasn't been a part of any spinoffs, such as Bachelor In Paradise, and his last appearance on the franchise was way back in 2012. Although it may seem like they just plucked Arie from a race track to fill this spot, there have been some clues that Bachelor Nation probably missed along the way that pointed directly to Arie as the perfect choice for the gig.
I know he isn't the most controversial or dramatic choice to be the 2018 Bachelor, but trust me, this guy seems to be made for this. I couldn't be more excited to see what happens with him at the center of the action.
Here are some of the signs that Arie was the perfect choice to be the Bachelor all along.
1. He Was A Runner-Up In His Bachelorette Season
I know this is not always indicative of someone's future success in the franchise, but it also shows that Arie was ready and willing for marriage and commitment way back in 2012. I am willing to bet that he hasn't done a complete 180 in five years. This guy is looking for a wife, and that is what this whole thing should really be about.
2. He Has Stayed Active In Bachelor Nation
Arie hasn't fallen completely off the grid when it comes to all things Bachelor. He has maintained his involvement and love for the franchise by live-tweeting the show and continuing to interact with fans on social media — not to mention a recent little hint when he responded to a fan on Twitter about the possibility of a grey-haired bachelor.
3. He Never Tried To Get Reality Famous
Have you ever seen Arie on Bachelor In Paradise? Me neither, because he has never signed up for it. To me, this says that he isn't looking for his 15 minutes of fame or to see if he can get the most camera time — he is looking to find real love.
4. He Almost Got The Gig Once Before
According to Sean Lowe, Arie was actually told that he got the job back in 2015 but was replaced by Chris Soules at the last second. Lowe told Us Weekly that they had even filmed Arie telling his family that he was the next Bachelor before pulling the rug out from under him. Not only does that prove that the guy has a heart of gold for agreeing to go through this again, but he also is clearly committed and serious about finding love.
See? Maybe it really has been Arie all along. I hope he finds love, because he has earned his spot as the Bachelor for sure.