Signs That Rachel & Dean Are Engaged After 'The Bachelorette'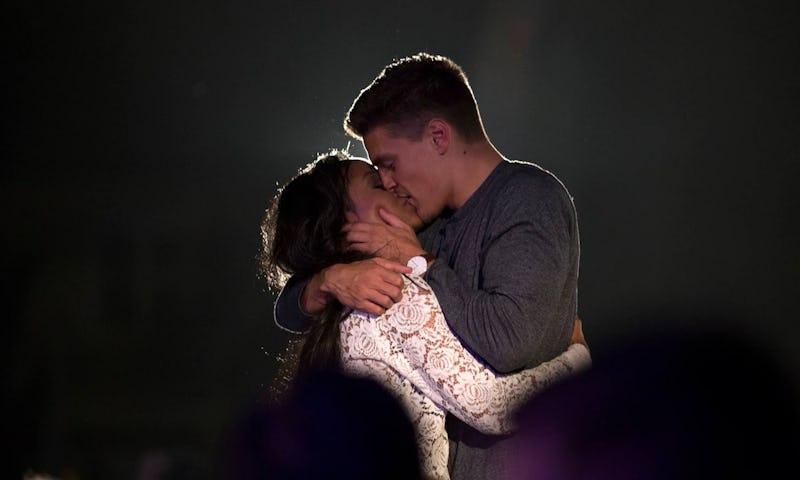 ABC/Bob Leverone
My, what a ride it has been for contestant Dean on Rachel's season of The Bachelorette .He started out by saying, "I'm ready to go black and I'm never gonna go back" when he first met Rachel, so you would have thought he'd have been cut before we could even learn his name. But Rachel didn't mind the joke and Bachelor Nation grew to love him too. He is hanging strong in the competition as the show inches towards the finale. And, there are some serious signs that Dean and Rachel may be engaged after The Bachelorette.
Well, thanks to The Hollywood Reporter, fans know that Rachel is engaged after her experience on The Bachelorette. She was very open in interviews that she was one of the lucky ones to walk out of the mansion with a ring on her finger and a wedding to plan. She described to THR as being engaged to a guy who checked off every box on her list. Of course, that got fans of the show ready to dissect every dude to see if they had everything Rachel is looking for. Besides the little hints that Rachel has offered, I took a look at Dean's Instagram to see if anything could possibly point in that direction too. In my opinion, there are definitely signs that they are engaged.
They Share Family Goals
Their discussion on the show about wanting a tight-knit family in the future makes me think that Dean and Rachel are on that path now. A lot of contestants can say these things, but it was Dean who really seemed to be vibing with Rachel about it.
He Has Given Her Some Love Online
Everyone is being super tight-lipped as to not blow the secrets of the finale. But Dean recently posted some heartfelt messages to Rachel on Instagram, thanking her for allowing him to open up about the tragic death of his mother. That could hint at a deeper connection.
He's Getting A Good Edit
Fans have really grown to love Dean, and I feel like producers may be playing things up a bit to foreshadow their engagement. Their love story is playing out before our very eyes and in a very favorable way. Winners usually get a lot of good limelight.
Their Date Was Magical
Look no further than their one-on-one date to see that these two will end up together. Just the way Rachel comforted him when he was uncomfortable riding in the blimp was so loving and genuine.
She Lights Up When She Talks About Him
This is a totally subjective opinion, but Rachel just seems to light up when she talks about Dean. There is just something different there compared to her connections with other contestants.
Obviously, they are going to make sure that they keep things as hush-hush as possible before the finale's big reveal but personally, I think Dean is the one who will walk away with Rachel by his side.