Dean's Still Amazed By Rachel In His Post-'Bachelorette' Life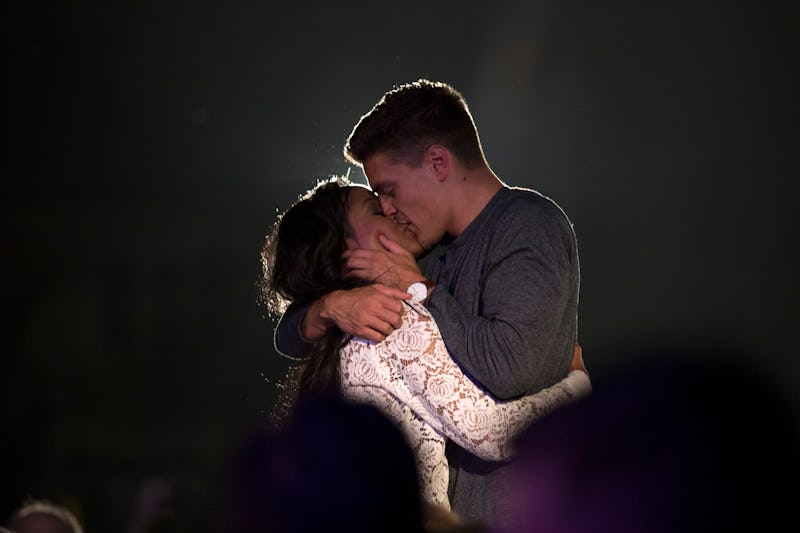 ABC/Bob Leverone
When this season of The Bachelorette first began, I wasn't expecting Dean to make it very far; as the youngest member of the cast he seemed a bit outside what Rachel was looking for, and his "Once you go black, you never go back" comment during last Bachelor season's After The Final Rose segment felt like the wrong move at the time (although Rachel did say she enjoyed it later!) But last week, Dean completely blew me away on his solo date with Rachel — and his willingness to call Lee out certainly didn't hurt, either. Now that it's clear he's actually a really cool guy, fans are desperate to know: is Dean single now that The Bachelorette has finished filming, or did he manage to win Rachel's heart?
According to Business Insider, an average season of The Bachelor or The Bachelorette takes about two months to film. Clues from Bachelorette producer Mike Fleiss' Twitter account suggest that filming for this season began around March 16, and Rachel Lindsay ended her social media silence on May 15, meaning that was probably the window in which filming occurred. No surprise, Dean was radio silent during that time and beyond—his last Instagram post before he outed himself as a Bachelorette contestant was in December 2016. But now that the show's wrapped, his account (@deanie_babies, which is perfect) is full of what might be clues about his current relationship status.
For example! Obviously the Bachelorette and her man aren't usually allowed to see each other before the season finishes airing on ABC — but it does strike me as a little weird that just three days after Rachel had returned to Instagram, Dean was deep in the mountains climbing around Eldo Canyon, Colorado. Was he on such an intense vacation to get his mind off of losing Rachel, or was he there to keep away from her?
Dean's also clearly kept in touch with his fellow contestants, like Adam, although unfortunately Adam Jr. was not present. However, a lot of the other contestants have been doing that, too, so it's not exactly proof that the two are commiserating together over lost love.
Unlike some other contestants I could name who've already been eliminated, the pictures that Dean posts of him and Rachel on Instagram are incredibly loving and earnest, which leads me to believe he might still carry a torch for her. "Thank you: for understanding, for being there, for allowing us to be vulnerable, for listening," he wrote after the episode in which he told Rachel about losing his mother to breast cancer; he also called Rachel "the most amazing woman."
"I have so much love and respect for Rachel (and @bacheloretteabc) for allowing me to share my story and, most importantly, honor my mother, Debbie," he wrote in the caption of another post, in which he shared a picture of his mother.
While Dean and Rachel's fate may not be clear just from looking at what he posts online, it is clear that he still has nothing but fondness for the time they shared. That's no guarantee they'll be the couple walking away from the end of The Bachelorette together (and I'm still not entirely sure whether they're the perfect fit just yet), but I'm certainly taking all of this as proof that there's more to Dean than anybody initially thought. Here's to hoping he gets to keep charming the socks off of everyone for a few more episodes at least!