Sleater-Kinney Join The Planned Parenthood Benefit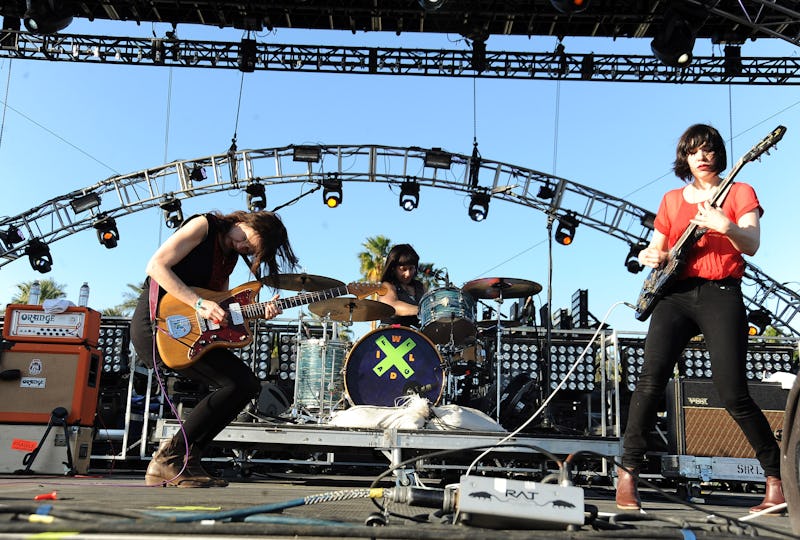 Frazer Harrison/Getty Images Entertainment/Getty Images
Many unexpected things have happened in the last year, but Sleater-Kinney playing the Planned Parenthood benefit isn't one of them. I mean, well: doi. Is water wet? Is the Pope Catholic? I don't want to belabor this point, but are Sleater-Kinney not passionate and engaged feminists who just so happen to play incredible riot-grrrl rock together? Yes. The answer is yes.
So, obviously they were going to be at Women's March on Washington after-party benefiting Planned Parenthood. The party will be at the 9:30 Club and there will be a whole bunch of other big names you worship there to check out, including (deep breath): The National, Tig Notaro, Janeane Garofalo, Ted Leo, Senators Al Franken and Cory Booker, Phoebe Robinson (2 Dope Queens), Samantha Ronson, Sam Harris (X Ambassadors), Casey Wilson, June Diane Raphael, Morgan Walsh, and Ronna & Beverly.
Sadly, the event is sold out, but, happily, the organizers have put 10 pairs of tickets up for auction to raise money for Planned Parenthood. So reach deep into your pockets and make your bid here.
But back to Sleater-Kinney: Formed in the Pacific Northwest, they were part of the '90s riot-grrrl scene, a movement that, according to its manifesto, recognized that "girls crave records and books and fanzines that speak to US that WE feel included in and can understand in our own ways" and contained the battle cry:
"..we are unwilling to let our real and valid anger be diffused and/or turned against us via the internalization of sexism as witnessed in girl/girl jealousism and self defeating girltype behaviors.
The manifesto and the riot grrrl community mattered. Back then, boys ruled the rock world, and an all-female band lineup wasn't something you came across every day. Heck, if statistics from American music festivals are anything to go by, an all-female lineup is still more exception than rule.
So it wasn't exactly surprising to find feminist lyrics in Sleater-Kinney's work, with songs like "Little Babies" bemoaning the way women often find themselves in the position of playing mommy to their partners in adult relationships and "I Wanna Be Your Joey Ramone" showing that the band wasn't intimidated by the male-dominated punk canon that came before them.
In their song "Combat Rock" they implied that male aggression could be behind world events like the Iraqi conflict, singing:
The good old boys are back on top again
And if we let them lead us blindly
The past becomes the future once again
But they don't just sing about gender politics. They talk about them. In a 2015 interview, vocalist Corin Tucker offered a smart, nuanced take on why feminism was just as necessary as ever:
There's still not enough [women] in positions of power and I think that's pretty frustrating. Women have advanced so much in terms of accomplishing [things] in different careers and fields but there still aren't many women in Congress, there's never been a female President, not very many women are on boards of major corporations or are CEOs.
Similarly, in another 2015 interview, current drummer for the band Janet Weiss suggested that part of her drive to perform was to inspire younger women:
...part of why I want to be a musician is to show women an alternative to sort of the cultural norms, the stereotypes of what we're supposed to be, demure and quiet and motherly. For a young woman to see three very powerful, independent, creative women who are not operating within a box, it is enticing.
So, yeah. It's not exactly unexpected that Sleater-Kinney will be playing the Planned Parenthood benefit — but it is immensely exciting that, despite it being over two decades since Tucker and Brownstein first formed the group, the band hasn't lost any of their fire and passion for fighting for women's rights.