Sloths Are The New Unicorns & These 13 Ridiculously Adorable Sloth Items Prove It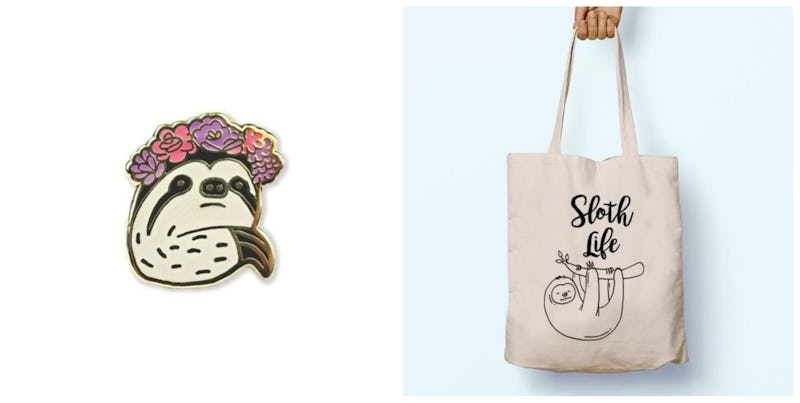 Etsy
Well, it's finally happened — unicorns have been unseated as the internet's favorite animal. Or at least, that's what Etsy thinks: Etsy's 2019 trend report has just been released, and according to the handmade and vintage goods online marketplace's predictions, sloths are the new unicorns. "Shoppers and Etsy sellers alike have gravitated to the laid-back demeanor of the sloth, a real-life representation of the carefree lifestyle many of us strive for every day," observes the site. "Frankly, we could all use a little more sloth-like hanging around." And how!
Sloths as a trend are by no means new, of course; indeed, Etsy notes that they've "slowly been on the rise since 2002 (thanks to characters in popular animated movies)." I assume Etsy's trend report is referring to both Ice Age's ground sloth, Sid (voiced by John Leguizamo), and Zootopia's Flash (voiced by Raymond S. Persi) — Zootopia is much newer, of course, having hit cinemas in 2016, but the first Ice Age movie debuted in 2002. However, I'd argue that sloths' rise in popularity is less due to movies and more due to their meme-ification.
Interestingly, Know Your Meme traces the popularity of sloths in contemporary web culture to 2002, as well — that's when one of the first single-topic websites about sloths was launched — but I would primarily attribute their skyrocketing to fame to two incidents that occurred in 2012: Kristen Bell's sloth meltdown and the arrival of Astronaut Sloth. (There are other notable instances, of course, but these two are arguably the most well-known.)
First, the sloth meltdown: In an early 2012 episode of The Ellen Show, Bell recounted the story of her 31st birthday, spouse Dax Shepard's birthday gift to her, and her extremely overwhelmed reaction to it. Shepard had gotten her a visit from a sloth — and she loves sloths. Also, he caught her reaction on video, so naturally, Ellen aired the footage. The video clip subsequently hit Ellen's YouTube page on Jan. 30, 2012 — and it became instantly iconic. As of this writing, it has more than 27.5 million views.
At roughly that same time — Jan. 17, 2012 — digital artist Pedro Dionísio uploaded a Photoshopped image he called "Sloth on the Moon" to his deviantArt page, then later to his Tumblr. It saw modest success over the next few months, getting reblogged, shared to Reddit, and included in a Cheezburger caption contest; then, in the fall, a Tumblr user wrote in two posts that she first kept changing every background and image on her dad's phone to Astronaut Sloth, then simply left a framed photo of the image on his desk. Screenshots of the post went viral on Reddit, and, well… the rest, as they say.
Since then, sloths and those who love them have helped the animals maintain a place in web culture — and, according to Etsy, they're poised to usurp unicorn as the top animal in 2019. It's an interesting swap to me; whereas unicorns are mythical, sloths actually exist, and while unicorns are known for being magical and somewhat fussy, sloths are known for being earthly and super chill. I feel like maybe that's a sign of some sort — an indication that sensibilities are changing — but then again, maybe people just really like sloths.
I know I do — so in celebration of them finally being acknowledged at large for the wonderful creatures they are, here are 13 delightful sloth-themed items you can get on Etsy right now.
1. Hanging Sloth Planter
2. Stylish Sloth Pillow
3. Tiny Sloth Earrings
4. Sloth Wine Glass
5. Sloffee Mug
6. Flower Crown Sloth Pin
7. Sloth Zipper Pouch
8. Sloth Life Tote
9. Sloth Coasters
10. "You're My Sloth" Card
11. Sloth Tie Pin
12. Happy Sloth Art Print
13. Baby Sloth Bowl
Want more sloth gear? The creative sellers of Etsy are happy to oblige. Head here for all the sloth-adorned items you could ever wish for. You're welcome.