Smirnoff Is Selling Ornaments Filled With Vodka For Your Christmas Tree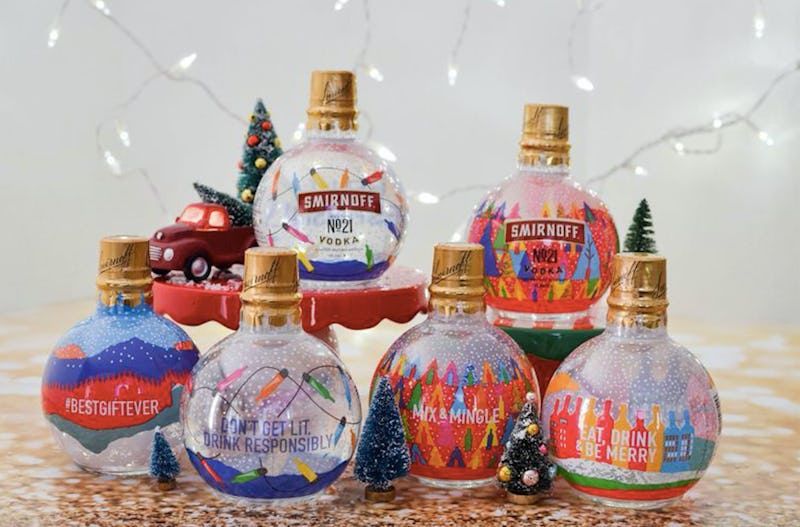 Smirnoff
And today in Absurd Yet Delightful Doses Of Holiday Cheer, we have this: Smirnoff No. 21 Holiday Ornament bottles are literally oversized holiday ornaments filled with vodka. They're as pretty and festive as they are useful; whether you're planning on making big batch cocktails for an upcoming celebration or just making yourself a quiet drink at home, they encourage us to "Mix and Mingle," "Eat, Drink, and Be Merry," or whatever else you've got on tap for the holiday season. I mean that literally, by the way; the bottles themselves are emblazoned with seasonally appropriate slogans and hashtags, along with holiday lights, snow, and other cozy and fun winter motifs. Heck of an Instagram opportunity, am I right?
Smirnoff is no stranger to holiday specialties; the return of the brand's Peppermint Twist-flavored vodka is always hotly anticipated as merrymakers everywhere start making plans to mix up batches of candy cane-inspired cocktails for their seasonal parties. (Speaking of, Smirnoff Peppermint Twist just came back for the 2018 season, too, according to Delish — what a day! What a lovely day!) But this year's limited-edition holiday offering truly pulls out all the stops: Filled with Smirnoff's No. 21 vodka, the bottles are shaped like huge holiday baubles decorated with festive designs. What's more, there's not just one design available; there are four different ones.
Ugh. So pretty.
Smirnoff No. 21, also known as Smirnoff Red Label, is the brand's flagship vodka. Triple distilled and filtered 10 times, it's made according to the recipe created by Pyotr Arseneyevich Smirnov, who established the original distillery in 1864. The U.S. rights to Smirnoff vodka were purchased by Rudolph Kunett in 1933, according to cocktail culture website Supercall; these days, the brand is owned by Diageo. For what it's worth, it also makes a big deal out of the facts that it's gluten-free, non-GMO, and kosher-certified.
As cute as the ornament bottles are, though, you probably won't want to hang these bottles from your tree; they're likely going to be too heavy for that. Each bottle contains 750ml of vodka — which, for reference, is the equivalent of a standard bottle of wine. I don't know about you, but personally, I have never encountered a Christmas tree with branches strong enough to hold entire bottles of wine, so, uh… you do the math.
Then again, given that the bottles don't come equipped with hangers in the first place, maybe accidental vodka bottle disasters aren't really something we need to worry about. I'm just covering all my bases, you understand.
If you do want to hang ornaments full of booze from your tree, though, good news! You absolutely can. A box of Festive Boozeballs will set you back about $13; each box comes with six clear holiday baubles just waiting for you to fill with the spirit (or other liquid) of your choice. Unlike the Smirnoff ornament bottles, they only hold 50 ml, so your average Christmas tree branch should be more than up for the challenge of holding these suckers up — until you drink 'em down, of course.
Prices vary for the Smirnoff No. 21 Holiday Ornament bottles; I've seen them online for everything ranging from $11.99 to $15.99, so odds are that how much they'll cost you will depend largely on where you are. Either way, though, it looks like you can expect them to be under $20 — which, honestly, seems perfectly acceptable for packaging this spectacular.
Need some cocktail menu ideas? Smirnoff has you covered. Just head to the "Drinks" section of their website and and select "For the holidays" in the "Occasions" drop-down menu. You're welcome. Just, y'know, drink responsibly and all that!