Snickers Just Launched 3 New "Intense" Flavors — Including One With Chili Pepper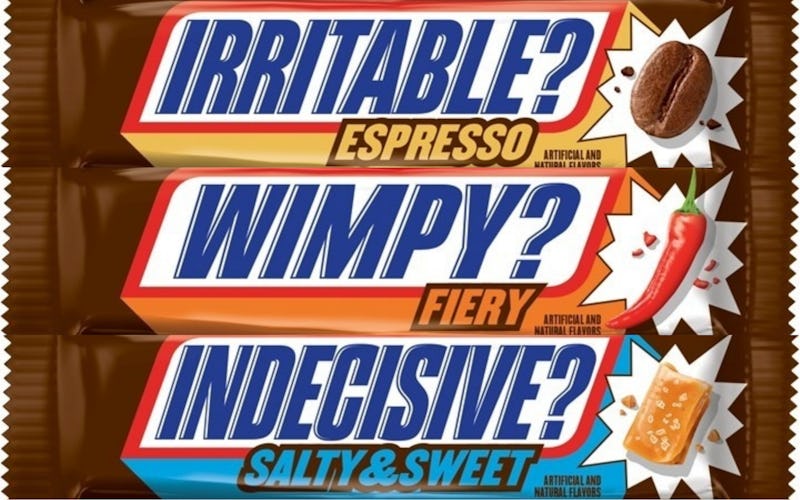 Mars / Remixed by Bustle
Food combinations are a dime a dozen these days and though some — like, obviously, Applebee's' "Cheeto Bomb Burger," and Taco Bell's Nacho Fries — are stellar additions to the culinary lexicon, sometimes the market feels a tad oversaturated. Still, when the good combos come, they really come, as is the case with Snickers' three new flavors, courtesy of Mars, Incorporated. The one to get the most hyped about is probably Espresso — after all, Snickers = good, and espresso = good, so any mashup of the two must be a caffeinated chocolate gift fit for the gods. Right?
According to a press release from Mars, Incorporated, the new treats are not Snickers-flavored coffee, but coffee-flavored Snickers, i.e., peanut-and-caramel laden candy bars laced with real espresso beans. Per the press release, the espresso flavor is one of the chocolate bar's three new varieties: Espresso, Fiery, and Salty & Sweet. The former, obviously, is the one with espresso beans. Fiery, denoted by an illustration of a chili pepper on its packaging, is, duh, made with chili peppers. And Salty & Sweet is, of course, infused with salt. Snickers is going hard with the marketing here, labeling each flavor with a specific emotion: Espresso is for the irritable, Fiery for the wimpy, and Salty & Sweet for the indecisive. Regular Snickers, as you may have surmised from the commercial ad campaigns.
Mars plans to launch the flavors at an "intense" pop-up in New York City on Tuesday, June 19. Participants will enact "escape room-type" challenges related to the flavors, according to the release. "Capitalizing on the popularity of Doomsday-themed shows and the rise of escape room-style physical adventures, the challenges are set in a bunker-inspired room, begging fans to solve the question: which intense flavor will you need to survive intense hunger?" the release reads. It's not entirely clear what you'll have to do — eat a chili pepper? Find the hidden espresso bean? Craft a lampshade out of salt? Anything is possible. For a reward, though, I can only assume you'll get some candy bars, which is a worthwhile incentive.
"Our fans have adventurous tastes and are craving new flavors, and experiences, from SNICKERS®," Michael Italia, Senior Brand Manager, of Snickers, said in a statement. "The new SNICKERS® Intense Flavors are designed to solve everyone's Irritable, Wimpy and Indecisive hunger symptoms with correlating flavors: Espresso, Fiery and Salty & Sweet. We feel the SNICKERS® Hunger Bunker is a unique way to highlight the intensity of our new flavors and give our fans a satisfying experience."
If that's appealing to you, here are a couple other candy bar flavor mixes to consider, for your chocolate-loving palate.