'SNL's '"All I Want For Christmas" Parody Nails How Exhausting 2018 Has Been For Politics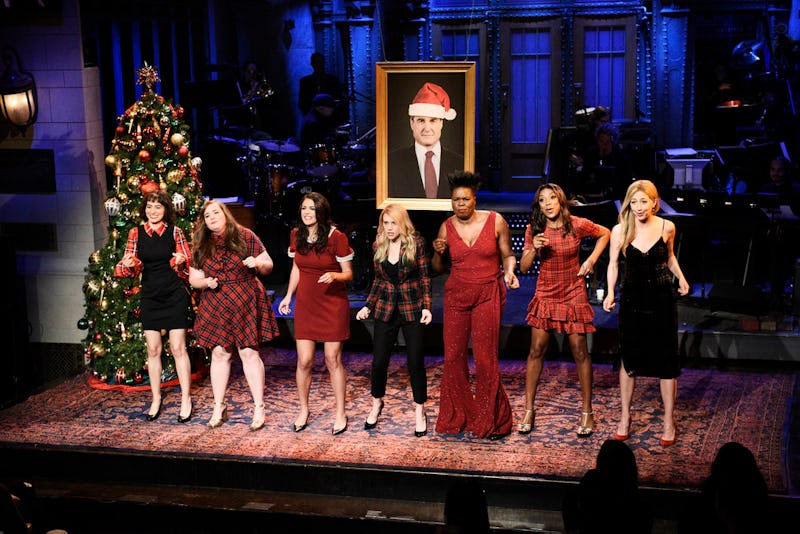 Will Heath/NBC
With 2018 nearing its end, the women of SNL closed their Dec. 2 show with a heartfelt ode to the one thing they want before the year concludes. While anyone watching SNL when the opening notes of "All I Want For Christmas" started playing surely knew a parody was ahead of them, viewers were in for a surprise when Cecily Strong, Kate McKinnon, Aidy Bryant, and Leslie Jones — eventually joined by the rest of the women in the cast — sang about how they hoped Christmas would bring the results of Robert Mueller's investigation. From the looks of Twitter, SNL's "All I Want For Christmas Is You" parody struck a chord with viewers, and may go down as one of SNL's most memorable holiday tunes.
At first, you may have been fooled into thinking that the women of SNL were going to just sing Mariah Carey's classic Christmas tune, as they didn't change the first few lines in any way. However, by the time a framed image of Mueller wearing a Santa hat descended from the ceiling, it was clear that the SNL cast wouldn't be singing about love, but leaning into the political riffs the show has made its bread and butter on.
They sang that for the holiday season to be truly festive or contain even "a frickin' ounce of cheer," there needs to be a conclusion to the Mueller investigation — which for them means finding Trump guilty. "I just really want my life back / oh my god it's been two years," they sing, summing up how weary some people feel entering the third year of Trump's presidency. They continued,
I don't need a full impeachment/but we just need a little one/please just tell us we aren't crazy/at least indict his older son/sick of hearing breaking news/and Giuliani's interviews/our balls are fully blue/Mueller, all I want for Christmas is you
The women went on to explain how desperate they are for Trump to be found guilty of anything, whether its collusion or having "kidnapped JonBenet." They then threw out rapid-fire references to the complicated Mueller case, mentioning political figures like Roger Stone and Alex van der Zwaan. Perhaps the most relatable moment in the song, however, was when Cecily Strong went off-rhythm and devolved into an angry rant, begging "won't you bring us a sense of normalcy/ where everything doesn't feel so completely upside down and out of control because I can't take any more anxiety medication — they won't let me," before crying out "What about Ivanka's e-mails?"
While there's no promise that Mueller's report will be complete before Christmas, the fact that Trump's former lawyer Michael Cohen has pleaded guilty to lying to Congress in the days leading up to the episode could indicate that Trump's presidency could be in jeopardy, and a damning report from Mueller could only hurt the sitting president. While there are plenty of things that would be a welcome surprise under a Christmas tree, the women of SNL have their eyes set on Mueller's report. Unless, according to McKinnon "the report has like zero new information cause then we would rather it never come out," because, as Strong explains, "It is our last ray of hope and I've already drunk all the wine."