Some Thousand Oaks Survivors Had Reportedly Been Through A Mass Shooting Before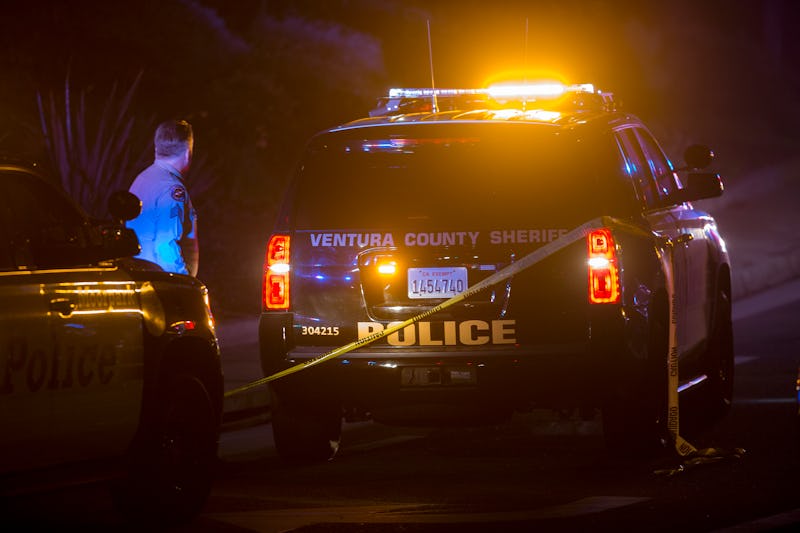 David McNew/Getty Images News/Getty Images
For some who were inside the Borderline Bar & Grill in Thousand Oaks, California, where a gunman shot and killed a dozen people on Wednesday night, this wasn't their first experience with a horrific mass shooting. Some Thousand Oaks victims were also at the Las Vegas music festival where a gunman killed 58 people and injured hundreds more last year, The New York Times reports.
"A lot of people in the Route 91 situation go here," Chandler Gunn, 23, told The San Diego Union-Tribune. "There's people that live a whole lifetime without seeing this, and then there's people that have seen it twice." Gunn showed up at the Borderline Bar & Grill after hearing about the shooting because he believed some of his friends were inside when the gunman opened fire.
The bar was reportedly full of students who showed up for a "College Country Night" — drawing a distinct parallel between Wednesday's tragedy and the Las Vegas shooting that took place at the Route 91 Harvest country music festival. Although the Thousand Oaks victims haven't yet been identified, multiple outlets report that witnesses said some of the people inside the bar had also lived through the nation's deadliest mass shooting in history last year, and The Times reports that people emerging from the bar described having survived the Las Vegas shooting.
Nicholas Champion told WPRI 12 that he and 50 or 60 other people at the Thousand Oaks bar on Wednesday night were at the Route 91 shooting, too. "We all are a big family, and unfortunately this family got hit twice," he said.
BuzzFeed News reports that Molly Maurer was one of the other Las Vegas survivors at the country night on Wednesday.
"I can't believe I'm saying this again. I'm alive and home safe," she posted on Facebook Thursday morning. She later posted on Facebook that Borderline "is our place," explaining that "our parents came here, our friends work here, we celebrate our happy moments and drown out our worst here. We're coming back from this stronger than ever."
Although much of the nation was outraged after the tragedy in Las Vegas, Congress never banned bump stocks, which allow semi-automatic weapons to fire shots in rapid succession. MSNBC reports that the Thousand Oaks shooter used a handgun he bought legally in 2016, along with a high-capacity magazine modification (which are illegal in California). Police haven't determined where he got the high-capacity magazine modification, but Moms Demand Action for Gun Sense in America founder Shannon Watts noted on Twitter that it would be easy to buy one in Nevada, where they are legal, and drive it across the state border.
In fact, UC Berkeley epidemiologist Ellicott Matthay studied gun shows in California and Nevada and found that regions near Nevada shows saw rates of death and injury caused by gun violence jump 70 percent afterward, while California gun shows didn't seem to have much of an effect. This is because, Matthay wrote in her study, California has some of the most restrictive gun laws in the country and Nevada has some of the least restrictive.
The Thousand Oaks shooting came less than a week after a gunman opened fire in a Tallahassee, Florida, yoga studio, killing two people and injuring five others. Less than two weeks ago, 11 people were fatally shot at a synagogue in Pittsburgh, Pennsylvania. And the list goes on.