Sophie Turner Just Got Super Honest About What It's Like To Be Engaged To Joe Jonas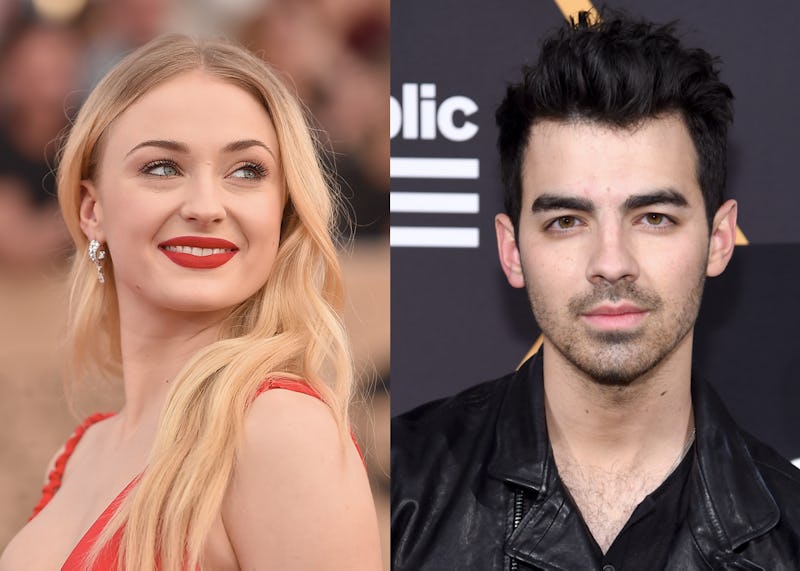 Alberto E. Rodriguez/Getty Images Entertainment/Getty Images; Jamie McCarthy/Getty Images Entertainment/Getty Images
One of today's cutest celebrity couples is also one of the most under-the-radar: the pairing of Game of Thrones and X-Men: Apocalypse actor Sophie Turner and former boy bander Joe Jonas. While they do tend to keep things private, Turner's new quotes about being engaged to Jonas, which Marie Claire published on April 12, will make you absolutely fall in love with them both. Possibly more than you already were.
"I'm still like, Holy sh*t! I'm engaged," Turner joked to Marie Claire, "It's lovely to be engaged. Not like I achieved anything, but I found my person." Turner continued, "I found my person, like I'd find a house that I love and want to stay in forever. There's a sense of peace that comes with finding your person."
On the surface, the relationship may give fans pause. Former Disney star and Sansa Stark from Game of Thrones? The cognitive dissonance would be enough to baffle anyone. How did the couple meet? What do they talk about? Will their wedding be the most celebrity-filled guest list of a lifetime? As it turns out, though, Turner and Jonas are much more normal than you'd think. In fact, Turner's quotes about her fiancé are relatable AF. They're still cloaked in that signature secrecy — she declines to mention Jonas by name — and refer more to her observations of society's traditional views of a working woman in a marriage.
It appears that the actor feels borderline conflicted celebrating her engagement, because she's much more accustomed to celebrating her work and her career, based on her comments to Marie Claire. Turner elaborated the following:
"There's this weird misconception that being married is the greatest thing that'll ever happen to you. But I've always found that my career is something I work for, and when I achieve something, there's a sense that this is the greatest thing I'll do in my life. "
Even so, she added, "There's a sense of peace that comes with finding your person. But there's a drive that comes with your career." She also commented on being a young actor in the era of #MeToo, adding that she's "comforted" by the movement that aims to combat sexism and harassment in the workplace, especially Hollywood. "Going into work knowing that there's a group of people who will believe me if something does happen," she told Marie Claire, has relaxed her when taking on new projects.
It's inspiring to hear Turner speak so openly about marriage, her career, and feeling unsure about how to discuss her relationship, or even define its significance to her at this time. She obviously loves Jonas, and is excited to be engaged, but it's rare to hear a celebrity express how intangible love and commitment can be. Plus, neither Jonas nor Turner speak about each other by name to the press. There are few, if any, professional photos of the two together. Neither will Instagram from the same place at the same time, and even if they tag the other as present, they're rarely on camera. This elusiveness, especially for two young and mega-famous people, probably helps preserve the integrity of their relationship.
Turner and Jonas have kept their relationship so private, their 2017 engagement was the first time some had learned of their relationship. In fact, the two had been quietly dating since at least fall 2016. They were much more open about dating at the beginning of their relationship. As time progressed, and the couple grew more serious, they shared less with the public. Whereas Turner and Jonas used to share photos of one another, or take high-profile walks through major cities, or even show off a Siberian Husky they share, things cooled off in the public eye by 2017. As fans learned after their engagement, that wasn't a sign that they'd broken up. Instead, it was just the opposite; things were going so well, they elected to keep it to themselves.
All that's left is to come up with a mononym for the two. Jophie? Jurner? Let's brainstorm on this one.