Sophie Turner's 'Game Of Thrones' Farewell Involved So Many Tears & Emotions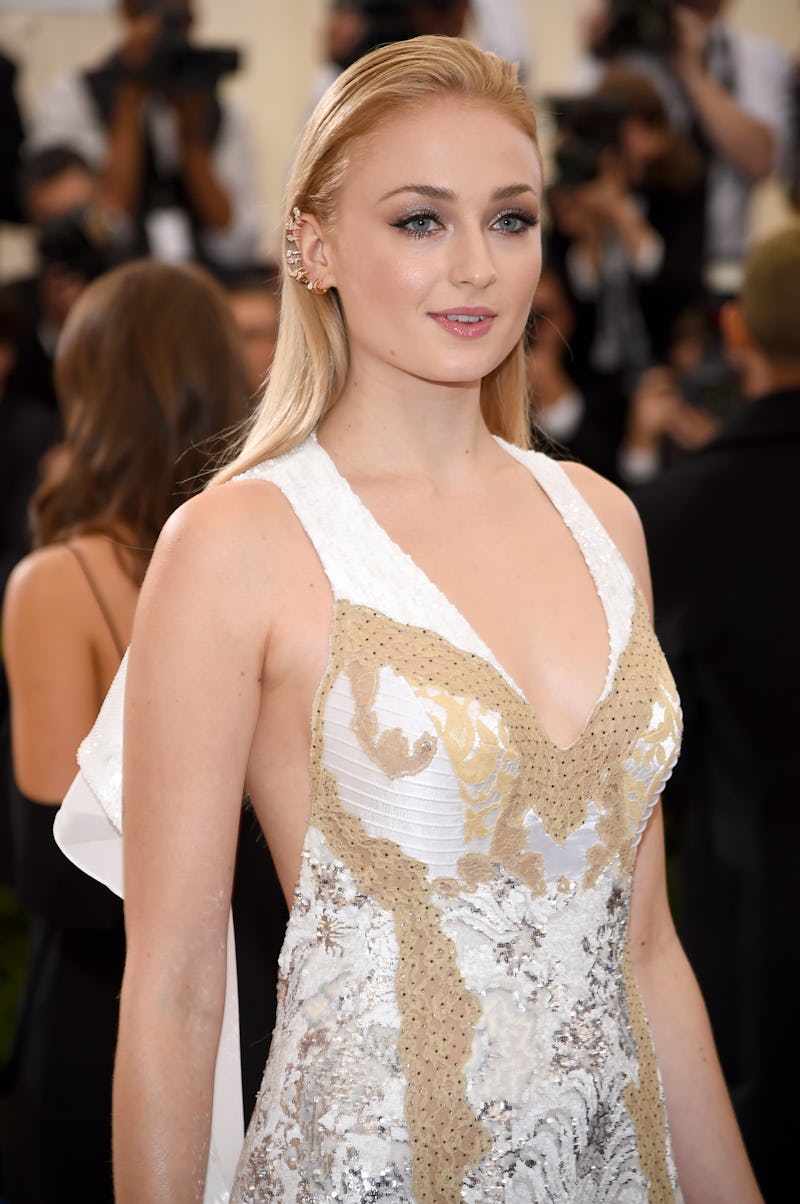 Dimitrios Kambouris/Getty Images Entertainment/Getty Images
Winter is coming ... and so is the final episode of Game of Thrones. And though many fans think that Sansa will end up on the Iron Throne when everything is said and done, that's small comfort to Sophie Turner, who said her Game of Thrones farewell has been emotional, reported Entertainment Weekly on Saturday, Oct. 6. She told the publication that she's having trouble accepting that the hit HBO show is actually coming to an end.
"I still don't accept that it's done," Turner told EW during an interview at New York City Comic Con. "It's basically been the majority of my life. I'm still very much processing it." However, the actress did tease that she spent her final day on set "surrounded by a lot of cast members," which helped make saying goodbye a little bit easier.
Of course, that doesn't mean that things didn't get emotional for Turner, who "bawled" when she received a farewell gift from the show's co-creators and executive producers, David Benioff and D.B. Weiss. "They wrote a long note on the back," of a storyboard of their favorite Sansa scene, which they then presented to Turner at the end of the shoot. "I bawled my eyes out," Turner admitted, adding, "I was shaking and crying for hours."
While Turner was, naturally, vague about what fans can expect from the upcoming final season of Game of Thrones — after all, this is a show that goes to extreme lengths in order to keep spoilers under wraps — she did give a little insight into Sansa's point of view for the final season. From the sound of it, the eldest Stark sister is going to be someone to reckon with this time around.
"[She] really comes into her own this season," Turner told Entertainment Weekly. "It's a whole new series for her. She's been kind of lost. She doesn't know who she wants to be or who wants to surround herself with. This season, she is very self-assured."
Whether or not she ends up becoming the Queen of the Seven Kingdoms, Turner still has a lot of big things on her plate for her post-GOT life. Most notably, the actress will take over as the center of the X-Men franchise in the upcoming Dark Phoenix film. Reprising her role as Jean Grey, Turner will see the young superhero as she tries to control her telepathic and telekinetic powers before they take over her life.
With the rise of a "mysterious cosmic force" that threatens to take Jean Grey to the dark side, the aspiring superhero will need to fight against the urge to "go dark" while also learning how to keep her intense powers from taking over her life ... and possibly, the entire world.
Of course, there's also her upcoming wedding to Joe Jonas to focus on, though both Turner and her musician fiancé have said that they're in no rush to walk down the aisle. Telling People back in February that the wedding probably wouldn't happen before 2019, saying that she was "holding off on wedding dress shopping" because "you never know what's going to be fashionable next year".
"I'm still like, Holy sh*t! I'm engaged," she joked to Marie Claire in April. "It's lovely to be engaged. Not like I achieved anything, but I found my person." Turner continued, "I found my person, like I'd find a house that I love and want to stay in forever. There's a sense of peace that comes with finding your person."
Sure, it's not quite the same as finding yourself on top of the Iron Throne, but at least Turner will have her loving fiancé to help comfort her as she deals with the end of Game of Thrones.