Sophie Turner's Story About Justin Bieber Will Make You Cringe & Laugh At The Same Time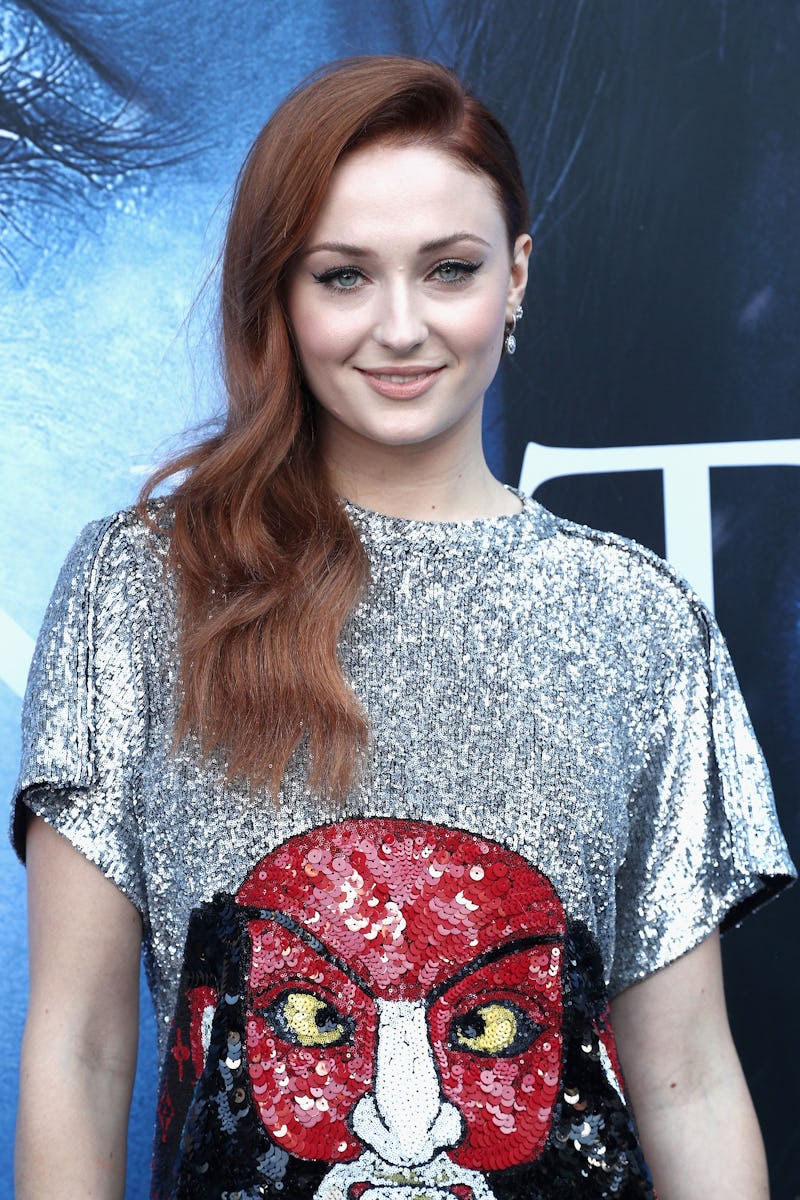 Frederick M. Brown/Getty Images Entertainment/Getty Images
Getting starstruck is something that many of us deal with if we're ever lucky enough to be in the same place with one of our favorite celebrities, and apparently, if you're famous, it can still happen to you. During an appearance on The Late Late Show with James Corden on Wednesday night, Sophie Turner opened up about meeting Justin Bieber — who was her idol when she was a teenager — and her story is so embarrassing, yet so relatable at the same time.
According to what the Game of Thrones actor told Corden, when she was 16 years old, she had a massive crush on Bieber — and being that she would have been 16 in 2012, this puts her smack in the middle of the Believe era, which was truly a prime time for Bieber crushes. Her mom even had a life size cardboard cut out made of Bieber and Turner together, thanks to a little Photoshop magic, and it was enough to make her cry.
Most people can identify with what it was like to have a celebrity crush that intense during our teen years, especially since, for many of us, that crush was Bieber, too. But then, when Turner finally had the chance to come face to face with him years later, it didn't exactly go as she had planned.
Their encounter happened when she and fiancé Joe Jonas were at a party at a friend's house in Miami, and guess who just so happened to be there?
Turner told Corden,
"I met him once when we were in Miami, and we were in this house and I walked upstairs and I was told that Justin was there ... we were getting a tour of the house and he was sat there shirtless."
That's not where the story ends, though. When the time came for Turner to actually interact with him, it all went downhill. She recalled,
"He's up there shirtless in a dark room getting a head massage and I was like, 'oh my god, this is amazing.' So I was like, 'Hi, it's so nice to meet you, I'm Sophie' and played it cool, ran into the closet and cried for like five minutes. And then I came out with Joe and Justin goes, 'Yo, Joe, I heard you got a new girl.' And Joe was like, 'yeah, yeah, there she is, over there.'"
At that point, Turner said she didn't know what came over her, but she made a very vulgar gesture involving her fingers and tongue, which she said Jonas has never let her live down. Uh, of course, he hasn't. That's a story that will undoubtedly be told for decades to come.
And yes, this part of the interview already exists as a GIF, in case you were wondering.
Unfortunately, Jonas pulled her out of the room before she could see Bieber's reaction, which is a shame, because it was probably hilarious.
If Turner's story teaches us anything, it's how not to act when you meet a celebrity — and her attitude about the whole thing afterward teaches us not to sweat it when you do embarrass yourself. At this point, Bieber's probably forgotten all about this reaction, and Turner got to meet her teenage idol. So maybe, that means this story had a happy ending after all.