Sorry, But 'Gilmore Girls' Didn't Actually Deserve Any Emmys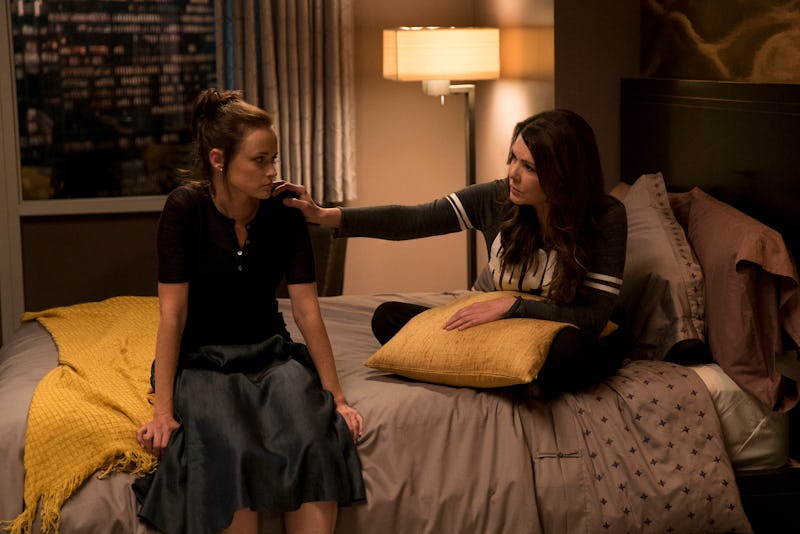 Saeed Adyani/Netflix
This past television season was a big deal for Gilmore Girls fans; after 11 years off the air, Lorelai and Rory Gilmore returned for more adventures in the A Year In The Life mini series on Netflix. But if you were expecting Emmy nods for Lauren Graham, Alexis Bledel, Kelly Bishop, or any of the other people who made Gilmore Girls the beloved classic that it is, then you're bound to be disappointed: the show wasn't nominated once, although Bledel did get recognition for her amazing role on The Handmaid's Tale. And let's be real — that was the right call. Gilmore Girls just wasn't worthy of an Emmy award this year.
Of course, a lot of Gilmore Girls fans on Twitter do not agree with me on that particular point. Many of them were hoping that the show would finally get some recognition from the Academy of Television Arts and Sciences and are pretty frustrated that their favorite show didn't get nominated this year, especially given what great performances Lauren Graham and Kelly Bishop gave as Lorelai and Emily Gilmore over the course of A Year In The Life — probably their best of the entire series according to some.
Although I'm not surprised by the snub, I understand their pain; I love Gilmore Girls too, and despite its faults, A Year In The Life was immensely satisfying to watch. That part in the "Summer" episode where Sutton Foster sang that song for Lorelai left me a sobbing wreck (I'm getting a little misty-eyed right now, as a matter of fact). Emily Gilmore's long journey to recover from the loss of her husband and learn to become her own person was inspiring and poignant. Heck, even if I weren't emotionally invested in Lorelai and Luke's wedding, I'd love the scene for how gorgeously it was shot.
Back in Gilmore Girls' heyday during the early '00s, you could make the argument that it was being snubbed because it was under-appreciated. But now, there are just too many shows to compete with now, and so many of them are so exceptional that Gilmore Girls was always going to be a long shot. According to Variety, more than 450 scripted television series aired in 2016; when Gilmore Girls was last on the air in 2006, there were only 196 scripted shows, which makes for a 137 percent increase over 10 years.
With all that competition, Gilmore Girls would have had to release a completely perfect season to even be considered — and unfortunately, the show had its flaws. As has been written about on Bustle before, Rory's characterization was frustrating (although internally consistent), and to me it seemed like parts of the season were more about satisfying longtime fans than anything else — which was fun, don't get me wrong, but which isn't exactly the sort of thing that engenders a show to Emmy voters. Honestly, if a show as universally beloved as The Leftovers can't even get a nomination, what hope did the Gilmore Girls revival ever have?
But don't worry, fellow Stars Hollow fanatics: Award nominations aren't everything, and nobody can take away the way that A Year In The Life made you feel when you watched it for the first time. Now if you'll excuse me, I'm going to skip ahead through "Summer" so I can listen to the "Unbreakable" song again and wallow in these emotions. Feel free to join me.