This Tweet About The 2017 Emmys Is A Challenge To The Film Industry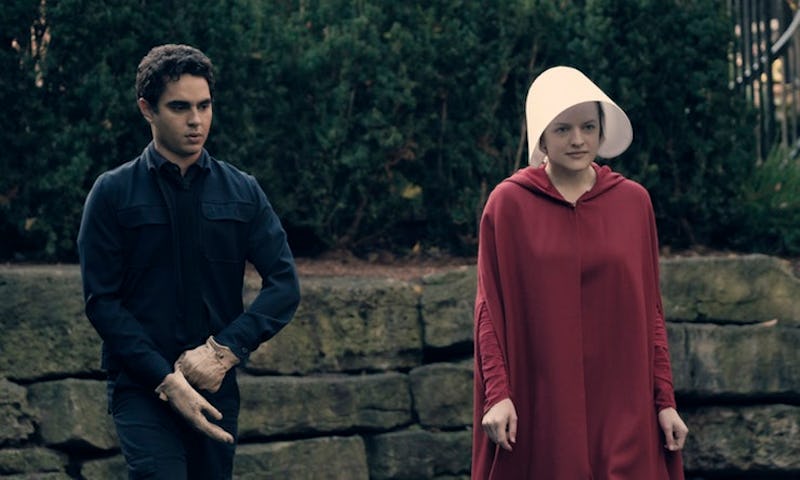 George Kraychyk/Hulu
I hate to break it to the Oscars, but the 2017 Emmys are showing what female diversity looks like with this year's nominees. This became very clear in this one tweet about the nominees for Outstanding Directing For A Drama Series category. "Half the directing nominees in the drama category are women," Buzzfeed reporter Jarett Wieselman tweeted. And, yes, it's true. Out of the six nominees in that category, three are women: Lesli Linka Glatter for Homeland; Reed Morano for the pilot of The Handmaid's Tale; and Kate Dennis for The Handmaid's Tale episode "The Bridge." An added bonus to this fact is that all three of these women were nominated for shows that features strong female leads. Sisters be doing it for themselves on TV this year.
In comparison, last year, not one female director was nominated at the Academy Awards for Best Director, which is a disappointing historic trend for the Oscars. (Director Ava DuVernay, though, was nominated for Best Documentary Feature for her Netflix original documentary 13th.) And, as IndieWire pointed out only four women have been nominated for Best Director in the award show's 89 years. Lina Wertmüller was nominated for Seven Beauties in 1976, with Jane Campion earning a nomination for The Piano 17 years later. Sofia Coppola was nominated in 2003 for Lost in Translation. And in 2009. Kathyrn Bigelow became the first and only female director to actually win withThe Hurt Locker.
While it's pretty hard for the Emmys to have less female representation in the directing categories, this year was a big step forward for the show. Last year, only one woman was nominated for Outstanding Directing For A Drama Series. That would be Glatter, who has been the lone female nominee in this category for the last two years. In 2014, the Emmys didn't nominate a single female director in the category, a disappointing stat considering that, the year prior, two women were nominated for the prize.
We've come accustomed to reading the headlines about how women behind the camera are being underrepresented at these kinds of awards shows. (This year's Outstanding Directing For A Comedy Series still needs some work in female representation. This is despite a woman winning this prize the last four years in a row.) The truth is that female directors are finding more opportunities in television than they are in film, but the numbers are still rather disappointing.
Last year, the Center For The Study Of Women In Television and Film found that women comprised 12 percent of directors working on broadcast network programs in the 2015-2016 season in its Boxed In report. According to Variety, a 2016 study from the Directors Guild of America found that women directed 17 percent of all episodes produced in the 2015-2016 network TV season and the 2015 cable season. That was up one percentage point from the year before. It's a slow climb, guys.
That's why the Emmys recognizing these women who are making dramatic TV even better should give you hope that the awards show will never ignore them again. More importantly, though, the dream is that this year's nominees will encourage networks to hire more female directors to do what they do best to make their shows, comedy or drama or whatever hybrid it may be, even better.
The truth is, it's about time the networks make this dream a reality. Now that TV fans hoping for more diversity behind the camera have tasted this small victory, they're definitely not going to settle for anything less.