Sour Patch Kids Cereal Is About To Hit Shelves & It Will Taste Like The Real Thing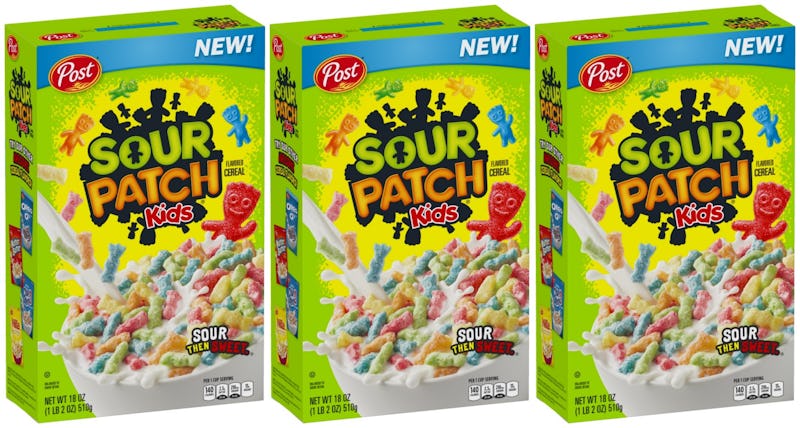 Post
It's a question those of us who are into weird-sounding foods have been pondering for weeks now: Is Sour Patch Kids Cereal real? Well, now we've got some answers. According to Post, not only is Sour Patch Kids Cereal an actual thing that exists in this world, it's also going to be available for sale in the very near future. Starting Dec. 26, you'll be able to get your hands on the stuff at Walmart, with a wider release to follow next year. Stranger things have happened, am I right?
Early images of the cereal began leaking to the internet in late October, with food Instagrammer Candy Hunting being one of the first to post about it on Oct. 24. While Candy Hunting noted at the time that "the authenticity isn't 100 percent confirmed" — they didn't know the original source of the image; a tipster had sent it to them — they suspected that it could be legit. Their reasoning was twofold: "First, that doesn't look like a fan mock-up with the cereal pieces," they wrote. "Second, Post has already released several other cereals in conjunction with [Sour Patch Kids parent company] Mondelez, so this is likely another collaborative cereal between them."
But although evidence continued to mount for some time, actual confirmation has only just arrived: Post announced that Sour Patch Kids Cereal was indeed real on Nov. 13 — and that it would be coming to shelves quite soon, indeed. According to a press release provided to Bustle, the fruity cereal, which comes in "kid"-shaped pieces with "a sour coating and a sweet finish," will be available exclusively at Walmart starting on Dec. 26; a wider release at major retailers across the United States will follow in June of 2019. PopSugar reports that the cereal will retail for about $4 a box.
Reactions to the news — both when it was still a rumor and now that it's been confirmed — have been… let's call it, uh, mixed. As you might expect many have expressed skepticism about the concept itself, frequently in delightfully creative ways:
But plenty of others are Into It, too:
The big question, of course is this: What on earth does Sour Patch Kids Cereal taste like? Well, the good news is that reviews are already out — a handful of lucky folks got the chance to taste test the cereal in advance.
According to Lee Breslouer at Thrillist, the experience begins "the second you open the box": That's when "a distinct wave of that soury, sugary Sour Patch Kids smell" starts to waft throughout the room. When you pour yourself a bowl, you'll find that the cereal pieces do in fact "look like dehydrated tiny Sour Patch Kids" — and when you actually take a bite, the similarities between the cereal itself and its inspiration become even more apparent: As Breslouer put it, "Holy moly, they nailed the sour flavors." He praised the fact that the cereal does in fact "[capture] the essence of Sour Patch Kids," summing the taste up as "like Sour Patch Fruity Pebbles." What's more, it turns out that Sour Patch Kids Cereal milk is better than you might expect. "The milk does not get sour," observed Breslouer, "but it does retain an artificial tartness that tastes pretty good!" All in all, the review was favorable — perhaps surprisingly so.
In retrospect, perhaps we shouldn't be so surprised that Sour Patch Kids Cereal is not only real, but also apparently pretty tasty (as long as tangy fruit cereals are your thing, that is). After all, we've seen everything from Sour Patch Kid ice cream to Sour Patch Kids candy corn recently — and those items were similarly well-reviewed. Either the Sour Patch Kids flavor profile is more versatile than we all assume it is, or companies have been particularly successful in figuring out how to adapt it for different foodstuffs. Gotta give credit where it's due, right?
Sour Patch Kids Cereal will be available at Walmart starting on Dec. 26; head here to find a store carrying it near you. And keep an eye out for it on shelves at other major retailers next summer.