Stacey Abrams Tells Gov. Kemp Exactly Why His Voting Rights Record Has People "Scared"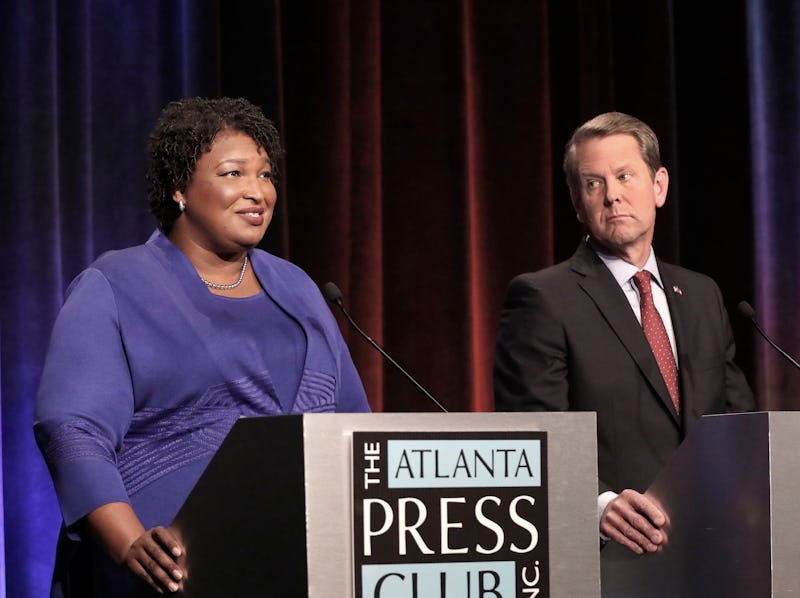 Pool/Getty Images News/Getty Images
During a heated debate between the frontrunners in Georgia's governor's race on Tuesday, Stacey Abrams called out Brian Kemp on voting rights, an issue that has been plaguing him this month. The Georgia Secretary of State responded by calling her attacks a "publicity stunt" and by pointing the finger at President Barack Obama.
"If you want to blame somebody, blame President Obama," Gov. Kemp said. It is true that the Obama administration approved of the "exact match" law that is currently under fire, though Kemp wrote many of the details of the law himself as Secretary of State of Georgia back in 2010, according to the Atlanta Journal-Constitution.
Voting rights has become a central focus of the governor's race, particularly since the AP published a report earlier this month showing that Kemp's office was delaying voter registration applications for 53,000 Georgians, 70 percent of whom were black. Many political analysts believe that Abrams — who will become the nation's first black governor if elected — will only be successful if minority voters show up in droves to vote for her.
"Under Secretary Kemp, more people have lost the right to vote in the state of Georgia," Abrams said during Tuesday's debate. "They've been purged, they've been suppressed and they've been scared."
Georgia's "exact match" law requires that applicants' government-issued IDs identically match the information on their voter registrations. If there are even minor discrepancies, like missing hyphens or nicknames instead of full names (e.g. "Becca" instead of "Rebecca"), applications can be suspended.
Obama's Justice Department approved the law in 2010, though with the stipulation that the state also needed to put measures in place that forbade registrations from being canceled because of "common sense" mistakes, according to HuffPost. "So far as I'm aware, Kemp has not put in place any policies or procedures to make sure this promise was kept," attorney Danielle Lang told the outlet.
As Abrams sees it, the issue of voting rights goes beyond whether registrations are accepted or denied. It also involves "creating an atmosphere of fear," she argued in the debate, to prevent people from fighting for their right to vote or from showing up to the polls. The Daily Beast reports that some black voters are feeling discouraged in the face of Kemp's tactics. "Everybody I speak to says, 'I'm voting, but why?'" one minister told the outlet. "How can it be fair when he's there to suppress any vote he wants?"
"Voter suppression is not simply about being told no, it's about being told it's going to be harder for you to vote," Abrams said on Tuesday. "It can be 53,000 or 5,000 people. If even five Georgians are being denied the right to vote or are afraid of the right to vote, then we are not doing our jobs."
The "exact match" case is far from the first time that Kemp has been accused of voter suppression tactics. In July of 2017, for example, his office took 500,000 people off the voter rolls, about a fifth of whom were removed because they had opted not to vote in former elections.
The race between Abrams and Kemp is extremely tight. FiveThirtyEight's last poll had Kemp up by one point on Tuesday.
CORRECTION: This piece previously gave Kemp the wrong title; it has been updated to reflect he is the Secretary of State of Georgia.