Starbucks' New Breakfast Sandwich Will Make Bacon Lovers Weep With Joy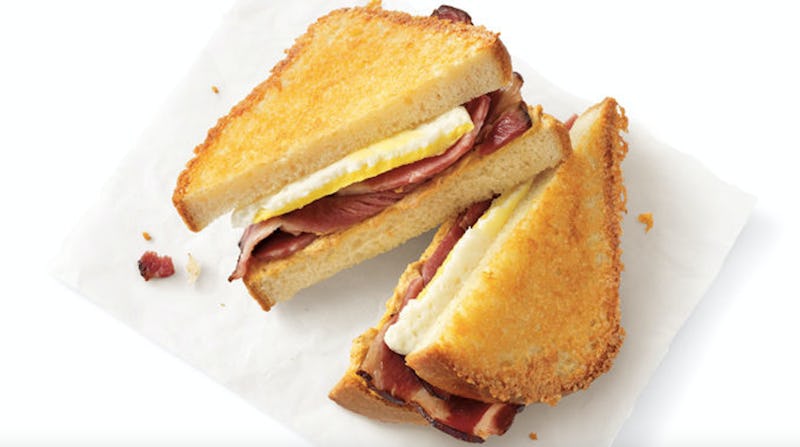 Courtesy of Starbucks
Breakfast has long been heralded as the most important meal of the day, but for those of us who dash out the door each morning with nary a second to spare, myriad morning restaurant menus are here to fill the void. For those of you who love a bit of bacon at breakfast, this new Starbucks menu item is the perfect companion to your favorite morning brew. For a limited time, bacon fans can snag a Smoked Shoulder Bacon Breakfast Sandwich at Starbucks — but be aware that the new menu option is only available at select locations throughout the U.S. and Canada. For those of you across the pond in some fashion, this item won't be available for morning noshing. According to Starbucks' menu, the new Starbucks breakfast treat includes thick cut pecan-wood-smoked bacon atop parmesan-crusted Texas-style toast, layered with a fried egg patty, and a slathering of sun-dried tomato cream cheese.
Starbucks' new menu item is a creative addition to the now-long tradition of the humble breakfast sandwich. Piling up eggs, meat, and cheese on some warm, fluffy bread originated as an easy-to-grab morning meal for factory workers in 19th century London, according to Huffington Post. Initially created for ease, utility, and as something that would fill folks up for long and grueling work days, the breakfast sandwich has long since exploded in popularity — especially with McDonald's creation of the Egg McMuffin in 1971. Now, morning menus abound with various versions of the breakfast sandwich, and the new Starbucks menu option is sure to be a hit.
And while coffee-loving bacon fans will surely want to snag the new Starbucks sandwich ASAP, the dairy-free among us are especially excited about another summer addition to the mega coffee chain's menu lineup: the new Salted Cream Cold Foam Cold Brew and Iced Vanilla Bean Coconut Milk Latte. I'm pretty certain nothing has ever been this creamy and wonderful before in all of human history. Unlike the Smoked Shoulder Bacon Breakfast Sandwich, however, the new vegan-and-lactose-intolerant-friendly coconut milk latte is a permanent addition to the chain's menu of dreamy coffee offerings. According to VegNews, the coffee chain giant has been working to feature non-dairy milks since 2014 when it began testing coconut milk for coffee drinks. Almond milk was also added to the menu in 2016.
The new iced coconut milk latte features the Cold Foam technique, which Starbucks originally rolled out at Reserve Roastery in Seattle in 2014. Cold Foam has since launched nationwide within the past few months. According to Starbucks' website, the Cold Foam technique is a method for frothing non-dairy milks for cold drinks, and is blended cold instead of hot — while still achieving that rich, creamy dollop of (non-dairy) milk for layering atop your latte. Starbucks popular Cold Foam offerings include the Cold Foam Cascara Cold Brew and the Cold Foam Blond Iced Cappuccino, but your friendly local Starbucks barista is happy to add it to any drink you like.
For those of you enamored of both bacon and coconut milk alike, the new Starbucks' summer menu items are sure to make your heart sing. Both the Smoked Shoulder Bacon Breakfast Sandwich and the Salted Cream Cold Foam Cold Brew and Iced Vanilla Bean Coconut Milk Latte are available now. And remember that while the new non-dairy latte options are permanent features on Starbucks' menus nationwide, the new bacon breakfast sandwich is only available for a limited time — so if you want a taste of that sun-dried tomato cream cheese-slathered bacon breakfast sandwich, hightail it to your favorite Starbucks' store ASAP.