Starbucks Tuxedo Trio Drinks Are Here To Ring In The New Year In Mocha-Flavored Style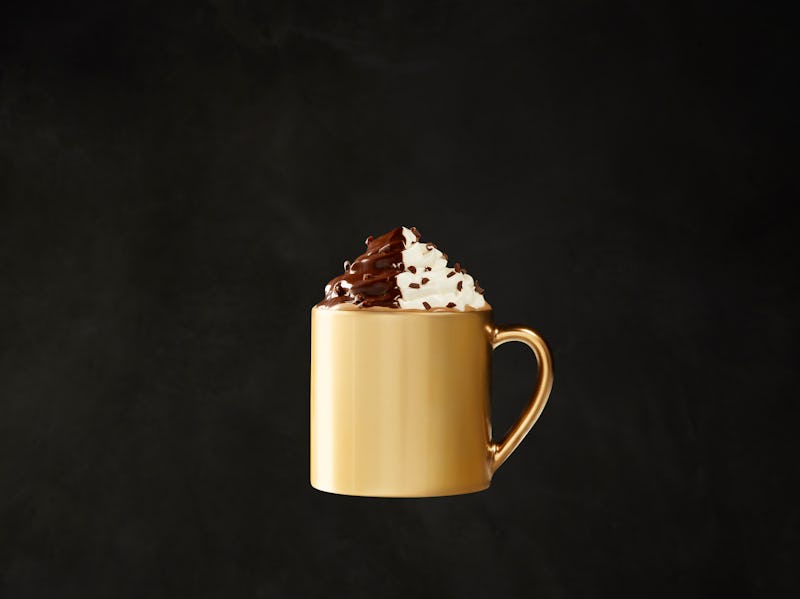 Courtesy of Starbucks
Did you really think we were going to get through the holiday season without one more tasty surprise from Starbucks? No. No, you did not. Coffee is the gift that keeps on giving, and as proof, Starbucks "Tuxedo" drinks are here to add a little pizzaz to the end of 2016. Nothing says "Happy New Year's!" like a spiffy tuxedo, so heck, why not dress up your drink of choice a little, right? Bonus points if you draw an actual tuxedo on the cup. Because that would be adorable.
Starting Dec. 26 and continuing through Jan. 1, a trio of Tuxedo-style treats will be available at your favorite local 'Bux: The Tuxedo Mocha, the Tuxedo Mocha Frappuccino, and the Tuxedo Hot Chocolate. Featuring swirls of dark and white chocolate, the drinks take their cues from tuxedo desserts — which, in turn, get their names from their distinctive appearance: A combination of dark and white chocolate, they look black (well, dark brown) and white, just like a tuxedo. It's usually encountered in cake form; however, just about any sweet treat you can think of can get the tuxedo treatment, from cookies to popcorn (yes, really).
Starbucks' spin on the whole thing is so decadent that these drinks basically sound like dessert in a cup — and I am so here for that. Here's what to expect from each of the Tuxedo options:
Tuxedo Mocha
Hot espresso is poured over a mix of mocha sauce and white chocolate mocha sauce, which turns the whole thing into the creamy, rich confection of your dreams. Then comes the steamed milk (because it's not a mocha without it); and after that, it's topped off with whipped cream, a mocha drizzle, and a scattering of dark chocolate curls. Bonus: This one can be ordered iced, too. For the curious, a 12-ounce Tall Tuxedo Mocha contains 85 mg of caffeine.
Tuxedo Mocha Frappuccino
Take the above drink, make it into a frosty, blended treat, and you've got yourself a Tuxedo Mocha Frapp. For this one, mocha sauce, white chocolate mocha sauce, Frappuccino roast coffee, milk, and ice get blended together; then, like the hot version, it's topped with whipped cream, a mocha drizzle, and dark chocolate curls. This one has a little less caffeine than the straight-up Tuxedo Mocha — just 80 mg in a 12-ounce Tall.
Tuxedo Hot Chocolate
Another variation on a theme: This time, we're taking the Tuxedo Mocha and removing an ingredient — the espresso. The Tuxedo Hot Chocolate starts with just the mocha sauce and white chocolate mocha sauce, then adds the steamed milk to the mix; then it's finished off with the Tuxedo Trio signature topping of whipped cream, a mocha drizzle, and dark chocolate curls. If you generally try to drink low-test beverages, this one is for you; it only has 15 mg of caffeine.
The prices for all three drinks will vary depending on the market, but a 12-ounce Tall Tuxedo Mocha and Tuxedo Mocha both run between about $4.25 and $4.45; meanwhile, the Tuxedo Hot Chocolate ranges between about $3.25 and $3.45. Delicious New Year's fun for under $5 a pop? Yes, please.
Oh, and hey, while you're at it, don't forget about the 10 Days of Cheer event that's currently going on. At some Starbucks locations in select cities, you can nab a free espresso beverage between the hours of 1 and 2 p.m. local time at special "Pop Up Cheer Parties" — but where those locations actually are is a surprise. Check the 10 Days of Cheer website daily to find out where that day's Pop Up Cheer Parties are happening. You can also celebrate by grabbing a Cheer Card at participating locations, which will grant you access to a special offer (think 50 percent off a Holiday Spiced White, bonus treats with purchases, and so on).
May your New Year be full of coffee and joy!