Sterling K. Brown Actually Finished His Emmys Speech Backstage & It Will Make You Love Him Even More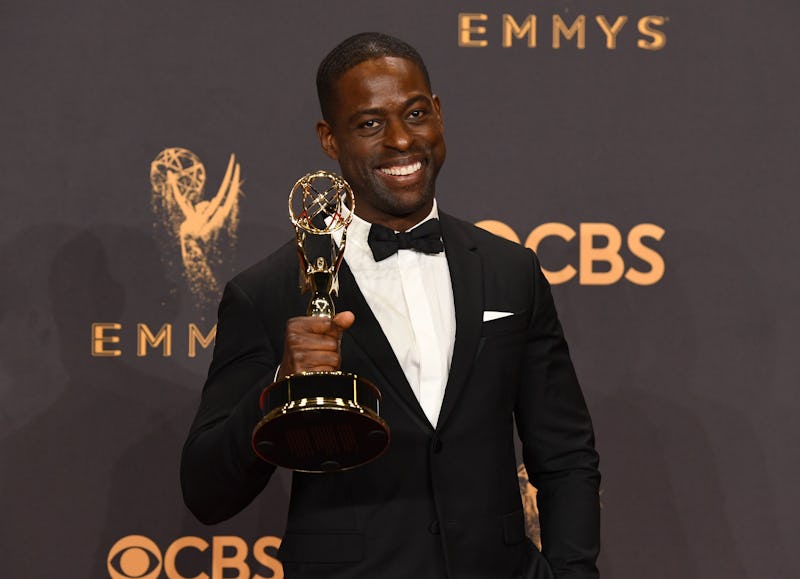 MARK RALSTON/AFP/Getty Images
Audiences for Sunday night's Emmy Awards were disappointed and confused when one of the most iconic speeches of the night was cut off. But Sterling K. Brown finished his Emmy speech backstage, and the rest of what he had to say will only make you love him more. With the expanded time, he had the opportunity to thank not only the people who helped him along the way in his work life, but also in his personal life as well. And what he had to say to his wife and kids is a perfect snapshot of just why the 41-year-old actor is so deserving of every award.
After taking the time to give all the requisite nods to the historic nature of the moment after winning Best Actor for his work on This Is Us, Brown didn't get an opportunity to completely thank those closest to him on stage. So when he went backstage to answer questions from reporters, one of them compassionately asked if he'd like to finish what he started. The actor responded, "You know what, I wouldn't mind finishing — thank you for the invitation," before launching into the end of his speech. With the additional time, he had a chance to thank the show's writers for being the "life's blood" of the show. He had time to thank the producers and directors for their "guidance and friendship" behind the scenes and his manager of 17 years. Finally, he had time to thank his wife.
"They cut me off before I got to thank my wife, man," he said. "Ryan Michelle Bathe, you're everything. You make my life worth living, and you gave me two of the most beautiful things that God has ever put on this planet: my sons. Andrew Jason Sterling Brown, Amaré Michael Ryan Christian Brown — your daddy loves you with the strength of a thousand sons. I'll see you Monday after work."
The end of this speech is crucial because it gives audiences the full measure of Brown as a man. This is a night where he is being honored, where he comes first, and he wanted to reflect that light back onto his family. It's a heartwarming look at who he is as a person, which makes it all the more important that the actor got to make himself heard.
But that doesn't mean that the Randall Pearson-portrayer's onstage speech was lacking in any way — just that he had a lot of ground to cover. And that's because Brown's Best Actor win represented a historic moment. To date, only three other black men have been honored in that category: Bill Cosby, James Earl Jones, and Andre Braugher. Even Braugher's win for playing Detective Frank Pembleton on Homicide: Life on the Street was 19 years ago, so it's safe to say there's some making up to do. As such, the This Is Us actor's speech was full of references to the men who had come before him.
And, of course, he had his cast mates to thank as well. Milo Ventimiglia, Mandy Moore, Chrissy Metz, and Justin Hartley got some love for being the "best white TV family a brother has ever had." His onscreen wife Susan Kelechi Watson got a shout out as well, naturally, for doing such an excellent job helping him "rep black love." There were a lot of names on his list very deserving of commendation, so it was no surprise, but a huge disappointment, when Brown started getting the play-off music on Sunday night. At first, he seemed determined to fight through it, but soon he surrendered, saying, "You can play, you can play. I didn't get — nobody got that loud music."
But while it was a huge letdown not to get to hear the This Is Us actor's complete speech, it's important to know that this was nothing personal. Unlike the Oscars and the Grammys, the Emmys has a strict time limit for the broadcast, and they can't go over. Producer Don Mischer has produced more than a few ceremonies, and he told Forbes in 2014 that in order to keep a show on time, each winner is allotted around 40 seconds for a speech. In his time working on the show, he can think of only two ceremonies where they didn't have to play someone off. Even if the audience is loving it, even if you're getting a standing ovation, the show must go on.
Brown was given over two minutes for his speech, which isn't nearly enough to thank every person who helped him get where he is. And it's even further from enough time when you consider how few black men have stood where he stood. Sterling K. Brown had an impossible task before him when he took the stage on Sep. 17, so we should all count ourselves lucky that he both took, and was given, the time to get his full message out.