Why You Don't Have To Worry About The Emmys Going On Too Long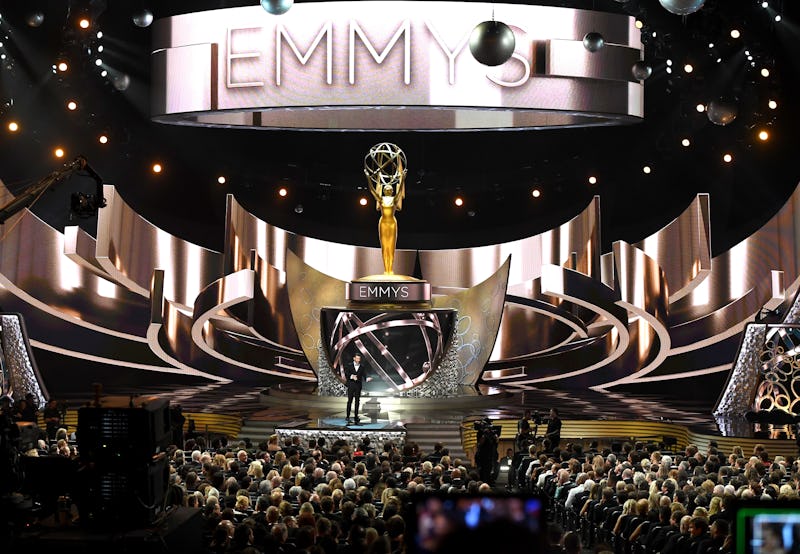 Kevin Winter/Getty Images Entertainment/Getty Images
The Emmys are so close, fans can taste them. That means it's time to start planning your night around the ceremony. So how long are the 2017 Emmy Awards, actually? CBS has blocked off three hours of programming, from 8 to 11 p.m. EST, but will that be enough or could the show run over? With other award shows, that question would be impossible to answer until the night of, but the Emmys are different. This particular award show is its own beast, and that beast has a hard out at 11 p.m. The show gets three hours, no ifs, ands, or buts. And this year — like every year — that will have to be enough.
Shows like the Academy Awards and the Grammy Awards are a little more lenient with their out times, often extending far beyond their scheduled slots. Deadline reports that while the Oscars, in general, aim for a three-hour ceremony, its longest ever show clocked in at 4 hours and 23 minutes in 2002. That's quite a discrepancy, no matter how much you love the opportunity to spend virtual time with a room full of well-dressed A-listers.
And if you're someone with a day job, or, say, someone who's tasked with covering the show, like an entertainment news blogger — cough, cough — the time overage is even more of a nightmare. With every minute that ticks by past 11 p.m., research indicates that the network loses 100,000 viewers, according to Mic, and every member of the entertainment industry despairs about ever seeing their bed again. (Maybe that last part is an exaggeration, but still.)
But unlike her friends Grammy and Oscar, Emmy always gets everyone out the door on time. As Forbes reported, there's much less flexibility in the length of an Emmys broadcast. The show isn't allowed to run over, so producer Don Mischer spends the entire broadcast on his toes, moving things along. All winners are encouraged to keep their speeches to approximately 40 seconds, and the wrap-up music is always close at hand in case they need to play someone off.
And, as you might expect with a cut-off like 40 seconds, they usually do need that music. Mischer said in the 2014 Forbes interview that he could remember just two shows when they didn't have to play anyone off the stage. Those were the shows in 2009 and 2010, hosted by Neil Patrick Harris and Jimmy Fallon, respectively, and they were rarities. In the producer's own words, "That made us feel pretty good, but that's not the case usually."
Fans may see history repeat itself on Sunday, however, with Stephen Colbert at the helm. The late night host has years of experience making adjustments on the fly and tailoring his hosting bits to fit the time allotted. If anyone can help producers keep the show in order, it's him. But no matter what Colbert does, the show will end promptly at 11, so there's no need for any of you day jobbers to worry about being bleary-eyed on Monday morning. Unless, of course, you stay up all night reading commentary on Twitter afterward.
The show won't be a minute over three hours, however, no matter how many upsets take place during the night. So whether you're a nominee or just excited to watch, you can all breathe a little easier.