Steve Carell Is Totally Down To Play This Role Again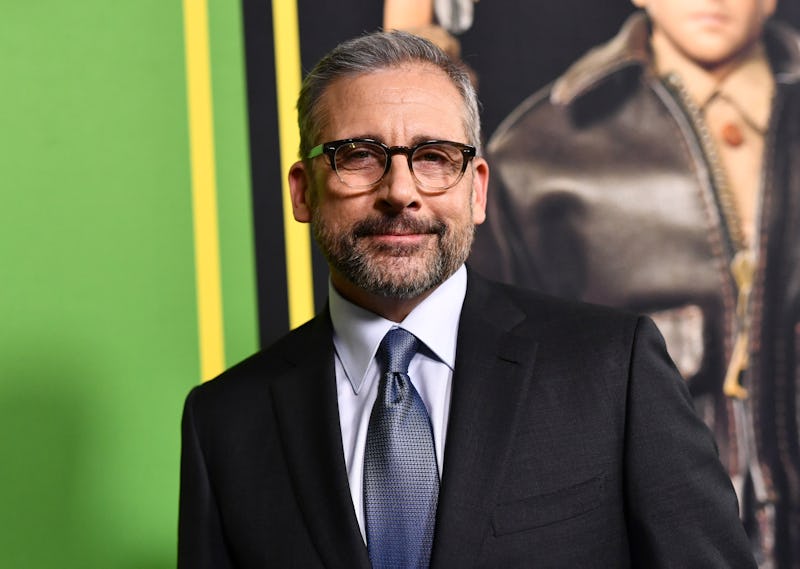 Emma McIntyre/Getty Images Entertainment/Getty Images
By this time Office fans are well aware that Steve Carell doesn't want to play Michael Scott again. Being that fans can still watch The Office all day everyday, this is probably what Michael would call "good grief." But, Carell is interested in reprising his Anchorman character, another one of his that fans love. More specifically, he'd love to be everyone's favorite weatherman Brick Tamland one again.
It seems Carell's ready to stay classy for a third Anchorman movie if the rest of the Channel News 4 Team ever want to give it another go. In an interview with Variety, Carell hinted that there was a possibility that he would play Brick, a lover of lamp, again. "If they make another one, I'll do another one," he said. "Those are really fun. That's just hanging out with friends and being silly."
While there's been no official announcement of an Anchorman 3, Carell isn't the only one who's said they'd be down to do another movie. A few months ago, David Koechner, who played Champ Kind, talked about whether there would be another Anchorman and he said he "would hope so."
Last year, anchorman Ron Burgundy himself, Will Ferrell, told Entertainment Weekly "never say never" when it came to doing the threequel. In his opinion, Anchorman is one of those movies you can revisit years later, saying, "it could be 10 years from now and we can still play those guys and just be older… and even dumber. So that's the beauty of that."
At the time, Ferrell said, "There are no imminent plans to return to that as of yet, because, I can't speak for [Anchorman director] Adam [McKay], but for myself, we still have a lot of other original ideas that we'd like to do." McKay even teased that the third film could have Ron playing a war correspondent during the Iraq War in an interview with CinemaBlend earlier this year.
Unlike milk, tackling those kinds of original ideas wouldn't be a bad choice. Neither is Ferrell deciding to launch the upcoming Ron Burgundy Podcast, which he'll host as his Anchorman character. Asked if he'd be interested in stopping by the podcast, which will debut early next year, Carell told Variety, "Sure, if he wants me to come in and say some non-sequiturs as Brick, of course. I would in a second."
It also might be the perfect excuse for those guys to talk about an onscreen reunion since it's been five years since they released Anchorman 2: The Legend Continues.
Unfortunately, reuniting onscreen isn't something Carell is interested in doing with his former Dunder Mifflin employees. While that might sound kind of harsh, Carell's reason for not wanting to revisit The Office is actually a good one. "I've never thought of it as a good idea," he said of the possibility of a reboot in an interview with Time. "I think it existed in that time and with those people and it felt right. There was something so special about it, and I guess it's an odd way to put it, but I love it too much to ever want to do it again."
That's not to say he doesn't miss his Office castmates. When he missed a recent Office reunion, Carell was quick to tweet a sweet message. "I miss you guys," he wrote.
So, Carell might not be heading back to Scranton anytime soon, but hopefully, he'll be able to break a little bread with his old Dundler Mifflin crew. And let's also hope someone will remember to bring a camera.